Ensuring Advance Directives Are Followed and Lawsuits Are Avoided
A Conversation With Thaddeus Mason Pope, JD, PhD


Thaddeus Mason Pope, JD, PhD
Thaddeus Mason Pope, JD, PhD, has focused his legal career on improving medical care decision-making and protecting patients' rights at the end of life. His specific areas of legal expertise include patients' rights, informed consent, and end-of-life medicine. Dr. Pope is the coauthor of The Right to Die: The Law of End-of-Life Decisionmaking (Wolters Kluwer).
The ASCO Post talked with Dr. Pope, Director of the Health Law Institute and Professor of Law at Mitchell Hamline School of Law in St. Paul, Minnesota, about the growing incidence of lawsuits brought against physicians and medical institutions that ignore or override advance directives, resuscitating patients against their written instructions, and providing unwanted life-preserving care; the liability oncologists face for not explicitly warning patients about the limited benefits of care; and what health-care providers can do to protect against legal action for failing to let a patient die.
Medical Liability for Ignoring Advance Directives
Please talk about the increasing frequency of lawsuits being brought against health-care providers for disregarding or overriding patients' advance directives. How big a change is it from the number of lawsuits that fail to save patients' lives?
It is difficult to calculate the exact number of lawsuits against health-care providers in the United States because often these complaints go through arbitration and are settled out of court, so both the number of complaints and their resolutions are private. The subset of lawsuits we are seeing for failing to honor patients' advance directives is just the tip of the iceberg and have only become public because they have been appealed or reported on in the press.
What has changed legally to allow these lawsuits is that the appellate courts are saying it is wrong to resuscitate a patient if the patient did not want to be resuscitated and said so in an advance directive. And that's helpful because the law wasn't 100% clear prior to these lawsuits. Now courts are increasingly more willing to impose penalties on health-care providers who deliberately or negligently disregard advance directives and do-not-resuscitate orders.
Medicare now better covers the cost of advance care planning discussions, and the data show these discussions have increased, so that's good news. But articulating and recording preferences are valuable only if advance directives are later found and honored.
Guarding Against Potential Legal Jeopardy
What are the legal hazards oncologists should be aware of when counseling patients about their end-of-life care? And how can oncologists and hospitals protect against potential legal jeopardy at a patient's end-of-life?
There is an increased awareness on the part of oncologists about the importance of talking to their patients about their end-of-life wishes. But the big, big problem in oncology is there is a lot of unwanted treatment at the end of life; it's unwanted not because the patient said he didn't want a specific treatment or procedure, for example, to be put on mechanical ventilation and he was anyway. That is a very crisp, concrete violation of that patient's expressed medical preference.
Today, informed consent law focuses more on what information the physician discloses and less on how clearly the physician conveys it.

— Thaddeus Mason Pope, JD, PhD




Tweet this quote



The far bigger issue in oncology is a patient's true preferences for specific treatment may not be known because the physician never adequately explained the risks, benefits, and alternatives to the treatment being proposed. If the patient knew how limited the benefit of the treatment might be relative to its side effects—for example, a 10% chance of living an additional 6 weeks but having severe toxicity—the patient might refuse the treatment. In that case, the patient might have gone on hospice instead.
Although only intentional or deliberate misrepresentation leads to criminal sanctions, even merely negligent or careless misrepresentation leads to both medical board discipline and medical malpractice liability.
Honoring Patients' End-of-Life Wishes
What are the legal ramifications for physicians and hospitals if they fail to adhere to patients' end-of-life wishes in advance directives or in Physician Orders for Life Sustaining Treatment (POLST) orders?
Patients' end-of-life care preferences can be manifested in any of these orders or expressed through a surrogate, and they should be normally followed. If physicians or hospitals violate an advance directive or POLST order, they risk three types of sanctions. First, hospitals can be penalized for violating Medicare conditions of participation. Second, physicians can be disciplined by the state medical licensing board. Third, both physicians and hospitals can also be exposed to medical malpractice liability. For example, in May 2017, a Georgia hospital settled a lawsuit alleging noncompliance with a patient's advance directive for $1 million.1
Obtaining Informed Consent for End-of-Life Care
How can oncologists ensure they obtained adequate informed consent from patients? And what are the legal hazards oncologists should be aware of when counseling patients about their end-of-life care?
In health care, informed consent is the process in which the patient and the physician have a conversation about a proposed medical treatment's consequences, harms, benefits, risks, and alternatives. It is a fundamental principle of health care. Providing treatment without telling patients of the risks, benefits, and alternatives of that treatment is a denial of informed consent and constitutes medical malpractice.
Ethical issues in palliative and end-of-life care can arise when there is conflict among clinicians, patients, and family members about what constitutes appropriate care as patients near death, which is why it is so important to have the patient's advance directive or POLST order for guidance. And because medical litigation is so prevalent in the United States, it is not uncommon for physicians to practice defensive medicine and go beyond what is medically necessary or wanted at the end of life, which, as we talked about earlier, can also result in lawsuits for failing to honor patients' end-of-life preferences.
The legal standards regarding end-of-life care vary by state, so if physicians or members of the care team have doubt about the validity or meaning of a patient's informed consent or instructions in an advance directive, they should seek legal counsel or assistance from the medical institution's risk management team or ethics consultation service before proceeding with treatment.
Today, informed consent law focuses more on what information the physician discloses and less on how clearly the physician conveys it. But the nature of informed consent is going to radically change over the next 5 to 10 years as the use of certified patient decision aids becomes legally required in patient decision-making. In the meantime, it's important for physicians to document everything they told the patient about the significant risks and the alternatives to an intervention being proposed.
The bottom line is practicing good medicine means listening to what the patient wants and then acting on those wishes. ■
Editor's Note: The Law and Ethics in Oncology column is meant to provide general information about legal topics, not legal advice. The law is complex, varying from state to state, and each factual situation is different. Readers are advised to seek advice from their own attorney.
DISCLOSURE: Dr. Pope reported no conflicts of interest.
REFERENCE
1. Hodson S: Hospital settles lawsuit about failing to honor patient's wishes on extending life. The Augusta Chronicle, May 25, 2017. Available from http://chronicle.augusta.com/news/2017-05-25/hospital-settles-lawsuit-about-failing-honor-patient-s-wishes-extending-life. Accessed June 22, 2017.
---
Related Articles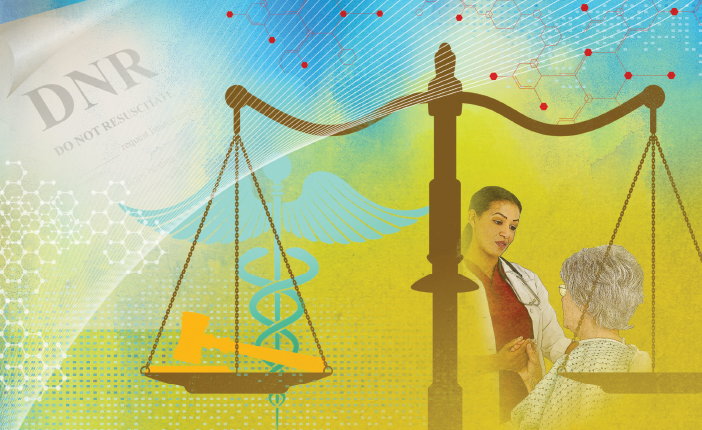 Illustration by Stephanie Dalton Cowan © 2017
When Amy Berman, BSN, LHD (aged 58), stood in front of the mirror to perform a routine breast self-exam and saw redness and dimpling on her right breast, she feared they were the telltale signs of inflammatory breast cancer. "I have never...