A Frank Memoir About Doctors, Patients, and the Health-Care System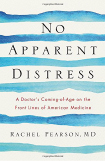 BOOKMARK
Title: No Apparent Distress: A Doctor's Coming-of-Age on the Front Lines of American Medicine
Author: Rachel Pearson, MD
Publisher: W.W. Norton & Co
Publication date: May 2017
Price: $26.95; hardcover, 272 pages


"In 1981, 2 days after my older brother Matthew was born, my father sawed off the tip of his index finger." So begins No Apparent Distress: A Doctor's Coming of Age on the Front Lines of American Medicine, a memoir by Rachel Pearson, MD, who is currently a resident at Seattle Children's Hospital. 
The shelves are stocked with books by doctors who believe their personal medical story offers something worth reading, ground that hasn't yet been covered. With so much out there, it can be an uphill battle to find a worthwhile new physician-authored narrative; too often, such books end up being an episodic string of anecdotes, lacking a compelling story, and told by a doctor whose backstory is a straight line from high school to medical school, after which he or she puts on a white coat and "gets dirty." In this case, Dr. Pearson has an engaging backstory, and it serves as a backdrop for this gritty, well-written memoir.
Difficult Beginnings
At the time her father sawed part of his finger off, Dr. Pearson's family was living in an Airstream trailer on a tract of land in East Texas. When Dr. Pearson turned 11, her family moved to Port Aransas, Texas, where they lived in a camper while her father built the family house from the ground up. She was a gangly girl with horsey teeth, but there is not a shred of self-pity; she has a refreshingly tough voice that makes you like her and want more. 
Chapter 2 begins, "It was abortion that convinced me that my dad was right and I should go into medicine. Not any abortion I had, but working in an abortion clinic. This is not a story I tell often." How can you not want more? 
Dr. Pearson has an engaging backstory, and it serves as a backdrop for this gritty, well‑written memoir.

—




Tweet this quote



After difficult times working in an abortion clinic tending to desperately poor women, Dr. -Pearson's life drama keeps rolling in this page-turner. During a premed program at Portland State, her beloved study partner—a tortured gay man named Frank—suddenly commits suicide, which leaves Dr. -Pearson "dysfunctional with grief." 
Having interviewed all over the country, nothing felt right to Dr. Pearson outside of Texas, so her rough-and-tumble journey continues in medical school at The University of Texas Medical Branch in Galveston. She soon sets the reader up for another impending challenge: "To understand Galveston you have to understand hurricanes." On the morning of September 11, 2008, Hurricane Ike made a sharp turn in the Gulf of Mexico and slammed into Galveston. Mass evacuations took place, all deftly described by Dr. Pearson. In the aftermath, she returned to help rebuild the city's medical infrastructure—again, compelling reading. 
Colorful Exploits
Dr. Pearson's medical school exploits are full of colorful descriptions detailing rounds in a prison hospital, a country clinic, and an inner-city hospital. This is medical trial by fire at its best, and she gives the readers a rollicking ride. 
During an ER rotation, she sees an elderly car crash victim die—her first patient death. "The woman was still breathing on her own, but nobody could manage to get an IV into her veins. Her veins were collapsing as she bled out into her own abdomen, and the IV just wouldn't go in," she writes in a scene that brings the reader directly into the life-and-death ER setting. It is tough, grueling work to become a doctor, and Dr. Pearson's journey through medical school—told in a bold, unflinching narrative—is proof positive why only the brightest and most dedicated deserve to have an MD behind their name. 
Toward the end of the book, medicine takes a personal turn. In 2000, the author's -mother donated blood at the local high school. She received a letter notifying her that her blood had tested positive for a rare form of hepatitis, which she had contracted from a blood transfusion after giving birth to Dr. Pearson. The blood had come from a nearby prison at a time when correctional institution inmates were not deferred as blood donors. After years of difficult treatment, her mother recovered her full health. She had dedicated doctors to thank. 
The book's ending seems a bit flat, but that's a small gripe for such a richly told medical memoir by a woman who came from a tough beginning and has worked long and hard, never once shedding a tear for her plight on the road to becoming a doctor—one that the system is lucky to have. This book is recommended for The ASCO Post readers. ■
---