Charting a New Course at the FDA
A Conversation With Robert M. Califf, MD, MACC


We must do everything possible to rapidly adapt our national and global systems of evidence generation to meet the challenges and opportunities presented by technologic advances.

— Robert M. Califf, MD, MACC




Tweet this quote



In February, after serving for a year as the U.S. Food and Drug Administration's (FDA's) Deputy Commissioner for Medical Products and Tobacco, Robert M. Califf, MD, MACC, was named the agency's Commissioner of Food and Drugs. Prior to his appointment at the FDA, Dr. Califf was the Donald F. Fortin, MD, Professor of Medicine and Vice Chancellor for Clinical and Translational Research at Duke University School of Medicine in Durham, North Carolina, and Founding Director of the Duke Clinical Research Institute, a $200 million center that manages clinical trials in more than 64 countries.
While at Duke, Dr. ­Califf was also instrumental in launching the Clinical Trials Transformation Initiative, a public-private partnership cofounded by the FDA and Duke University School of Medicine to identify and promote practices that will increase the quality and efficiency of clinical trials. He also served as the principal investigator for Duke's Clinical and Translational Science Award and the National Institutes of Health's Health Care Systems Research Collaboratory, which aims to create a new infrastructure for collaborative research with health-care systems to improve the way clinical trials are conducted.
In a wide-ranging interview with The ASCO Post, Dr. Califf discussed his priorities and long-term goals for the FDA, how the Precision Medicine Initiative and Cancer Moonshot will spur scientific discovery, and how generic versions of high-priced cancer drugs may reduce the cost of cancer care.
Priorities and Goals
You have many issues to tackle as the new Commissioner of Food and Drugs at the FDA. What are your first priorities and long-term goals for the agency?
One of my greatest joys and responsibilities as Commissioner of Food and Drugs is the opportunity to make a positive difference at an institution that does vitally important work for the nation and its citizens. Based on feedback from multiple stakeholders and the staff at FDA, I knew that to be most effective in my role, setting priorities would be critical. I strongly believe my most important responsibility during my time at the FDA is to encourage and support a professional environment that enables our remarkably dedicated workforce to thrive and to reach its fullest potential.
My top programmatic priority is one familiar to the oncology community: We must do everything possible to rapidly adapt our national and global systems of evidence generation to meet the challenges and opportunities presented by technologic advances. I believe a major function of the FDA is to support the continued development of an effective system for evidence generation, so that the private and academic sectors can help make that happen.
But as Commissioner, I'm involved in a number of specific, critical issues that impact the American public and the medical and scientific communities on a daily basis that will remain for the foreseeable future. These issues include precision medicine, pain, and interagency effectiveness, just to name a few.
For more details on my priorities, I invite ASCO members to read the FDA's blog at http://blogs.fda.gov/fdavoice/index.php/2016/03/priorities-teamwork-to-achieve-common-goals.
Clinical Trial Design
Will your experience in running the Duke Clinical Research Institute—the world's largest academic clinical research organization—influence clinical trial design and drug approval at the FDA? How is the era of genomic medicine altering clinical trial design?
In this era, genetic and genomic information has given us the opportunity to develop targeted therapy and treat rare diseases in ways that wouldn't have been imaginable before. This also affects clinical trial design. In some cases involving rare diseases, clinical trials may actually be a lot smaller and more targeted than in the past. In other cases, when therapy might be administered to millions of people on a global basis, they may need to be much larger and more inclusive.
One area where the benefits of this evidence generation come together is precision medicine. The concept here is to take into account differences in people's genes and biologic systems, environments, preferences, and lifestyles.
Modern informatics and clinical tools enable us to analyze data in ways that were simply not possible until recently and to tailor diagnostic and therapeutic strategies to match the characteristics that individuals have in common. As part of President Obama's Precision Medicine Initiative, the FDA is responding to the regulatory challenges that come with the vast opportunity—and enormous amount of data—of next-generation sequencing, a rapid and fairly inexpensive technology that collects data on a person's entire genome.
I strongly believe my most important responsibility during my time at FDA is to encourage and support a professional environment that enables our remarkably dedicated workforce to thrive and to reach its fullest potenial.

— Robert M. Califf, MD, MACC




Tweet this quote



We are rapidly moving from testing one genetic polymorphism at a time to testing 3 billion base pairs all at once. We are committed to developing a flexible, adaptive regulatory approach that fosters innovation and simultaneously ensures that patients have access to accurate and meaningful test results. In short, we are looking at ways to use evidence in creative ways to support our mission.
Another key element of the ecosystem for FDA is globalization, and my time at Duke gave me a great chance to work directly in multiple countries. It is critical that we advance mutual alliances that can assure that work done overseas is of the quality that we need to advance the health of our own people.
Major Initiatives
How will the Precision Medicine Initiative and the Cancer Moonshot affect the FDA?
We are living in an exciting time in medical research and development, and the FDA is paving the way for the future of medicine, when patients will receive health care that takes into account their genetic makeup, their environment, their lifestyle, and their preferences. I enjoy discussing these topics with our cancer and diagnostic experts across the Centers for Drug Evaluation and Research (CDER), Biologics Evaluation and Research (CBER), and Device and Radiological Health (CDRH), as well as with our newly appointed Acting Director of the Oncology Center of Excellence, Richard Pazdur, MD.
What these two initiatives really have in common—which also happen to be two key focuses of mine—are collaboration across specialties and the enhanced use of real-world evidence in making our regulatory decisions that will ultimately impact the American people and, potentially, the future of scientific discovery.
The FDA's specific role in the Precision Medicine Initiative is to ensure the accuracy of genetic tests that would help tailor medical treatments to an individual's unique genetic makeup. Many of these tests are derived from next-generation sequencing. However, the vast amount of information generated through next-generation sequencing poses some regulatory issues for the FDA.
For example, while current regulatory methods are appropriate for conventional diagnostics that detect a single disease or condition (such as blood glucose or cholesterol levels), these new sequencing techniques contain the equivalent of millions of tests in one because they are capable of identifying millions of variants in a single patient. The FDA has sought input from experts in the entire next-generation sequencing community about how to regulate effectively so that health-care providers and patients can trust their test results' accuracy while at the same time ensuring that FDA oversight does not hamper the dramatic progress being made in developing these tests.
Using existing authorities, we have designed a flexible, voluntary approach to oversight that is better adapted to the unique nature of these tests. We are developing guidance that proposes approaches to streamline submission and review of data supporting the analytical and clinical validity of next-generation sequencing tests. At present, individual premarket submissions would still be required, but ultimately the FDA envisions using consensus standards and public databases of genes and gene variants to demonstrate that a test provides accurate and meaningful results rather than individual premarket submissions and clinical studies from each test developer.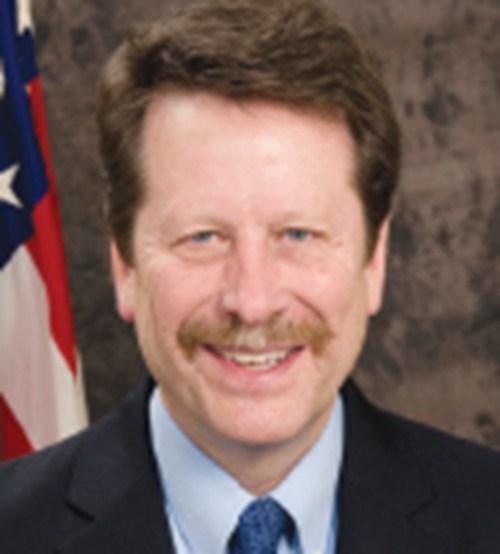 Robert M. Califf, MD, MACC
This new approach is designed to encourage innovation, lead to the development of higher-quality tests, and improve the speed at which tests become available to patients. Additionally, future innovation in next-generation sequencing calls for collaboration by scientists from academia, industry, health-care organizations, and government. To encourage such collaboration, the FDA has established a cloud-based virtual research space called precisionFDA (precision.fda.gov), where experts in this field can work together to create the tools and analytics needed to evaluate next-generation sequencing tests and share best practices and lessons learned.
Since precisionFDA was launched in December, it has grown to include more than 600 organizations, including 23andMe, LabCorp, Human Longevity Institute, Intel, Illumina, NIST, the Global Alliance for Genomics and Health, the Centers for Disease Control and Prevention, the American Heart Association, the Broad Institute, Roche, AstraZeneca, and the Chinese Academy of Science.
So the Precision Medicine Initiative is an excellent example of how the FDA can work with external audiences to drive innovation forward. But we're also working on how we can enhance collaboration across our centers within the agency. The FDA is honored and excited to be an integral part of the National Cancer Moonshot initiative being led by Vice President Joe Biden. Supporting the development and ensuring the timely review of innovative cancer therapies and diagnostics is a priority for the agency across centers for drugs, biologics, and devices.
Last month, the FDA appointed Dr. Pazdur as Acting Director of the FDA Oncology Center of Excellence to lead the agency forward in the effort of working across FDA centers, the federal government, and the private sector to enhance our crosscutting activities in oncology. Dr. Pazdur will be responsible for developing and executing an integrated program for oncology product clinical review as well as for providing clinical advice and guidance to my office, Center Directors, and other executives on FDA oncology-related programs and issues.
We look forward to sharing more details about the FDA's work on the Cancer Moonshot in the months ahead.
Cost of Care
The high cost of oncology drugs is leaving many patients unable to afford the care they need or causing them to reduce their treatment dosages to save money, possibly compromising their outcome. Is there anything the FDA can do about the cost of cancer care?
The cost of treatment is a very real concern for patients and families in this country who are also managing the emotional cost of a disease like cancer. Ultimately, the FDA is authorized to review applications for new drugs for safety and effectiveness but does not have the authority to review or approve drug costs or pricing, which are set by manufacturers and distributors. The FDA asks that manufacturers be sensitive to patient access concerns when pricing drugs; however, we have no authority over pricing or what firms ultimately decide to charge.
We encourage companies to apply for approval of generic versions of newly approved drugs since this would be anticipated to foster competition and promote price reductions. By making safe and effective generic drugs available, the FDA has been able to promote price competition with innovator drugs, resulting in significant savings to the American people. The wide acceptance of generic drugs in the United States (over 90% of U.S. prescriptions are now for generics) is directly attributable to the fact that when your pharmacist dispenses a generic drug, you can be sure that the FDA has reviewed the generic and found it to be safe and ­effective.
We prioritize the review of potential first generics, which can open the market to competition and drive down prices. These applications represent a small percentage of our overall workload—and are provided access to an express lane for review.
We also believe that the continued evolution of clinical research methods, especially in oncology and spurred by the Cancer Moonshot, will better target therapies so that they will be used more often in those who benefit based on clear evidence, thus preventing the furtherance of therapy that is unlikely to benefit or highly likely to cause harm.
Avoiding Waste
A recent study found that Medicare and private health insurers waste nearly $3 billion every year buying cancer medicines that are discarded because many drug makers distribute the drugs in one-size-fits-all vials that contain more medicine then is needed for a smaller-size patient.1 Is there anything the agency can do to encourage drug companies to sell their products in various vial sizes to minimize leftover medication?
The FDA does not require a sponsor to market a drug in particular vial sizes but encourages the sponsor to use vial fill sizes that are appropriate for the intended use and dosing of the drug product. Inappropriate vial fill sizes may contribute to unsafe handling and injection practices by consumers and health-care providers. The FDA is also responsible for the labeling on vials, and this labeling should address whether the unused portion must be discarded. There are two published guidances that address these topics.
The first guidance, published in June 2015, describes unsafe handling and injection techniques that have led to vial contamination and increased risk of blood-borne illness transmission among patients.2 It also describes how inappropriate vial fill sizes and inappropriate excess volume can contribute to medication errors or the misuse of the vials. Finally, this document provides guidance on issues to be considered by industry to encourage the development of products with the appropriate vial fill size and allowable excess volume.
The second guidance relevant to this question addresses the selection of the appropriate package type term and the selection of the appropriate discard statement for injectable medical products for human use that are packaged in multiple-dose, single-dose, and single–patient-use containers.3 Published in October 2015, this guidance clarifies the definitions of multiple-dose and single-dose containers and introduces a new package type—the single–patient-use container. It also describes the labeling requirements and recommendations for each of these package types, including recommendations pertaining to the use of a discard statement on single-dose and single–patient-use containers and, if the beyond-use date is other than 28 days, on multiple-dose containers.
A recent blog discussed some of the questions around this topic and can be found on the Health Affairs website.4 Finally, we note that sponsors can discuss questions related to these issues with the FDA and may be able to justify different needs with appropriate data. ■
Disclosure: Dr. Califf is Commissioner of Food and Drugs at the FDA.
References
1. Bach PB, Conti RM, Muller RJ, et al: Overspending driven by oversized single dose vials of cancer drugs. BMJ. February 29, 2016 (early release online).
2. U.S. Food and Drug Administration: Allowable Excess Volume and Labeled Vial Fill Size in Injectable Drug and Biological Products. June 2015. Available at www.fda.gov/downloads/Drugs/GuidanceComplianceRegulatoryInformation/Guidances/UCM389069.pdf. Accessed July 7, 2016.
3. U.S. Food and Drug Administration: Selection of the Appropriate Package Type Terms and Recommendations for Labeling Injectable Medical Products Packaged in Multiple-Dose, Single-Dose, and Single-Patient-Use Containers for Human Use. October 2015. Available at www.fda.gov/downloads/Drugs/GuidanceComplianceRegulatoryInformation/Guidances/UCM468228.pdf. Accessed July 7, 2016.
4. Glied S, Sampat B: Would a wider variety of vial sizes reduce the cost of chemotherapy? Not likely. Health Affairs Blog. May 11, 2016. Available at http://healthaffairs.org/blog/2016/05/11/would-a-wider-variety-of-vial-sizes-reduce-the-cost-of-chemotherapy-not-likely. Accessed July 7, 2016.
---