Precision Medicine Trials Bring Targeted Treatments to More Patients


Clifford A. Hudis, MD, FACP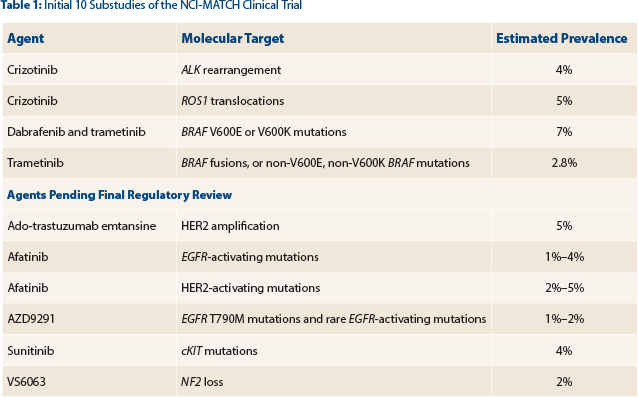 Table 1: Initial 10 Substudies of the NCI-MATCH Clinical Trial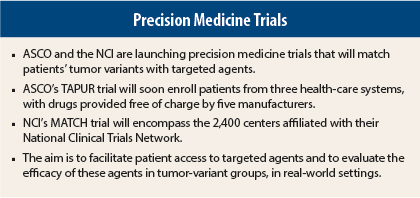 Precision Medicine Trials
To deliver on the promise of precision medicine, we will test drugs based on the biology of the cancer, not the anatomic site.

—Clifford A. Hudis, MD, FACP
At the 2015 ASCO Annual Meeting, both ASCO and the National Cancer Institute (NCI) unveiled details of new precision medicine trials that will greatly expand the number of patients with cancer who are benefiting from targeted agents. The trials will match a patient's tumor molecular profile with an agent that addresses its particular genomic variants. The underlying concept of these efforts is the growing realization that cancer biology is complex and that variants within a tumor are often unexpected.
TAPUR and NCI-MATCH Trials
"Almost every cancer could be seen as rare with unique molecular characteristics," said Clifford A. Hudis, MD, FACP, Past President of ASCO. With that premise in mind, he added, "We are announcing the expansion of a project we have been pursuing."
ASCO's Targeted Agent and Profiling Utilization Registry (TAPUR) was described at a press briefing by Dr. Hudis and Richard L. Schilsky, MD, FACP, FASCO, Chief Medical Officer of ASCO, while the NCI's Molecular Analysis for Therapy Choice (MATCH) trial was outlined by James H. Doroshow, MD, FACP, Deputy Director of the NCI.
"To deliver on the promise of precision medicine, we will test drugs based on the biology of the cancer, not the anatomic site," Dr. Hudis continued. This approach to clinical trials, he added, represents "a dramatic shift toward research based on biology and a paradigm move in the field."
More than 30 commercially available drugs now target molecular pathways that are frequently aberrant in tumors, with many more in the pipeline. Tumor/drug pairings will be limited to currently available agents (used off-label) in the TAPUR trial, whereas several experimental agents will also be available in the NCI-MATCH trial.
Trials Solve a Growing Problem
Dr. Schilsky sees the studies as a solution to a dilemma becoming quite common in the clinic: what to do with the results of molecular testing.
"Some 40% to 70% of the time, a genomic profile on a patient's tumor is likely to turn up something the physician can act on. The question is, how to get the drug suggested by the patient's tumor profile," he said.
Gaining access to targeted drugs off-label can be difficult for a variety of reasons, he noted. "And even if a patient can receive the drug, we have no mechanism for learning from the experience of that patient," he said.
Accelerated Approval and Breakthrough Therapy status are increasingly being granted in the U.S. Food and Drug Administration's drug approval process. "Many drugs are being introduced into practice now with far less information than we have had before," Dr. Schilsky noted. "That's what we designed TAPUR for—so we can learn from the real-world practice of prescribing targeted treatments."
When patient access is facilitated, he added, "the angst of getting the drug is taken off the table." If TAPUR succeeds, he further predicted, "benefits will be accrued to all stakeholders."
TAPUR Launching Early 2016
Early next year, TAPUR will start enrolling patients from three health-care systems—the Michigan Cancer Research Consortium, Cancer Research Consortium of West Michigan, and Carolinas HealthCare System. The study will be open to patients with advanced solid tumors, B-cell non-Hodgkin lymphoma, and multiple myeloma who are no longer responding to available drugs and who demonstrate a genomic variant known to be a drug target or to predict sensitivity to a drug.
At the time of the announcement, 13 different targeted agents will be supplied free of charge by five participating manufacturers—AstraZeneca, Bristol-Myers Squibb, Eli Lilly and Company, Genentech, and Pfizer. Other companies are likely to join, Dr. Schilsky indicated.
A molecular tumor board will review the proposed drug-target match and guide the clinician on potential treatments, on or off the study. For patients enrolled and treated through TAPUR, safety and efficacy outcomes will be recorded. TAPUR's primary endpoint is objective response rate, which will give a signal of the drug's potential activity.
It is ASCO's intent that patients who respond to a therapy would be able to continue to receive that drug at no cost for as long as the patient benefits.
For more on the TAPUR trial, see the June 10, 2015, issue of The ASCO Post, page 95, or visit www.asco.org/TAPUR.
NCI-MATCH in 2,400 Sites
The prospective NCI-MATCH trial is larger and available to more clinicians than TAPUR, which is a registry. NCI-MATCH, in fact, is the "largest, most rigorous precision oncology trial in history" and "unprecedented in its scope," Dr. Doroshow announced, adding, "The pain and gain of getting this going has been worth it."
The study is being conducted throughout the 2,400 sites of the NCI-supported National Clinical Trials Network. Dr. Doroshow predicted that 3,000 patients will be screened to find 1,000 with mutations to which a drug can be matched.
With objective response as the primary endpoint, the study will initially focus on 10 variants and treatment arms (Table 1). The number of targets will increase soon to 20 or more.
"If we receive the resources we have requested, we hope to leverage this trial and other precision medicine trials and develop further MATCH-like studies where we go deeper into a particular disease, based on early signals from this investigation," Dr. Doroshow said.
For more on the NCI-MATCH trial, visit www.cancer.gov/about-cancer/treatment/clinical-trials/nci-supported/nci-match#1. ■
Disclosure: Drs. Hudis, Doroshow, and Schilsky reported no potential conflicts of interest.
---