Take-Home Messages From ASCO's Immediate Past President
A Conversation With Clifford A. Hudis, MD, FACP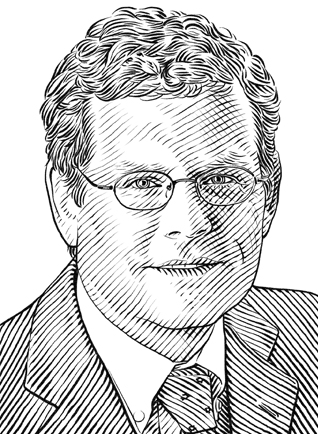 Clifford A. Hudis, MD, FACP
"We at ASCO have an amazing story to tell, and I think if we tell it well, we will have an unusual opportunity to make a favorable impression on the world and change things."

—Clifford A. Hudis, MD, FACP
The ASCO Post recently spoke with ASCO Immediate Past President Clifford A. Hudis, MD, FACP, about his term as ASCO President. Dr. Hudis discussed his thoughts on ASCO today and shared his perspective on a number of important issues in oncology, including value in cancer care, big data, and more.
Role of ASCO
Having served as ASCO President for 2013–2014, you have a unique view of the Society. Would you share with us your insight into this view?
The way I view ASCO today is completely different from how I perceived the Society as a volunteer and member, Committee Chair, or even as Treasurer. I never fully grasped the enormous potential ASCO possesses to influence the world around us. That is why I chose the theme of "Science and Society" for this year's Annual Meeting. These are not separate worlds. What we do in "Science" is what changes the world and "Society" for the better. But we cannot do this without the whole-hearted support of the society we serve.
I see ASCO as integral to increasing this support. In fact, I see ASCO as the leader for many people in our society in this way. Receiving a diagnosis of cancer can be one of the most dramatic events in a person's life. At that moment, even those who have lived outside of the scientific world can become immersed in some part of science. With treatment, patients are receiving the fruits of our labor. That's an opportunity. This is one of those teachable moments when we can bring more people into the fold to support what we do at ASCO.
I think ASCO needs to engage the broader public—government, media, everybody—even more fully than we have in the past. We at ASCO have an amazing story to tell, and I think if we tell it well, we will have an unusual opportunity to make a favorable impression on the world and change things.
Strength in Resources
What do you think was the best thing about being President of ASCO?
It was working with our dedicated volunteers and staff leadership. It sounds pat when people say that. But the thing that I wish could be conveyed to all of ASCO's 35,000 members is the unbelievable work our staff does each day.
In each of their various areas of responsibility, the staff's breadth and depth of knowledge is really unparalleled. They work tirelessly behind the scenes with not that much recognition outside of the office of their work. The strength of resources that we have assembled is remarkable, and this strength extends beyond the staff to our volunteers, which now number approximately 1,600.
A Force for Big Changes
Where do you think ASCO is going? Where should it go?
I always liked the Yogi Berra phrase, "making predictions is really hard, especially about the future." I don't know where we're going, but we have been really fortunate. We've been very, very successful—much more so than ASCO's founders probably ever imagined.
We've built a powerful tool with tremendous potential. Moving forward, I hope we're going to engage the broader world even more overtly than we have in the past. I hope that we are going to be a force for big changes, not just in cancer science but in medicine generally, and even in society.
We are already stepping in that direction in a couple of different ways. We are leading a really difficult discussion on value in cancer care, and that was one of the hottest topics at this year's Annual Meeting. Having the courage to speak out in society and lead this discussion, we will make it a better one. Similarly, we are engaging in some of the big public health problems, such as obesity and other lifestyle issues, and hopefully that will provide us with a means of helping to prevent some cancers in the future.
Finally, there is "big data." One of the things that just can't help but bother physicians is how far we lag behind the rest of the digital economy. This shortcoming brings with it a very big expense. There must be untold billions of dollars wasted in productivity every year because of the way we keep records and fail to learn from what we do.
ASCO's CancerLinQ initiative is an unprecedented attempt to try to leapfrog us into the 21st century. These efforts at using data and technology to improve cancer care may not lead from point A to point B in all the ways we might predict, but they are certainly going to take us someplace better than where we are now.
Global Responsibility
Almost everything presented at the Annual Meeting applies to the United States, Canada, Western Europe, Japan, Australia, and maybe increasingly China, but much of the world thinks about this level of cancer research and treatment as a far-off dream. Do we have any responsibility for that?
I have a personal and, maybe, institutional answer for that. One of the first things that I did early in my career was work in infectious disease in Brazil. This was many years ago, before HIV was fully understood, and I saw what it was like to live in a health-care system where the majority of people can't access care, even currently available treatments.
A poignant memory for me was the experience of seeing an infant dying of meningococcal meningitis. The doctor knew that all the infant needed was penicillin, but it was not available, and both he and the infant's family accepted this fact. That was a shocking moment for me.
I've also spent time in Africa and other low-income parts of the world. I try to be sensitive to the disparities that result from such economic conditions. There are parts of the world where in a wealthy neighborhood, the average breast cancer is a very small screen-detected tumor, and a kilometer away, the average breast cancer presentation is locally advanced, unresectable disease. And it is just access to care making the difference—not biology, nothing more than obstacles to equity and fairness.
ASCO has a huge global impact now, with a substantial number of members being in the international category and comprising a large number of the attendees at the Annual Meeting. With this comes global responsibility. More than 1,000 individuals have been through ASCO's training programs. We have the LIFe [Long-term International Fellowship] awardees (see sidebar) that we bring to the United States and teach so that they, in turn, can take their knowledge back to their home countries and apply what they have learned. I actually think that training and education on an international level represents a growth area for ASCO, not necessarily in terms of financial growth, but with regard to global impact on society.
The potential to make transformative changes in low-resource countries is incredibly rewarding. Compared to some of the battles we face, the ability to make these changes is not so hard. If we could get the expertise and a modicum of supplies into some of those low-resource areas, lives could change significantly and quickly.
Return on Investment
What final message would you like to share with readers of The ASCO Post?
One thing that everybody should know is that the return on investment—when we spend money in scientific research and medical research and cancer medical research, specifically—is actually unmatchable. This is one of the reasons for the belief sometimes referred to as American Exceptionalism: America has made a unique investment in science and technology since the end of World War II. That investment is currently challenged.
I hope that one message all attendees might have taken away from this year's Annual Meeting is an even clearer appreciation for the outsize return we have gotten on that investment and, importantly, the urgent need to increase our investment in research. We need to keep pace with the growing opportunities that molecular biology and technology now offer.
Bipartisan Collaboration
It seems that investment in research is something that shouldn't be political. That is, this is not a Republican or Democratic idea; rather, this should be something that everyone can agree on.
I couldn't agree more. One of the points I made in my presidential talk was  the "0.1%" concept. There is $1 in $1,000 of the federal budget every year that is apportioned to the good work at the National Cancer Institute (NCI). That is just not commensurate to the challenge that we face in confronting all of these diseases that we call cancer. I can't imagine the rate of progress we would have if we actually had the resources that we put into other areas of economic development.
No matter what side of the aisle you're on, if you spend a dollar on NCI-sponsored research in any local community in America, it has an economic multiplier effect of about 2.5. This is good economic policy. This is good scientific policy. And it's patriotic. ■
Dr. Hudis is Chief of the Breast Cancer Medicine Service, Memorial Sloan Kettering Cancer Center, and Professor of Medicine, Weill Cornell Medical College, New York.
Disclaimer: This commentary represents the views of the author and may not necessarily reflect the views of ASCO.
---
Related Articles
The Long-term International Fellowship (LIFe) provides early-career oncologists in developing nations the support and resources needed to advance their training by deepening their relationship with a U.S. or Canadian colleague and his or her institution. The fellowship was first awarded to a single ...