Emerging Targeted Therapies Offer Glimmer of Hope for NSCLC but Biomarkers for Response Needed

Among the newer approaches to treatment of non–small cell lung cancer (NSCLC) are heat-shock protein 90 (Hsp90) inhibitors, toll-like receptor 2 (TLR2) agonists, and vascular-disrupting agents. So far, none appears to be a "home run," but Hsp90 inhibition may be the most promising of the three approaches, according to presentations at a session on Emerging Novel Targets for Lung Cancer at the 2011 ASCO Annual Meeting.
A theme that ran through the three presentations and discussions was the need for biomarkers to identify patients likely to respond (or not respond) to a given targeted therapy. Without such biomarkers, it is unlikely that targeted therapies can be exploited to best use.
Heat-shock Protein 90

A phase II study showed that the investigational Hsp90 inhibitor ganetespib (SA-9090) was well tolerated in patients with advanced pretreated non–small cell lung cancer (NSCLC), and the authors believe this drug holds promise as a single agent in molecularly selected subsets of NSCLC.1 All patients with a confirmed response had tumors harboring the ALK gene rearrangement, said Geoffrey Shapiro, MD, Dana-Farber Cancer Institute and Associate Professor at Harvard Medical School, Boston, who presented the study results.
"Additionally, the favorable safety profile and clinical activity in this difficult-to-treat patient population has prompted evaluation in a phase IIb/III trial of ganetespib in combination with docetaxel as second-line treatment for advanced NSCLC," he said.
Ganetespib is a potent Hsp90 inhibitor structurally unrelated to first-generation Hsp90 inhibitors and does not have the hepatic toxicity associated with first-generation Hsp90 inhibitors or the ocular toxicity that has complicated the development of other second-generation Hsp90 inhibitors. It has been well tolerated in approximately 400 patients treated to date, with the most common adverse event being diarrhea, generally mild to manageable.
In the phase II study, 76 patients with previously untreated stage IIIB/IV NSCLC were treated with ganetespib once weekly for 3 weeks of a 4-week cycle and were evaluable for response. Patients were stratified into four groups: 17 patients with EGFR mutations, 17 with mutated KRAS, 25 with wild-type EGFR and KRAS, and an additional 37 whose tumors were wild-type for EGFR and KRAS with adenocarcinoma only. At 16 weeks, the progression-free survival rate was 24.1%, and disease control rate was 54% (complete and partial response plus stable disease for 8 weeks or longer).
In the EGFR wild-type, KRAS wild-type group, it is clear that patients whose tumors harbor ALK rearrangement can benefit from ganetespib. However, additional biomarkers for treatment response are needed, and further analysis is ongoing to identify genetic profiles sensitive to ganetespib singe-agent treatment, Dr. Shapiro noted.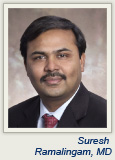 The ganetespib study discussant,  Suresh Ramalingam, MD, Associate Professor at Emory University, Atlanta, said that Hsp90 inhibitors have entered the therapeutic algorithm for ALK-positive NSCLC. The second-generation drugs have an improved safety profile, making them amenable to combination approaches.
"Studies have clearly shown that most responders are crizotinib-naive," Dr. Ramalingam told the audience. "The combination of crizotinib plus ganetespib should be studied, and Hsp90 inhibition should be studied in crizotinib-resistant ALK-positive NSCLC. In the long and disappointing development history of Hsp90 inhibitors, we have reached an important and exciting turning point."
TLR2 Agonist
Results were less promising for immunotherapy with mycobacterium w (Cadi-05). The addition of a TLR2 agonist (Cadi-05), to standard paclitaxel plus cisplatin did not improve survival and showed a nonsignificant trend toward improved progression-free survival compared with paclitaxel/cisplatin alone in 221 patients with advanced NSCLC in a phase II trial reported at the meeting.2
However, a trend toward improved progression-free and overall survival was observed in subsets of patients in the chemoimmunotherapy arm who completed four cycles of therapy and those with squamous histology, said presenting author Chandra Belani, MD, Miriam Beckner Distinguished Professor of Medicine Penn State Milton S. Hershey Medical Center Deputy Director Penn State Hershey Cancer Institute, Hershey, Pennsylvania.
Formal discussant of this trial, Raffit Hassan, MD, NCI, Rockville, Maryland, noted that Cadi-05 is one of several nonspecific immunomodulators being studied in NSCLC. Several trials of other vaccines are ongoing in patients with NSCLC. These vaccines include MAGE-A3, Stimuvax, and Lucanix.
"The present study was well designed, and the CADI-05 vaccine was incorporated in front-line therapy. However, CADI-05 did not improve survival, and overall survival was inferior compared with that reported in other multicenter trials. Use of nonspecific immunomodulators like CADI-05 may be more useful in patients with lower tumor burden," he said.

"Immunomodulation [with an agent like CADI-05] is most likely to be successful if it is integrated with chemotherapy or radiation therapy, used in the adjuvant setting, and early in the metastatic disease setting or to maintain response. Several large randomized phase III trials of immunotherapy are ongoing, and these trials validate immunotherapy as an option," Dr. Hassan stated.
Vascular-disrupting Agent
ASA 404 (vadimezan), a small-molecule vascular-disrupting agent, failed to improve survival when added to paclitaxel/carboplatin vs paclitaxel/carboplatin alone as first-line therapy in the randomized phase III ATTRACT-1 trial.3
The study enrolled 1,545 patients with advanced-stage IIIB/IV NSCLC of all histologies and randomly assigned them to six cycles of chemotherapy plus vadimezan or chemotherapy alone. Patients in the experimental arm continued vadimezan after chemotherapy until disease progression. The efficacy analysis was based on 649 patients in the experimental arm and 650 in the control arm. The safety analysis included 628 and 626 patients, respectively.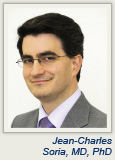 Median overall survival was 13.4 vs 12.7 months for the experimental and control arms, respectively. The Data and Safety Monitoring Committee closed the study in March 2010 for futility.
Vadimezan did not add to the toxicity of chemotherapy. No clustering of any specific events leading to death was observed in either treatment arm.
"These disappointing results did not bear out encouraging phase II results," said presenting author Primo Lara, MD, University of California at Davis. "This study is another example of a disconnect between positive phase II trials and negative phase III trials. Vascular disruption as a therapeutic anti-cancer strategy remains unproven. Further development of vadimezan has been halted. The molecular target of this agent remains unknown."
Formal discussant of this trial, Jean-Charles Soria, MD, PhD, Institut Gustave-Roussy, Paris, called the trial "completely negative." He said that trials of vascular-disrupting agents and other targeted therapies are plagued by a lack of predictive biomarkers to identify patients likely to respond and those with a high risk of treatment failure.
"Molecular targeted agents are at very high risk of failure in phase III studies if no biomarker is identified. We have subjected about 27,000 patients to negative phase III trials over the past 10 years. We need to change the way we do clinical trials," Dr. Soria stated. ■
Disclosure: Dr. Belani and Dr. Hassan reported no potential conflicts of interest. Dr. Shapiro has received prior funding from Synta Pharmaceuticals. Dr. Ramalingam is a consultant/advisor for Abbott, Amgen, Genentech, GlaxoSmithKline, ImClone, Infinity, Lilly, and Pfizer. Dr. Lara is a consultant/advisor and has received honoraria and research funding from Novartis. Dr. Soria is an advisor/consultant for Abbott, Boehringer Ingelheim, Lilly, Merck, Pfizer, Roche, sanofi-aventis, SERVIER, and Wyeth, and has received honoraria from AstraZeneca and Bristol-Myers Squibb.
References
1. Wong K, Koczywas M, Goldman JW, et al: An open-label phase II study of the Hsp90 inhibitor ganetespib (STA-9090) as monotherapy in patients with advanced non-small cell lung cancer (NSCLC). 2011 ASCO Annual Meeting. Abstract 7500. Presented June 4, 2011.
2. Belani C, Desai D, Khamar BM: Open-label randomized multicenter phase II clinical trial of a toll-like receptor 2 (TLR2) agonist mycobacterium w (Cadi-05) in combination with paclitaxel plus cisplatin versus paclitaxel plus cisplatin in advanced non-small cell lung cancer (NSCLC). 2011 ASCO Annual Meeting. Abstract 7501. Presented June 4, 2011.
3. Lara P, Douillard J, Nakagawa K, et al: Randomized phase III placebo-controlled trial of carboplatin/paclitaxel (CP) with or without the vascular disrupting agent vadimezan (ASA404) in advanced non-small cell lung cancer (NSCLC). 2011 ASCO Annual Meeting. Abstract 7502. Presented June 4, 2011.
---