Breast Cancer Studies Focus on Tailoring Therapy for Patient Subsets

As part of our ongoing coverage of the 2011 ASCO Annual Meeting, The ASCO Post has provided substantive reports on key breast cancer trials, but others deserve attention.
Lapatinib/Capecitabine Controls Brain Metastases
Results of the French phase II LANDSCAPE trial found lapatinib (Tykerb) plus capecitabine (Xeloda) to be highly active against brain metastases in patients with HER2-positive metastatic breast cancer. The regimen produced a 67% central nervous system volumetric response rate and delayed the need for whole brain radiotherapy.1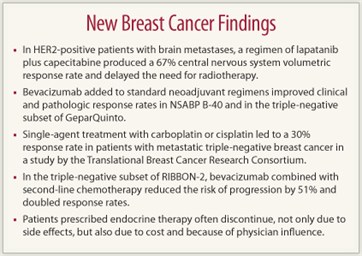 For 43 patients followed a median of 14 months, at least an 80% reduction in central nervous system lesion volume was observed in 20.9% of patients, while 46.5% had a reduction of 50% to 80%, reported Thomas Bachelot, MD, of the Centre Léon Bérard in Lyon.
Another 14% had a reduction of 20% to 50%, and 4.7% had less than a 20% reduction. Only 14% of patients had progressive disease as their best response, he said.
Extra–central nervous system responses were also frequent, occurring in 42.9%; another 45.7% had stable clinical disease. Median time to progression was 5.5 months, and median time to whole brain radiotherapy was 7.8 months. Six-month overall survival was 90.9%.
The benefit was robust in some cases, Dr. Bachelot noted. "One patient, for example, with 25 small brain metastases had a dramatic 98% volumetric reduction in lesions and is still on treatment after 13 months," he reported.
Nancy U. Lin, MD, of Harvard Medical School, Boston, commented that the study shows systemic approaches can be effective in treating HER2-positive brain metastases. "The results of LANDSCAPE raise the possibility that in the future, radiotherapy may be reserved for the salvage setting," she said. "Continued active effort in this area is needed."
Neoadjuvant Bevacizumab Increases Complete Responses
In the National Surgical Adjuvant Breast and Bowel Project (NSABP) B-40 trial, bevacizumab (Avastin) added to regimens based on docetaxel followed by doxorubicin/cyclophosphamide significantly increased clinical and pathologic complete response rates, especially in the hormone receptor–positive subset. Neither capecitabine nor gemcitabine (Gemzar), however, conferred additional benefit when added to docetaxel but did contribute to toxicity, reported Harry D. Bear, MD, of Virginia Commonwealth University and the Massey Cancer Center, Richmond.2
The study enrolled 1,206 patients, 54% with tumors > 4 cm and 47% with positive lymph nodes. Clinical complete responses were observed in 64.3% in the bevacizumab arm vs 55.8% without bevacizumab (P = .006), and pathologic complete responses were achieved in 34.5% and 28.4%, respectively (P = .027). Among hormone receptor–positive women, pathologic complete responses were seen in 23.3% and 15.2%, respectively, a significant (P = .008) increase with the addition of bevacizumab. Approximately 50% of the triple-negative subset responded to either regimen.
Although neoadjuvant bevacizumab did not significantly increase pathologic complete responses in the triple-negative subset of NSABP B-40, it did improve responses among patients with triple-negative breast cancer in the GeparQuinto study, which was presented by Bernd Gerber, MD, of Rostock, Germany.3 The 684 patients were randomly assigned to epirubicin/cyclophosphamide followed by docetaxel (EC-Doc) with or without bevacizumab.
The pathologic complete response rate was 36.4% for the bevacizumab arm vs 27.8% for the EC-Doc arm (P = .021). By the two main definitions of pathologic complete response, the rates were 44.6% vs 36.5%, respectively, when evaluated according to the NSABP definition (no invasive residual disease in the breast; P = .04), and 40.1% vs 32.7%, respectively, by the MD Anderson definition (no invasive residual disease in the breast or nodes; P = .059), Dr. Gerber reported.
The addition of bevacizumab, young age, grade 3 disease, and small tumor size independently predicted pathologic complete response in the multivariate analysis. He noted that bevacizumab did not lead to a higher pathologic complete response rate in the overall population, only among those with triple-negative breast cancer.
Bevacizumab Prolongs Remission in Triple-negative Subset of RIBBON-2
The addition of bevacizumab to second-line chemotherapy improved progression-free survival in patients with triple-negative breast cancer in RIBBON-2, reported Adam Brufsky, MD, PhD, of the University of Pittsburgh.4
RIBBON-2 enrolled 684 HER2-negative locally advanced or metastatic patients with one prior chemotherapy regimen to second-line chemotherapy (physician's choice) with or without bevacizumab. His presentation focused on the 159 patients with triple-negative breast cancer. Median progression-free survival was 6.0 months with bevacizumab/chemotherapy compared with 2.7 months with chemotherapy alone, for a highly significant 51% reduction in risk (P = .0006). Objective response rates were 41% and 18%, respectively (P = .0078).
"Despite the immature data and small sample size, there was also a trend toward improved overall survival, from 12.6 months with chemotherapy to 17.9 months with bevacizumab," Dr. Brufsky reported (hazard ratio = 0.624; P = .0534).
Platinum Monotherapy Is Active in Triple-negative Disease
Both carboplatin and cisplatin, given as single agents, showed significant activity as a first- or second-line treatment against metastatic triple-negative breast cancer in a study of 86 patients by the Translational Breast Cancer Research Consortium, TBCRC009.4
Steven J. Isakoff, MD, PhD, of Massachusetts General Hospital, Boston, reported that the overall response rate to the compounds was 30.2%, including 4.7% complete responses. Subgroup analyses of the multicenter single-arm trial showed higher responses with cisplatin (37%) than carboplatin (23%), but absent a randomized comparison, Dr. Isakoff cautioned against making treatment decisions based on this difference.
"Platinum is a reasonable option for metastatic triple-negative breast cancer, but we still don't know whether triple-negative breast cancer is particularly sensitive to platinum or is just sensitive to chemotherapy," he pointed out. "I think it will take some of the randomized studies now going on in Europe, such as the TNT trial comparing carboplatin to docetaxel, to see whether there is something special about triple-negative disease and platinum."
Lack of Adjuvant Endocrine Therapy
Oncologists need to pay increased attention to side effects related to endocrine treatments and perhaps adjust their message to patients. This was the conclusion of the Cancer Surveillance and Outcomes Team (CanSORT) study, led by T. May Pini, MD, MPH, of the University of Michigan, Ann Arbor, who evaluated reasons why compliance rates are poor with tamoxifen and aromatase inhibitors.5
They surveyed 503 women 4 years after diagnosis of invasive hormone-responsive breast cancer, and looked at the percentage of noninitiators (who never started therapy), nonpersistors (who started but discontinued), and persistors (who continued on treatment).
Dr. Pini and colleagues also asked patients about the reasons why they never initiated therapy, as well as why they stopped prior to completion of a full course. Among patients who did not initiate treatment (n = 56), women expressed concerns about side effects (27%) or chose not to take their physician's recommendation (16%); concerns about costs were less common (5%). (Note: responses were not mutually exclusive.) The most common reason for failure to start treatment, however, was that "the doctor said therapy was not needed" (39%); several (4%) reported their physicians did not even discuss endocrine therapy.
Of the 447 women who initiated therapy, 83% were persistors and 17% were nonpersistors. Nonpersistence was related to side effects (27%); cost (18%), with less prescription medication coverage associated with an increased likelihood of nonpersistence; and concerns about adverse effects (16%). Patients also cited a dislike of being on medications (17%) and the need to "move on" from the cancer (11%). Almost one out of six patients (16%) said they were "told to stop" by their physician. Women whose physicians were not medical oncologists had nearly a threefold higher likelihood of nonpersistence.
"Decreasing out-of-pocket costs may increase persistence with adjuvant endocrine therapy. Doctors also need to focus attention on the challenging issue of treatment side effects," Dr. Pini said. Research should aim to identify modifiable aspects of physician-patient communication that could improve rates of initiating and persisting with therapy. ■
Disclosure: Dr. Bachelot has done research and served as a consultant for GlaxoSmithKline. Dr. Lin has received research funding from Genentech and GlaxoSmithKline. Dr. Bear has received honoraria from Genentech and Roche. Dr. Gerber has received honoraria from AstraZeneca, GlaxoSmithKline, Novartis, Roche, and sanofi-aventis, and research funding from Novartis. Dr. Brufsky, Dr. Isakoff, and Dr. Pini reported no potential conflicts of interest.
References
1. Bachelot TD, Romieu G, Campone M, et al: LANDSCAPE: An FNCLCC phase II study with lapatinib and capecitabine in patients with brain metastases from HER2-positive metastatic breast cancer before whole brain radiotherapy. 2011 ASCO Annual Meeting. Abstract 509. Presented June 5, 2011.
2. Bear HD, Tang G, Rastogi R, et al: The effect on pCR of bevacizumab and/or antimetabolites added to standard neoadjuvant chemotherapy: NSABP protocol B-40. 2011 ASCO Annual Meeting. Abstract LBA1005. Presented June 6, 2011.
3. Gerber B, Eidtmann H, Rezai M, et al: Neoadjuvant bevacizumab and anthracycline-taxane-based chemotherapy in 686 triple-negative primary breast cancers: Secondary endpoint analysis of the GEPARQUINTO study. 2011 ASCO Annual Meeting. Abstract 1006. Presented June 6, 2011.
4. Brufsky A, Valero V, Tiangco B, et al: Impact of bevacizumab on efficacy of second-line chemotherapy for triple-negative breast cancer: Analysis of RIBBON-2. 2011 ASCO Annual Meeting. Abstract 1010. Presented June 6, 2011.
5. Isakoff SJ, Goss PE, Mayer EL, et al: TBCRC009: A multicenter phase II study of cisplatin or carboplatin for metastatic triple-negative breast cancer and evaluation of p63/p73 as a biomarker of response. 2011 ASCO Annual Meeting. Abstract 1025. Presented June 4, 2011.
6. Pini TM, Griggs JJ, Hamilton AS, et al: Patterns and correlates of adjuvant breast cancer endocrine therapy use. 2011 ASCO Annual Meeting. Abstract 510. Presented June 5, 2011.
---