Are Clinical Pathways Inevitable in Oncology's Future?

Our health-care system is undergoing a gradual but inevitable sea change, shifting from traditional fee-for-service to fee-for-value. A session at this year's Association of Community Cancer Centers meeting in Washington, DC, shed light on how this trend will reshape incentives and the clinical behavior of providers. "After years of being viewed as the sacred cow, oncology is in the hot seat as payers target savings in this high-cost area," said presenter Lesli D. Lord, Executive Director of Oncology Physician Resource, PLLC. She added that while patient demographics contribute to rising cancer costs, clinical drivers account for the majority of the increase.
How Do We Know Pathways Are Coming?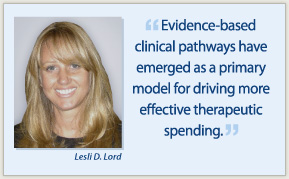 Close collaboration between payers and providers is likely to become even more critical in getting the most out of our limited financial resources, especially in a period of declining reimbursements. Ms. Lord said that evidence-based clinical pathways have emerged as a primary model for driving more effective therapeutic spending in oncology by modifying incentives and aligning providers around select treatment regimens.
"Payers are looking for programs that achieve broad buy-in and provider compliance," noted Ms. Lord. She said that payers want pathways that are specific and consistent across providers, and that have national credibility and are vetted with appropriate clinical standards. There also has to be a demonstrated savings potential in order to justify higher reimbursement. To that end, payers want periodic assessments of provider performance relative to designated spending targets.
Long-term Goals
As drug reimbursement for injectable chemotherapies continues to decline, community oncologists will need to adopt new business models. Naturally, payers are interested in the concept of paying for adherence to pathways, but Ms. Lord pointed out that they are open to different payment types, especially in models that encourage oncologists to take more overall care and cost responsibility for managing their patients. "Payers also want tools and technology that enable efficient measurement of compliance to avoid significant and costly work," said Ms. Lord.
Payer Requirements
"Pathways will need to be continually extended to manage more than just drugs," commented Ms. Lord. She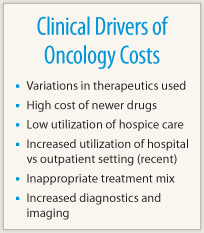 identified several cost buckets with the potential to drive oncology savings. Under therapeutic management, she said, it is important to select pathways based on effectiveness, toxicity, and cost. Oncologists should also select pathways that reduce practice variation and that help to improve dosing practices.
Studies have shown that timely initiation of hospice care enhances outcomes and saves money. Ms. Lord pointed to the recent ASCO statement on end-of-life care as an example of a continuum of cost-effective care that improves patient and caregiver awareness around treatment options in advanced disease.
"In all settings, pathways also need to help coordinate treatments to eliminate care fragmentation and guide utilization of lower cost options where the effectiveness of that option is warranted," noted Ms. Lord.
Another area in which pathways can cut back on unnecessary costs is by decreasing hospital admissions. "When possible, shift delivery of patient services from hospitals to lower cost community settings. Also, utilize nurse coordination to reduce overall hospitalizations and ER visits due to adverse reactions to therapy," said Ms. Lord.
Changing Landscape
As Ms. Lord stressed at the start of her presentation, our overburdened health-care system is making a gradual but inevitable shift from traditional fee-for-service to one in which value will become the operative term. We will reimburse providers in oncology by linking the reimbursement for the intervention to its clinical value; there would also be an added incentive to personalized medicine.
Moreover, Ms. Lord said that new collaborative efforts and delivery models such as the patient-centered oncology medical home will emerge as instruments to foster output-based incentives to share savings as a measure of improving quality and reducing costs. "In short, the 'pathways' model has emerged as a primary method for driving more effective therapeutic spending in oncology, by modifying incentives and aligning providers around select treatment regimens," concluded Ms. Lord. ■
Disclosure: Ms. Lord receives funding from Physician Resource Management, Inc, Oncology Physician Resource, PLLC, Southwest Oncology Network, LLC, and MOASC Purchasing Network, Inc. She has served as a consultant (compensated) to AmerisourceBergen Specialty Group.
---