A Prominent Oncologist Retraces Her Steps from Baghdad

Maha Hussain, MD, FACP, Professor of Medicine and Urology, is the Associate Director for Clinical Research at the University of Michigan Comprehensive Cancer Center (UMCCC) and Co-leader of its Prostate Cancer/GU Oncology program. Dr. Hussain recently spoke with The ASCO Post about becoming a doctor in her native country of Iraq and the events that propelled her eminent career in oncology.
Career Beginnings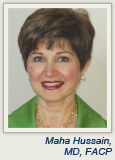 Was there a seminal influence that primed your decision to become a doctor?
As far back as I can remember I always wanted to be a doctor. My father understood the value of a medical profession—not only as a fulfilling career but also as an opportunity to make a difference—and he encouraged my siblings and me to become doctors. I think inspiration from my three uncles, who were physicians, also played a significant role in my decision.
Was it a difficult process getting into medical school in Iraq?
In Iraq, like the United States, admission to medical school was very competitive. However, the distinction is that students take a one-time national exam, and the absolute score alone determines ones eligibility for admission. By default, medical school entry requires the highest-ranking scores, and the University of Baghdad College of Medicine gets the highest-ranking students. In my case, that worked out perfectly because I scored very well and was accepted directly to the University of Baghdad College of Medicine.
Medical School Experience
Most students from your generation in U.S. medical programs were men. What was it like being a female medical student in Iraq?
I went to medical school from 1974 to 1980, and at that time I had female professors who were graduates from the 1960s and 1970s. I also knew women from my parent's generation who had graduated in the 1950s. More than one-third of my class—over 300 students—were women.
A starting doctor's life was not easy, and there were demanding requirements during the first few years of training, including mandatory service in rural areas and several years of intense training before one would think of opening a practice. For women this could have been a huge burden, especially if they decided to marry and have children.
Despite these potentially limiting variables, many women went to medical school. We were proud to have earned our places as physicians, and in my experience none of us felt as though we were different or in any way discriminated against. I suppose that this was a manifestation of the progressive attitudes in the urban centers in Iraq at that time and a reflection of the value that Iraqi society put on education.
Gradual Specialization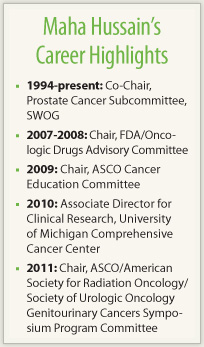 What steered you to oncology?
My preference toward a career in oncology developed over time while in the United States. During my clinical training at the different hospitals in Baghdad, oncology was in its infancy and not a developed field in Iraq, by comparison with other subspecialties. At that time, smoking was quite prevalent and preventive cancer care was nonexistent. Those variables coupled with other socioeconomic and cultural factors contributed to patients presenting with far advanced tumors. Baghdad hosted the country's major medical centers, and as students we saw some of the most complex and advanced instances of cancer.
At the time, it struck me that something was wrong with cancer care in Iraq. People shouldn't have to wait that long to have care, and early detection and prevention of potentially preventable cancers should be a priority.
However, my true momentum toward oncology was built during medical training at Wayne State University. There, I was exposed to a broad oncology experience and had the good fortune to closely connect with several members of the hem/onc faculty whom I considered my mentors. In that challenging environment, my interest in oncology intensified. Remember, this was the time when a cure for testes cancer was becoming possible, better systemic treatments were emerging for a variety of advanced cancers, organ preservation strategies were being tested, and clinical and basic research was expanding. The space and opportunity to contribute became apparent, and to date I have never regretted my decision.
Moving to America
Leaving one's homeland is a major life decision. What was the driving factor in your decision, and what brought you to the United States?
Getting a higher degree in the West was a professional priority for my husband and me—an objective fostered by our families. However, perhaps the most consequential twist in our lives was that we left Iraq to pursue these opportunities 3 weeks before the start of the Iraq/Iran war. Experiencing the freedoms, opportunities, and potential that the United States provided, we made a conscious decision to make this country our homeland.
Our first landing after leaving Iraq was actually the UK. After the first year there, it became clear that while there were opportunities to train, they were not the ones for which we were looking. That coupled with strong encouragement from my uncles (practicing physicians in the United States) was the ultimate catalyst for the decision to move to America. Having just left our homes in Baghdad, we were weary and reluctant to move again, but it was one of the best decisions that we ever made.
Returning to Iraq
Do you plan to visit Iraq?
This coming August will be 31 years since I left Iraq. I have not gone back but I would love to return for a visit. In fact, as things settle, I may take my sabbatical there. This will give me the opportunity to contribute to oncology education or help contribute to the restructuring of the national cancer care system. On a personal note, however severe the changes may be, I would be remiss if I did not acknowledge the desire to return simply to see the place I grew up in.
Last Thoughts
Any last thoughts on your oncologic journey?
This has actually been a great exercise in reflection! As I look back, I can see that my career was in part being shaped by my personal and professional experiences in Iraq but clearly matured and focused in the United States. I have been fortunate in that I have experienced two different cultures and systems and had several role models and mentors over the years.
I'm a doctor at heart—I want to help sick people—but I continue to be curious and intellectually stimulated by the ever-expanding science at the foundation of medicine, starting from my early research experience as a fellow. When I interact with residents, I try my hardest to recruit them into the incredibly exciting and rewarding career of oncology. ■
Disclosure: Dr. Hussain reported no potential conflicts of interest.
---