I Didn't Want My Past to Become My Future
I watched my mother die of breast cancer when I was 10. When I got my own breast cancer diagnosis, I wondered if I were going to die, too.

When I felt a large mass in my left breast as I was drying off from a shower on Thanksgiving Day, in 2007, I instinctively knew it was cancer. My mother had been diagnosed with breast cancer when she was 38, just 7 years older than I was at the time, and died 4 years later. I was 6 when she was diagnosed and remembered accompanying her to all her chemotherapy appointments. The first question I asked after my own breast cancer diagnosis was, am I going to die like my Mom?
Soon after I felt the lump, I had my first mammogram and breast ultrasound. The images showed two masses closely together, which is why the lump had felt so large to me. The radiologist said he was nearly 100% certain I had cancer. He said it looked like the malignancy had already spread to my lymph nodes, but he wouldn't know for sure until the tissue was biopsied and examined by a pathologist. He told me he had already made an appointment for me with a breast surgeon for later that day, and the urgency of his action only intensified my fear.
It took a long time for me to compose myself well enough to get in my car and drive to the surgeon's office; along the way, I began crying so hard that I had to pull over on the side of the road several times before I could get to her office. A few days later, I got the diagnosis I had been dreading: stage 3 triple-negative invasive ductal carcinoma.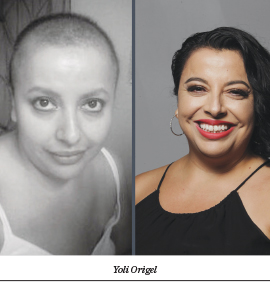 Overcoming the Darkest Period
I always think about this period after my cancer diagnosis and before treatment began as the in-between time, and the darkest period of my cancer journey. I'm a take-charge person, and once I knew what the treatment plan was and what I had to do, I got into action mode, which gave me back a sense of control. Now, I have my own nonprofit organization serving patients with cancer, Cancer Kinship (cancerkinship.org). Our goal is to provide extra support and individualized action plans to help patients get through their "in-between" time, while also addressing critical challenges they may face, including transportation as well as food and financial insecurity, which may affect long-term survivorship.
Because of my family history of early-onset breast cancer—in addition to my mother, my oldest sister was diagnosed with breast cancer in her early 40s—I underwent genetic screening and tested positive for the BRCA1 mutation. Having that knowledge helped determine my next steps.
After answering all my questions about treatment options, my oncologist recommended a dose-dense neoadjuvant chemotherapy regimen of four rounds of doxorubicin and cyclophosphamide, followed by four rounds of paclitaxel; surgery for the primary tumor plus a contralateral prophylactic mastectomy; and 7 weeks of daily adjuvant radiation treatments.
I waited nearly 6 months after completing my treatments to give my body time to heal before undergoing latissimus dorsi flap reconstruction surgery. I eventually also had a hysterectomy to reduce my risk of ovarian cancer.
I am now in my 16th year of survivorship and am thrilled to say I remain cancer-free.
Cancer has taught me the power of human connection. Having a cancer experience and being a mentor to other cancer warriors has changed my life.

— Yoli Origel




Tweet this quote



Learning Lessons From Cancer
I've learned many life lessons since I was first introduced to cancer when I was a young child of 6. One of the biggest lessons is the inequities in health care, especially for immigrant families. My parents were from Mexico. My father was a farm worker, and neither parent spoke English very well; I saw firsthand the difficulty—and, really, near impossibility—of overcoming the language barrier and navigating a primarily all-English–speaking health-care system. As a child translator, I was able to help my mother in her medical decisions. However, the complex medical terminology was so difficult for me to understand that I'm not sure what I was translating was accurate. Not completely comprehending what was happening to my mother must have been terrifying for her.
When my youngest sister was diagnosed with metastatic breast cancer 8 years after my diagnosis, I was able to provide her with a level of care and support that allowed her to live and die with dignity. These experiences with cancer and my exposure to peer mentorship when I was going through treatment gave me the impetus to launch Cancer Kinship to address not only the physical impact of cancer on survivors, but the emotional, psychosocial, and financial impacts as well. Knowing this organization is making a difference in the lives of cancer warriors has given me as a cancer survivor a sense of purpose, deepened my faith, and altered my life's goals.
Providing a Safe Haven for Survivors
Cancer has taught me the power of human connection. Having a cancer experience and being a mentor to other cancer warriors has changed my life. My main ambition now is to provide a community where anyone affected by cancer can find a safe haven, where fears can be alleviated and quality of life and survival outcomes can be improved.
Cancer will always be part of my life, and if I can make a difference in the lives of other survivors, I consider it a blessing.
Ms. Origel, who lives in Brea, California, is the Founder and Chief Executive Officer of Cancer Kinship. This organization is a nonprofit cancer survivorship charity that provides peer mentorship, empowerment and educational workshops, community resources, and free wigs to patients undergoing cancer treatment. 
Editor's Note: Columns in the Patient's Corner are based solely on information The ASCO Post received from patients and should be considered anecdotal.
---