CAR T-Cell Therapy Gave Me Back a High-Quality Life
After a diagnosis of multiple myeloma, I am grateful for the research that has made it possible for me to continue the life I love with the people I love.

A radiologist by training, I knew the minute I saw the results from my chest x-ray that I had multiple myeloma. In 2015, I was semiretired and had just taken up the game of golf. After making a big swing at the ball, I instantly felt pain in my ribs and thought I had either pulled an intercostal muscle or fractured a rib. After palpating the area, I could feel bone rubbing against bone, and I knew I had a fractured rib. Still, I wasn't concerned. I knew the fracture would heal on its own. But 3 days later, when I palpated the area again and could feel the rib was still fractured, I decided to get an x-ray of my chest and ribs to make sure the fracture wasn't overly displaced.
I went to the radiology department in the hospital where I worked, had a chest x-ray, and picked up the results. While looking at the film, I noticed I actually had three rib fractures and a pelvic fracture, which explained the pain I had been experiencing in my left hip. As I continued to examine the film, I noticed multiple tiny holes throughout my skeleton. They were the unmistakable hallmarks of the life-threatening blood cancer multiple myeloma, and the realization nearly caused an anxiety attack. I knew this was a bad disease and I had just made a fatal diagnosis.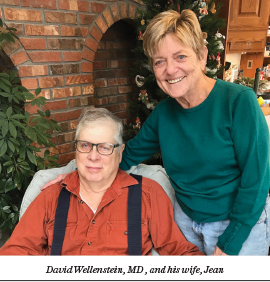 Balancing Effective Treatment and Its Side Effects
A week later, I was sitting in my oncologist's office discussing his recommended standard-of-care course of treatment: a three-drug regimen of bortezomib, lenalidomide, and dexamethasone. As is common, initially, the treatment was successful in halting disease progression, and that gave me the first sense of optimism I'd felt since my diagnosis. However, the side effects of the treatment, including peripheral neuropathy in my hands and feet that ascended to my knees, mid-thigh, and then peritoneum, affecting my bladder, were so severe I had to use a walker, and they continued to get worse after each treatment cycle.
Although tapering the treatment dosage relieved the peripheral neuropathy, it also accelerated disease progression. Once again, I was faced with the challenge of finding a course of therapy that would be effective against this advancing disease and not be so debilitating it hindered my quality of life.
The good news about treating incurable multiple myeloma is there have been so many advances in new therapies over the past 2 decades that there were many drug regimens to try. Over the next 2 years, I went through eight different combinations of anticancer agents. Although each proved effective in temporarily managing disease progression, they also contributed to worsening the neuropathy in my extremities.
I was starting to run out of acceptable options when my oncologist suggested I see a myeloma specialist at a major cancer center. There, I was offered a clinical trial investigating a B-cell maturation antigen–directed chimeric antigen receptor (CAR) T-cell therapy, idecabtagene vicleucel, for patients with advanced relapsed or refractory multiple myeloma, and I quickly said: "Sign me up." The treatment has since been approved by the U.S. Food and Drug Administration for this indication.1
I had a dramatic and immediate response to the therapy. Since my infusion with the CAR T-cell therapy, in 2019, my subsequent bone marrow biopsies, as well as blood tests, show no evidence of disease. No one is saying I am cured of multiple myeloma, but for 3 years, I have not needed additional treatment, and the side effects of previous treatments have subsided.
No one is saying I am cured of multiple myeloma, but for 3 years, I have not needed additional treatment, and the side effects of previous treatments have subsided.

— David Wellenstein, MD




Tweet this quote



Appreciating Science-Driven Advances in Cancer
During my CAR T-cell treatment, my fifth grandchild was born. It doesn't escape me that I might never have met this grandchild if I hadn't had this life-saving therapy. Although I am fully retired now, my life remains physically and mentally active. I have a woodturning and blacksmithing shop and enjoy spending time there with my grandchildren making birdhouses.
I have always had a successful marriage and family life, but cancer has brought us even closer together. My wife, Jean, has been my biggest supporter, and I am more appreciative than ever of the wonderful life we have built together.
Many days the word "myeloma" doesn't cross my mind, but the worry about a recurrence is always there. I see my oncologist every 6 weeks for monitoring and blood tests, and, I admit, I hold my breath until I get the negative results.
I'm grateful for the research that has made it possible for me to continue the life I love with the people I love. I've seen firsthand the far-reaching impact science-driven advances can have on the lives of cancer survivors. I'm so happy that I am one of the recipients of that progress. 
Dr. Wellenstein lives in Sauquoit, New York.
Editor's Note: Columns in the Patient's Corner are based solely on information The ASCO Post received from patients and should be considered anecdotal.
REFERENCE
1. U.S. Food and Drug Administration: FDA approves first cell-based gene therapy for adult patients with multiple myeloma. Available at www.fda.gov/news-events/press-announcements/fda-approves-first-cell-based-gene-therapy-adult-patients-multiple-myeloma. Accessed June 17, 2022.
---