Modified FOLFIRINOX Established as Preferred Neoadjuvant Treatment of Borderline Resectable Pancreatic Cancer

In the treatment of borderline resectable pancreatic ductal adenocarcinoma, the Alliance A021501 trial established neoadjuvant treatment with modified FOLFIRINOX (fluorouracil [5-FU], leucovorin, irinotecan, oxaliplatin) as a new benchmark. However, it failed to show the benefit of adding hypofractionated radiation therapy, according to Matthew H.G. Katz, MD, FASCO, of The University of Texas MD Anderson Cancer Center, Houston.1

Matthew H.G. Katz, MD, FASCO
The patients receiving neoadjuvant modified FOLFIRINOX had an 18-month overall survival rate of 66.4%, exceeding the prespecified historical control rate of 50%. "Based on the results of this study, modified FOLFIRINOX represents a reference preoperative regimen for patients with borderline resectable pancreatic adenocarcinoma," Dr. Katz said at the 2021 Gastrointestinal Cancers Symposium, which was held online this year. In contrast, patients who received hypofractionated radiation therapy in addition to modified FOLFIRINOX did not achieve this 50% threshold, with few patients proceeding to pancreatectomy, leading to early termination of this arm for futility, he further reported.
Invited discussant Rebecca A. Snyder, MD, MPH, of East Carolina University, Greenville, commented: "Modified FOLFIRINOX is effective and tolerable in the preoperative setting for borderline resectable pancreatic cancer, but the addition of stereotactic body radiation therapy [SBRT] in the preoperative setting does not appear to be justified."
Alliance A021501
The Alliance A021501 trial, which opened in 2016, was conducted to establish a reference neoadjuvant regimen for borderline resectable pancreatic cancer against which to evaluate novel preoperative regimens in future clinical trials. ASCO guidelines recommend that preoperative therapy be administered to patients whose tumors are localized and have a significant radiographic interface with the major mesenteric blood vessels. These patients are at high risk for a margin-positive operation and short survival when pancreatectomy is performed de novo, he said.
"Although both systemic chemotherapy and radiotherapy are often administered to these patients with so-called 'borderline resectable' pancreatic cancers, the optimal regimen in this setting is controversial," he said.
Alliance A021501 evaluated neoadjuvant modified FOLFIRINOX with and without radiotherapy in 126 patients with borderline resectable tumors. The trial incorporated a number of quality control measures for imaging, radiotherapy, surgery, and pathology. The primary endpoint was 18-month overall survival.
Specifically, 110 patients were enrolled to receive eight cycles of modified FOLFIRINOX (n = 70, with the first 54 randomly assigned) or seven cycles of modified FOLFIRINOX followed by 5 days of hypofractionated radiotherapy using either SBRT at 33 to 40 Gy in 5 fractions or image-guided radiation therapy at 25 Gy in 5 fractions (n = 56, all randomly assigned). An additional 16 patients were assigned to modified FOLFIRINOX alone, after the interim analysis showed a suboptimal rate of resection (≤ 37% in the first 30 patients) in the radiation-therapy arm.
Patients without disease progression following preoperative treatment underwent pancreatectomy followed by four cycles of postoperative FOLFOX (5-FU, leucovorin, oxaliplatin). Ultimately, surgery was completed for 49% of the modified FOLFIRINOX arm and 35% of the modified FOLFIRINOX/radiotherapy arm. The proportion completing the full protocol was 31% and 18%, respectively. Table 1 shows the more favorable outcomes for the arm receiving modified FOLFIRINOX alone vs with radiotherapy.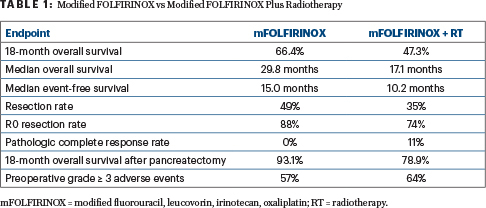 "The final efficacy decision rule was applied to arm A [modified FOLFIRINOX], and at 18 months, 39 of the first 62 evaluable patients were alive. Thus, modified FOLFIRINOX was declared efficacious," Dr. Katz said. "As arm B [modified FOLFIRINOX plus radiotherapy] closed at the interim futility analysis, statistical requirements to conclude efficacy were not met."
Treatment-related toxicities were generally similar for the two arms. Among patients who received modified FOLFIRINOX and modified FOLFIRINOX plus radiotherapy, the rates of grade ≥ 3 adverse events prior to surgery were 57% and 64%, respectively, and the rates of grade ≥ 4 adverse events were 17% and 9%, respectively.
"On both arms, dose reductions and delays were common during preoperative chemotherapy, but dose omissions were not," he said. "Only one patient required a treatment interruption during radiation therapy." 
DISCLOSURE: Dr. Katz has served as a consultant or advisor to AbbVie and Alcresta Therapeutics. Dr. Snyder reported no conflicts of interest.
REFERENCE
1. Katz MHG, Shi Q, Meyers JP, et al: Alliance A021501: Preoperative mFOLFIRINOX or mFOLFIRINOX plus hypofractionated radiation therapy for borderline resectable adenocarcinoma of the pancreas. 2021 Gastrointestinal Cancers Symposium. Abstract 377. Presented January 17, 2021.
---
Related Articles

Rebecca A. Snyder, MD, MPH
The invited discussant of the Alliance A21501 findings, Rebecca A. Snyder, MD, MPH, Assistant Professor of Surgical Oncology at the Brody School of Medicine at East Carolina University, Greenville, described the overall survival associated with modified FOLFIRINOX...