The Piano


Catriona M. McNeil, PhD
The ASCO Post is pleased to reproduce installments of the Art of Oncology, as published previously in the Journal of Clinical Oncology. These articles focus on the experience of suffering from cancer or of caring for people diagnosed with cancer, and they include narratives, topical essays, historical vignettes, poems, and photographic essays. To read more, visit ascopubs.org.
At first, I had been ambivalent about the piano. It had appeared seemingly without notice in the terrazzo foyer of the hospital, although someone in authority must have given approval.
There was nothing novel in hearing music carried up from the ground floor. There had been the occasional afternoon recital or a solitary bugler playing "The Last Post" at the eleventh hour of the eleventh day.
And for as long as I could recall, every Thursday at lunchtime, a roughly assembled choir of patients and volunteers had met there to sing their usual playlist of old standards and show tunes. The music itself was not unpleasant, and there was something heartwarming in the joy it brought the singers, for each number was followed by rapturous, self-congratulatory applause and whooping laughter. But context is everything, and I tried to keep my clinic in the mezzanine above running on time so it finished before lunch, lest some Broadway medley became the soundtrack to someone's bad news.
The piano threatened to be even more problematic on account of the nearby sign that welcomed anyone who could play to do so, with no particular genre or schedule in mind. Inevitably, most clinics came to be conducted with the benign tinkling of the keyboard drifting in and out with the opening and closing of doors.
Private Agony in C Minor
In truth, I hardly noticed the piano at all until the end of one afternoon clinic. Whoever was playing had begun with a dramatic chord in C minor, then a sudden tumbling left-handed arpeggio, and then again. Almost immediately came the main melody, despairing and heartbreaking. The music was at once ferocious, angry, and sad.
Drawn out of my consultation room, I walked to the glass balustrade and looked down to the foyer to see who was playing so magnificently. I expected to see someone in performance attire, but there at the piano sat a middle-aged man in the shorts and T-shirt of an Australian summer, playing from memory as his fingers navigated their way over the keys with easy familiarity, his body swaying gently. The piece of music was recognizable, but I couldn't name it. Perhaps Rachmaninoff—no, maybe Beethoven. I called my fellow over to listen.
"Who is this guy? He's amazing...," I uttered.
"I think his wife is an inpatient upstairs," she volunteered. "They are both concert pianists."
And then almost as soon as it began, the piece was over. The man stood up, headed toward the elevator, and was gone.
It had been captivating. Yet I had the unsettling sense I had witnessed in those few moments some private agony, as if the mere action of listening was an intrusion—he might just as easily have been standing in the middle of the cavernous space sobbing inconsolably.
I spent the next half hour engaged in a futile search through numerous YouTube videos to try to find the piece of music, to hear it again. I interrogated my fellow, "Don't you play the violin?!" And then, in desperation, I made an apologetic call to my former medical oncology mentor.
The professor, a man who keeps a harpsichord in his living room, seemed unfazed at my unusual request, as singing into my mobile phone I began with the main theme:
"Dah dah da-da daaah...Da-dah, dah dah da-da daaah...Da-dah...."
In reply, he completed the phrase, "Dah dah diddly um dah dah dah daaah, diddly um dah dah," for of course he knew. I had just watched a concert pianist pour out his heart through Chopin's "Revolutionary Étude in C Minor."
I discovered it was originally written as an exercise to train and strengthen a pianist's left hand with its turbulent, twisting scales, but it was also an elegiac composition written by the composer as an expression of his despair at the losses of the 1831 Warsaw uprising.1,2 I watched Evgeny Kissin playing the piece on YouTube over and over again. A few days later, I found myself trawling through a bohemian, second-hand sheet music store until I found a 1983 German print version of the music, with its price of $30 scribbled in pencil just inside the first page. I tried to recapture the feeling of the piece as my eyes traveled over the notes cascading down the page and the composer's instructions: Legatissimo. Energico. Appassionato.
Over the next few weeks, I noticed the man playing most afternoons. He would place a cup of take-away coffee on the top of the baby grand and play for an hour or so—polonaises, nocturnes, mazurkas. Then the piano would fall silent, and he would disappear into the passing parade of patients and visitors.
Cruel Twist of Fate
One day, I spotted him on the ward when I was doing rounds for my own patients. He was sitting in his wife's room as she ate her lunch. I popped my head in through the open door and introduced myself.
"Sorry to intrude. I am one of the doctors here."
"Hi. Tomas." He half-waved with his fork.
"I just wanted to say I very much enjoyed the Revolutionary Étude you played the other day. Can you play it again some time?" I asked.
"Thank you. Of course." Then, looking at his wife sitting up on the edge of the bed at her tray table, he continued, "Katja plays it better than I do."
I felt suddenly embarrassed. Here in the ward, she would not have heard him play. The bumbling cruelty of my request became abundantly clear as Katja turned to look at me.
I saw her short-cropped hair and her slight facial droop. Then raising her left hand above the tray table, as if about to play, she added, "But my left hand doesn't work properly anymore. I bring my hand down and the fingers slip off the keys." She let her hand drop to the imaginary keyboard on her dinner tray, then down to her thigh. It was then I noticed the name of her attending physician illuminated above her bed—my colleague who looks after patients with brain tumors.
"I have been reading about neural plasticity. We'll get some physiotherapy to get your hand strength back," Tomas said in an upbeat tone, keeping a brave face.
"Yes, hopefully things will improve with the treatment," I offered before adding stupidly, "There are pieces of music for one hand only, aren't there? In the meanwhile?" Not that I really knew this beyond recalling that ancient episode of M*A*S*H in which Winchester procured some sheet music for a wounded pianist.3
"Yes, although mostly for the left hand. Ravel composed a piano concerto for left hand alone," said Tomas.
The conversation paused uncomfortably as Katja continued to look at her left hand in sad resignation. There laid bare was the early grief of the patient with a brain tumor at the loss of identity far in advance of the threat to life. There seemed such malice in it—the novelist whose cancer attacks her ability to craft language,4 the surgeon whose disease renders him unable to operate,5 or the change in personality endured by friends and loved ones of so many patients with intracranial malignancy. The despair of Chopin's étude—its sense of loss and waste—seemed suddenly fitting in the context of such injury to selfhood.
Sounds of Hope and Acceptance?
The next day, Tomas was at the piano again at his usual time. We chatted briefly between pieces.
The acoustics in the hospital foyer were fantastic, as the sound rose through the glass and steel atrium in the center of the building. "It's like playing in a concert hall," he said, except, of course, the audience members shuffled past in white compression stockings, rows of surgical staples winding down their necks like railway sleepers. There was no applause, save the occasional, solitary, echoing clap.
Tomas told me that when she was well enough, he used to bring Katja down to the foyer and play for her, as she tapped out the tune silently with her right hand, tears streaming down her face. When asked, she had said she was simply moved by the beauty of the music.
Then, as promised, he played the Chopin again. I listened from the balcony above as if in the dress circle, but this time it sounded different. The notes were the same, but the tumult was gone. Perhaps Katja was doing a little better. Or perhaps not. Where before I had heard urgency and anger, the music now seemed to speak differently. Was it hope or acceptance? Or just my perception? I could not tell, but I never heard him play the piece of music again.
Love Amid the Anger and Loss
I spoke with Tomas a few weeks later in the foyer as he grabbed his afternoon coffee. There had been an operation to relieve brain swelling and pressure and a spell in intensive care. Some movement had returned to Katja's fingers, and there were plans for transfer the following day to a rehabilitation unit closer to home. He remained hopeful but admitted the prognosis was poor. He told me the glioblastoma was unmethylated and seemed to be aggressive.
"Would you mind if I wrote a story about you and Katja?" I asked. "It's just that your playing seems to express so much emotion about her. I will let you read it first."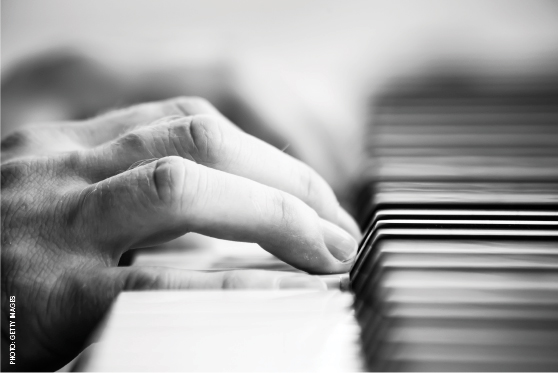 "I cried when she lost her ability to play," he said. "She was so brilliant. There were times when I did feel anger and grief while playing the étude and a couple of other pieces, remembering happier times when we were young students, and the unfairness and injustice of her current situation. But now I am just grateful she is alive. I don't know what I would do without her. She is my life."
In that moment, I knew his playing had been as much about love as it had anger and loss.
There is a theory that one can find music that conveys sadness to be enjoyable because, in art, the immediate social and physical circumstances usually associated with negative emotions are not present; the pathos is experienced at a distance.6,7 This idea of the tragedy paradox also applies to theater and literature. It is how movies can make us cry.
However, as doctors, we are intimately involved in the struggles of our patients and their families. We are not spectators, blithely going on our way when the houselights are turned on and the credits roll. Instead, we play substantive roles in our patients' stories. At such close range, there is no paradoxical joy, but something else entirely.
"There laid bare was the early grief of the patient with a brain tumor at the loss of identity far in advance of the threat to life."

— Catriona M. McNeil, PhD




Tweet this quote



What is it about interacting with our patients and their families in these moments of grief and loss that is so touching, indeed life-affirming? Perhaps it is merely that sadness and tragedy allow us to celebrate our humanity and the value of connectedness.7 Perhaps it reminds us that, in the end, the counterpoint of great grief is actually great love.8
Two Concert Pianists Leave Their Mark
I spoke with Tomas on the phone a fortnight later during a break in my morning clinic. It had become too difficult for Katja to travel to the hospital, and she had been admitted to another cancer center closer to home. There were plans for treatment with bevacizumab or perhaps a trial. Her oncologist was hopeful her disease would respond.
Tomas had been trying to master the last piece Katja had played before her diagnosis. I heard the tremulousness in his voice as he described how beautifully she had played it.
"I'm sorry, it's just that...." I heard him take a deep breath and swallow. The pause.
"It's okay. I know."
I ended the conversation and said goodbye, knowing I would perhaps never hear Tomas play the piano again. I returned to my desk, thinking of the two concert pianists, a husband and wife, and listened just a little more closely to the benign tinkling of the keyboard drifting in and out with the opening and closing of doors. 
Acknowledgment: The author thanks Richard Kefford, MD.
DISCLOSURE: Dr. McNeil has received institutional research funding from MSD Oncology.
REFERENCES
1. Bauer HR: A technical, musical, and historical analysis of Frederic Chopin's etudes, Op. 10 [honors thesis]. Butler University, Indianapolis, 1996. Available at https://digitalcommons.butler.edu/cgi/viewcontent.cgi?article=1248&context=ugtheses. Accessed June 23, 2020.
2. Yu F: Chopin: Complete music analysis—Etudes. Available at http://www.ourchopin.com/analysis/etude.html. Accessed June 23, 2020.
3. IMDb: M*A*S*H Morale Victory. Available at https://www.imdb.com/title/tt0638359/ Google Scholar. Accessed June 23, 2020.
4. Daylight TB: In praise of Georgia Blain and her final words. The Sydney Morning Herald. Available at https://www.smh.com.au/entertainment/books/in-praise-of-georgia-blain-and-her-final-words-20170807-gxqq6b.html Google Scholar. Accessed June 23, 2020.
5. The Sydney Morning Herald: Chris O'Brien, 1952–2009: Professor refused to bow to his cancer. Available at https://www.smh.com.au/national/professor-refused-to-bow-to-his-cancer-20090605-byfx.html Google Scholar. Accessed June 23, 2020.
6. Sachs ME, Damasio A, Habibi A: The pleasures of sad music: A systematic review. Front Hum Neurosci 9:404, 2015.
7. Knobloch-Westerwick S, Gong Y, Hagner H, et al: Tragedy viewers count their blessings: Feeling low on fiction leads to feeling high on life. Communication Res 40:747-766, 2013.
8. Lewis CS: Introduction, in A Grief Observed. New York, NY: HarperCollins; 1961.
At the time this article was published in the Journal of Clinical Oncology, Dr. McNeil was working at the Chris O'Brien Lifehouse, Camperdown, New South Wales, Australia.
---