A Long-Time Student of Leadership, Brian J. Bolwell, MD, FACP, Ultimately Takes the Reins at the Taussig Cancer Institute

In this edition of the Living a Full Life series, guest editor Jame Abraham, MD, FACP, interviewed his colleague Brian J. Bolwell, MD, FACP, Chairman of the Cleveland Clinic Taussig Cancer Institute and Professor of Medicine at the Cleveland Clinic. Among other things, Dr. Bolwell discussed his views on the value of sound leadership skills, especially during uncertain times, such as the current COVID-19 pandemic.
GUEST EDITOR
Dr. Abraham is Professor of Medicine, Lerner College of Medicine, and Chair of the Hematology and Medical Oncology Department at Taussig Cancer Institute, Cleveland Clinic.

Jame Abraham, MD, FACP
Dr. Bolwell spent his early years in Chattanooga, Tennessee. "I had a good childhood; we lived on a mountain where there was a collection of small houses. The other side of the mountain was made up of rugged cliffs and teeming with rattlesnakes. One of my earliest recollections was seeing a rattler crawling across our front yard, which instilled in me a deep-seated fear of snakes that remains to this day," said Dr. Bolwell.
Moving Around, a Leader Is Born
The Bolwells pulled up stakes and left Tennessee, moving around to several places in Ohio, finally coming to rest in Cleveland during Dr. Bolwell's late adolescence. "I'm a bit of an introvert, and I think that's due, in part, to moving around as a kid and not building lasting friendships. It's an interesting topic, whether people in leadership roles are introverts or extroverts. I think most people think leaders are extroverts. However, even though I'm comfortable with public speaking and doing philanthropic fundraising, probably at my core I'm an introvert," said Dr. Bolwell.
After graduating high school, Dr. Bowell attended Harvard University. "I was good in mathematics and sciences, but I also remember being fairly intimidated by Harvard. The day I moved in for my freshman year, the student across the hall was the son of the Speaker of the U.S. House of Representatives. It seemed like everyone I met was from a private boarding school, and here I was the kid from Cleveland," said Dr. Bolwell. He added, "Ultimately, I got over my insecurity and did fine, so in the end, Harvard was a confidence builder that served me well in my career down the line."

Brian J. Bolwell, MD, FACP
On his career in medicine:"Interestingly, I first thought about being a solo practitioner, yet I've been involved in large health-care systems my entire career."
On a terminal patient from his first rotation: "That experience affected me profoundly. It taught me there is a lot more about medicine than is printed in books or journal articles. You can help people in many ways, such as by simply listening to patients and their caregivers."
On leadership: "As a leader, your primary job is to be picky in who you hire. Once you have a team, it's a leader's job to fully support those team members."
A Child and Her Mother
Asked about his decision to pursue a career in medicine, Dr. Bolwell replied, "I'd always liked the idea of medicine. Interestingly, I first thought about being a solo practitioner, yet I've been involved in large health-care systems my entire career."
He continued: "The turning point for me was during my clinical rotations at Metro Hospital in Cleveland. My first rotation was in pediatrics, and I was assigned a 4-year-old girl with [acute lymphoblastic leukemia] who was dying. There wasn't much we could do for her, but I realized one thing I could offer her and her family—I could listen. I spent a lot of time with the patient's mother and got to know her well. She was young and obviously emotionally distraught. She didn't understand why this was happening to her daughter. Many nights on call I would take long walks with her through the hospital and just absorb everything she had to say about the horror of the situation."
Dr. Bolwell added: "That experience affected me profoundly. It taught me there is a lot more about medicine than is printed in books or journal articles. You can help people in many ways, such as by simply listening to patients and their caregivers. Well, the little girl passed away, and I realized I didn't know very much about the pathophysiology of the disease that killed her. So, I worked hard to learn as much as I could about leukemia. During my residency, I did most of my electives in hematology, either clinically or in the lab."
A Mentor's Lesson on Care
Following his residency, Dr. Bolwell went to the University of Pennsylvania for a hematology/oncology fellowship and specialized in leukemia. "It was a wonderful fellowship, and I met a lot of extremely bright people, such as the late Peter Cassileth, who was Head of Hematologic Malignancies at Penn. He was a wonderful person, as well as being a terrific clinician," he said.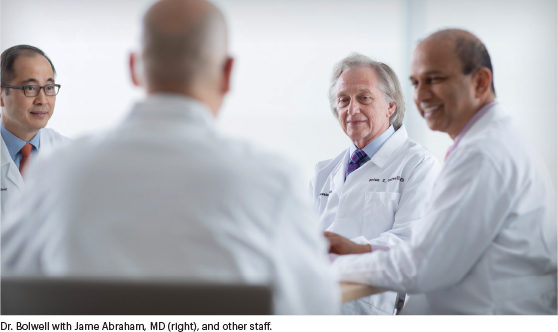 "Then there was John Glick, who later became Head of the cancer center. He taught me the full spectrum of patient care. His unspoken motto was that if you're doing the right thing for a patient, no matter whose feathers get ruffled, you're always on the moral high ground. His style was different from most, but his intent was always directionally correct. His guiding philosophy stayed with me as I became an attending here at the Cleveland Clinic," said Dr. Bolwell.
When Dr. Bolwell began his career at the Cleveland Clinic, the clinical services were overwhelming. "I used to see patients from all of the hematology services, which were combined. It was crazy. I was running the transplant program, the inpatient services, and taking care of any patients with leukemia with a medical complication. On top of that, we did benign hematology consults. But I built a reputation as a very good clinician and a strong patient advocate, which was something I was quite proud of," said Dr. Bolwell.
Building a World-Class Transplant Center
The Cleveland Clinic's first bone marrow transplant was conducted in 1977, but the program didn't begin maturing until after the arrival of Roger Herzig, MD, in 1982. In 1988, Dr. Bolwell became Director of the Clinic's Bone Marrow Transplant Services, and he led the program for 25 years.
Under his leadership, the program, which at the time was performing only 15 or so transplants per year, burgeoned into one of the nation's most active and well-regarded transplant centers. During this period, the Clinic became a founder of the National Marrow Donor Program, which coordinated the search for unrelated donors for patients in need of allogeneic marrow transplants who lacked sibling donors.
A Rewarding Career
Dr. Abraham asked Dr. Bolwell to share some of the advances or highlights during his 25-year tenure as Head of the transplant program. "When I inherited the program, it was small, and the clinical outcomes weren't very good. I led the effort to expand our program and achieve clinical outcomes that were as good as those at any other transplant unit," he noted.
"One of the things that revolutionized these procedures was the development of hematopoietic growth factors, which totally changed autologous transplants. We could stimulate peripheral stem cells and use them as a source of cells while doing grafts. Consequently, the mortality rate of autologous transplants is less than 1%," Dr. Bolwell said.
"Our advances in allogeneic transplants were twofold. First, our increased ability to treat infectious diseases, especially fungal infections, has vastly improved outcomes. People just coming into the field don't know how frequent and devastating fungal infections were back then. Second, to be able to use matched alternative donors has greatly expanded the pool of donors and made allogeneic transplants much more available to so many patients who would otherwise have been denied a transplant. That's been pretty cool to see," he commented.
The Face of Leadership
As the leader of a major cancer center, Dr. Bolwell has long been interested in the concept and study of leadership. Dr. Abraham asked him to share some thoughts on leadership. "I've been studying various components of leadership for the past 20 years. As a leader, your primary job is to be picky in who you hire. Once you have a team, it's a leader's job to fully support those team members," he said.
"You also need a stated vision of what you want to achieve, which isn't as easy as it sounds. Once it is achieved, you need to sit in the back row and let the team bask in its hard-earned glory. It's not about you; it's about the team. Unfortunately, there are a lot of people who use leadership roles as a platform to further their own careers. A leader should put his or her career on the shelf, so to speak.
Lastly, as a leader, you need to have courage in your beliefs. Even if you know that you hold an unpopular position and even if people who have more authority than you don't agree with you, have the resolve to stand up and say, 'This is what I believe in. This is what we're going to do.' So, if you distill leadership down, those are the fundamental principles I believe in."
COVID-19 and a Remarkable Team
How did Dr. Bolwell respond to the challenges he faced with the eruption of the COVID-19 pandemic? "When the pandemic first broke in Italy, it was clear that it was heading our way, and the prevailing emotion among employees at the center was fear. And for patients with cancer, fear is always part of the equation," he said.
"So, I needed to be more visible and very transparent. Although most centers were conducting business virtually, I felt it was important for me to show up in person. I communicated daily and researched all the issues involved with protecting people and handling the anxiety of our staff and patients. I also tried to be inspirational and shared my own thoughts on the issue. It humanized me, which I think helped."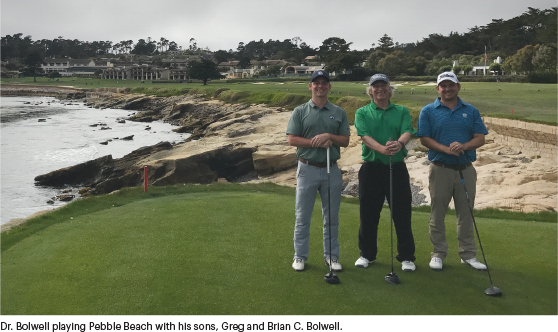 He continued: "Another thing to remember is that our job is to care for patients with cancer, and due to the crisis, there were a lot of people who weren't getting that care. That's not okay. I made it very clear that we were open to care for our patients. The good news is we have so many good people at the Taussig Cancer Institute, it was an easy message to transmit. The team rallied in a remarkable way, and I am extremely proud of that."
Dr. Bolwell noted that, along with the satisfaction and intimate doctor-patient relationships in oncology, it is also a field in which mortality is always present. "Dealing with dying patients takes a toll on oncologists. Anyone who pretends it doesn't, isn't being truthful. That said, the rewards of this special field greatly outweigh any of the downsides. Moreover, the people who enter oncology are special, and I'm grateful to come to work every day."
Away From Work
How does the leader of a major cancer institute decompress? "I have three great kids, Greg, Brian, and Augusta, who are front and center in my life. I work out every day, listening to music. (It's probably good I do that alone to spare anyone the sight of that spectacle.) I love playing golf and following all sports. I acted in college and still love the theater. I'm an avid reader, and in addition to books on leadership, I read mystery novels. Staying active is the best way to avoid burnout." 
DISCLOSURE: Dr. Bolwell reported no conflicts of interest.
---