Head and Neck Cancer Researcher Supported by Conquer Cancer®, the ASCO Foundation, Earns Spot in Clinical Cancer Advances 2019

The work of nine researchers who have previously received funding from Conquer Cancer is featured in ASCO's Clinical Cancer Advances 2019. Visit CONQUER.ORG/CCA for more details.
Immunotherapy for Head and Neck Cancer

Dr. Cohen speaks at the 2018 ASCO-SITC Clinical Immuno-Oncology Symposium. He received a Conquer Cancer Young Investigator Award in 2003 supported by MGI Pharma, Inc, and a 2005 Career Development Award supported by Sanofi-Aventis.
At the Moores Cancer Center at UC (University of California) San Diego Health, Ezra E. Cohen, MD, led a large clinical trial of patients with relapsed or metastatic head and neck cancer.
The research team compared the efficacy and safety of the programmed cell death protein 1 inhibitor pembrolizumab vs standard-of-care therapy for the treatment of head and neck squamous cell carcinoma.
Study results demonstrated clinically meaningful prolongation of overall survival and a favorable safety profile of pembrolizumab in patients with recurrent or metastatic head and neck squamous cell carcinoma.
This is the first phase III trial to demonstrate the impact of programmed cell death ligand 1 expression on the efficacy of pembrolizumab in head and neck cancer. ■
© 2019. American Society of Clinical Oncology. All rights reserved.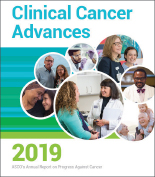 ---