Lessons in the Chill of Early Morning
My patients' graciousness and compassion instilled in me an enduring and humbling sense of my own fallibility.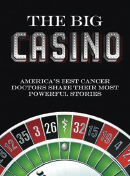 The following essay by Sushil Bhardwaj, MD, is adapted, with permission, from The Big Casino: America's Best Cancer Doctors Share Their Most Powerful Stories, which was coedited by Stan Winokur, MD, and Vincent Coppola and published in May 2014. The book is available on Amazon.com and thebigcasino.org.
I've been a physician for 40 years—36 years in oncology—and I continue to marvel at the life lessons my patients teach me every day. Physicians, patients, and their family members often ask me why I chose to become an oncologist. I ask myself that question, too, when I am feeling down, but then I'm reminded of Remembrance of Things Past, a tip of my hat to the French writer and essayist Marcel Proust's classic tome on growing into adulthood, and it leads me out of the woods.
In July 1974, I was a very green, impressionable intern in New York City, newly arrived from India. I'd envisaged becoming a cardiologist. It was my second week as an intern at a Brooklyn hospital when I was called to the emergency room to admit a comatose young woman. She'd had liver failure; she was 23, the same age I was. Her workup revealed that the liver failure was from INH [isoniazid] prophylaxis treatment for a positive purified protein derivative tuberculosis skin test. Once the problem was resolved, she improved. However, the presence of generalized lymphadenopathy and the results from a biopsy revealed the patient had stage IV Hodgkin lymphoma involving the liver and the bone marrow.
The hematology-oncology service recommended a combination chemotherapy regimen of MOPP (mechlorethamine hydrochloride, vincristine sulfate, procarbazine hydrochloride, and prednisone), and I watched in awe as the cancerous nodes melted away and the patient was discharged. Years later, I would see her in the clinic for follow-up visits, and by then she had married and had children. I lost contact with her after she moved back to Puerto Rico, but I've never forgotten the determination on her face as she struggled those first days and nights with liver failure and then later from the effects of chemotherapy. Her dignified resilience in the face of such adversity made all our petty complaints from being overworked interns seem trivial by comparison. My desire to be a cardiologist soon abated; now I wanted to treat patients with cancer.
Learning Humility
Three years later, as a first-year fellow in medical oncology, I was injecting methotrexate chemotherapy into the spinal canal of a young man with acute myeloid leukemia. I was demonstrating the lumbar puncture technique to a medical student and feeling very pleased with myself. After I'd injected what I thought was methotrexate into the patient, I realized I'd actually picked up a syringe with lidocaine instead. I thought I was going to pass out from my mistake. I explained what happened to the patient and then—with great trepidation and dread—to the attending physician. Amazingly, she was understanding and sympathetic. Not to panic, she told me, the patient would soon recover from the effects of the painkiller. I sat holding his hands for 2 long hours while he comforted me!
The patient was discharged a few days later with his leukemia in remission. But such graciousness and compassion instilled an enduring and humbling sense of my own fallibility, which has stayed with me all these years later.
Achieving Grace in the Face of Adversity
Fast forward to 1990. I'm asked by a coworker to be her oncologist. I've known this woman, an oncology nurse, since my first year as a fellow. She is a breast cancer survivor with a history of bilateral disease: the first in 1974 and the second a decade later. Now, she has a third cancer, an aggressive, inoperable sarcoma. I am hesitant to treat her. I know the patient, her husband, and her daughter personally and have real doubts about my ability to maintain a professional distance and objectivity in her treatment.
I've been a physician for 40 years—36 years in oncology—and I continue to marvel at the life lessons my patients teach me every day.

— Sushil Bhardwaj, MD




Tweet this quote



But then I realized that my first responsibility is to my patient and that my selfish concerns about my feelings were getting in the way of her treatment. I became her oncologist. She started on a course of successful chemotherapy and was in remission for 6 months before we had to start another round of chemotherapy. And so it went for 3 years until we had exhausted all options.
I discussed home hospice care with the patient, and she agreed. Late one April evening, her husband called me. "Her time is close," he said, "can you come over?" When I arrived, through the haze of analgesics she was taking, she looked at me, smiles and thanks me for the 3 years she had to spend with her family and to watch her daughter grow into adulthood. She passed on peacefully in the chill of the early morning.
I sat with her husband until dawn while we awaited the funeral arrangements. Grace, determination in the face of adversity, and always that smile of gratitude are what I remember when I drive by their house years later.
Witnessing a Peaceful Death
On a cold day in January 1997, I'm seated with my staff in a church in Haverstraw, New York, for the funeral mass of Father Gene, a 25-year-old seminarian ordained a priest by special dispensation from Pope John Paul II 2 hours before he died. The archbishop conducted the service, and there were no dry eyes in the church. I was at the priest's home with his brother, his parents, and a fellow seminarian the night he died. When he took his last breath in peace, I felt the blessings of a divine presence in that room, which was filled with prayer and love.
Father Gene had been my patient for 2 years, when his cancer returned with a vengeance. I remember his humor and his quiet strength through the initial rounds of chemotherapy. Later, when he developed a recurrence, he never lost that serenity and grace. In my office, I have a small plaque from Assisi, the town where Saint Francis was born, that the priest presented to me during his final round of treatment in New York City. I draw strength from my memories of Father Gene: his smile, his courage, and how his story continues to inspire countless other patients. All these years later, I still hear from his grateful parents on Thanksgiving Day.
Appreciating Advances in Cancer Care
And I think of two young men I treated with Hodgkin lymphoma. The first presented soon after graduating college in 2002 with classic symptoms of Hodgkin lymphoma, including fever, night sweats, and lymphadenopathy. He was treated with chemotherapy, a daunting process mitigated by the support of his devoted family. He rallied, endured the rigors of his treatment with rare grit, and was in remission in 3 months. A successful businessman, he had mixed emotions when I recently told him he could discontinue oncologic follow-up. He said he'd miss reminiscing about that rough patch in his life.
As an oncologist, I am grateful to have been given a unique opportunity to meet such remarkable women and men.

— Sushil Bhardwaj, MD




Tweet this quote



I met the second patient in 2006, during spring break of his junior year at college. He presented with fevers, night sweats, and lymphadenopathy. He wanted to get on with his life and graduate from college and into a waiting job. Thanks to all the advances in supportive care, the side effects of his treatment for stage IV Hodgkin lymphoma were dramatically different from the experiences of my first patient with that diagnosis in 1974. He was treated as an outpatient and 4 months later, he was back in school. Now he has only hazy memories of that momentous spring break 7 years ago.
My Patients Are My Teachers
Over the years, so many other patients have also served as my teachers. Resilience, determination, courage, dignity under pressure, grace, compassion, gratitude, humility, and hope are the lessons they've taught me. It is these memories—as the poet William Wordsworth put it "...so inform the mind that is within us, so impress with quietness and beauty, and so feed with lofty thoughts"—that I remain most thankful for. As an oncologist, I am grateful to have been given a unique opportunity to meet such remarkable women and men. ■
Dr. Bhardwaj is a medical oncologist and Director of the Bobbi Lewis Cancer Program at Good Samaritan Hospital in Suffern, New York.
---