A Humble Beginning Built on Commitment: The Life and Times of Lee S. Schwartzberg, MD, FACP


Jame Abraham, MD
GUEST EDITOR
Dr. Abraham is the Director of the Breast Oncology Program at Taussig Cancer Institute, and Professor of Medicine, Lerner College of Medicine, Cleveland Clinic.

In this edition of the Living a Full Life series, guest editor Jame Abraham, MD, interviewed medical oncologist Lee S. Schwartzberg, MD, FACP, Executive Director at the West Cancer Center, Memphis. Dr. Schwartzberg's major research interests are new therapeutic approaches to breast cancer, targeted therapy, and supportive care. He is also Professor of Medicine and Chief of the Division of Hematology/Oncology at the University of Tennessee Health Science Center, Memphis.

The West Cancer Center had a humble beginning as a small, two-room clinic in downtown Memphis. The founder, William H. West, MD, was a well-respected oncologist and investigator for the National Institutes of Health. After losing his mother to breast cancer, Dr. West became committed to bringing a state-of-the-art cancer care and research institution to Memphis.

 

Lee S. Schwartzberg, MD, FACP
That became a reality in 1979, as the doors of the West Clinic officially opened. Three core partners, Drs. William West, Kurt Tauer, and Lee Schwartzberg, developed the clinic into the West Cancer Center, which now delivers high-value care to more than 30,000 patients per year. 
Serendipity Plays Professional Role 
DR. SCHWARTZBERG was born and reared in Brooklyn, New York. "I was always interested in science and early on was a little torn between being a researcher or a physician. My parents encouraged me to pursue medicine, but I had to find out on my own." 
Dr. Schwartzberg did his undergraduate work at the State University of New York (SUNY) at Buffalo, graduating with a BA in biology. He then stayed on at SUNY for a Master's in biochemistry. 
LEE S. SCHWARTZBERG, MD, FACP
Favorite Music: "Most people say the music you grow up with is the music you'll always love, and that is certainly true for me. I grew up listening to the great rock bands of the 60s and 70s and love that music to this day. I make a point of going to live concerts whenever possible. I saw Billy Joel in Florida on New Year's Eve, which, being a pianist, was inspirational for me."
Words to Live by: "Be flexible, innovative, and most important follow your passion. As an oncologist, the best advice is simply to listen to your patients. Spend as much time doing that, and you'll ultimately become a better doctor."
Advice for Young Oncologists: "First and foremost, be devoted to your craft. Oncology is based on science, but it is still a highly skilled craft. For young academicians, it's important to focus on a small area that you can become expert in and develop successful research. Going deep is better than going broad."
"Before I went to New York Medical College in Westchester, I did 2 years of hematology research. During that period, I realized my true passion was in clinical medicine. I did my internal medicine residency at Cornell University Hospital in Manhasset, New York. I completed my hematology-oncology fellowship at Memorial Sloan Kettering Cancer Center [Memorial], where I also served as chief medical resident and was a founding member of the institutional ethics committee," he revealed. 
Asked what motivated him to go into oncology, he replied: "During my period in hematology research, I quickly realized I liked high-stakes health care. I wanted to do things that were meaningful in a life-and-death way. Early on, when I was working in the ICU, I had a quick internal debate between intensivist cardiology and oncology. But I loved the science behind oncology, and that's what ultimately closed my decision." 
Dr. Schwartzberg continued: "I was planning to stay on at Memorial as an academic. I had two children at the time, and my wife and I were looking for a place to live outside of the city because we couldn't afford Manhattan. My best friend in fellowship, Kurt Tauer, had gone to Memphis to join Bill West, another friend of mine, in his new community oncology venture. I went down with the family to visit. After dinner, Bill took me to his study and interviewed me for a job I hadn't applied for. And what sealed the deal for me was their visionary approach to clinical research, which in the 1980s was almost unheard of in community practice." 
That weekend, Dr. Schwartzberg went to the West Clinic with Drs. West and Tauer and treated a patient with interleukin-2 and LAK cells, a regimen that wasn't being used yet at Memorial. "I was very impressed by that cutting-edge clinical approach and even more impressed when a couple of months later, there were two articles in The New England Journal of Medicine on interleukin-2: one by Steve Rosenberg at the National Cancer Institute and the other by Robert K. Oldham, at his clinic in Franklin/Nashville, and from Bill West and Kurt Tauer at the West Clinic. So I said to myself, if these individuals are doing such innovative work and research at a community practice, I'll take a chance on it."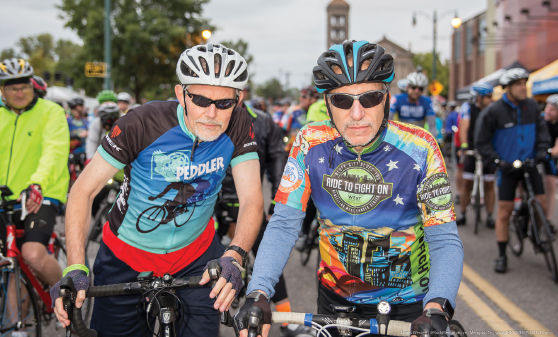 Dr. Schwartzberg and colleague, Benton M. Wheeler, MD, both avid cyclists, participate in racing event in Memphis.
"Memphis also offered a nice lifestyle change for my family. We moved from a tiny apartment on the East Side to a spacious home with two cars. The whole bit. In fact, the medical community wasn't that much different from the one in New York. It was and still is a very good community of clinicians. I felt right at home," shared Dr. Schwartzberg. 
Balancing Two-Part Career 
DR. ABRAHAM asked about Dr. Schwartzberg's current schedule and his leadership role at the West Cancer Center. "I do wear several hats and try to parse out my week in a way that lets me give proper time to each duty. I see patients 2 days a week, and those are very full days, working from about 10:00 AM until 6:00 PM without a break. I have a good physician assistant and nurse practitioner team with me during clinic, so it helps me dedicate enough time to all my patients, who are women with breast cancer. I'm also still active in seeing new breast cancer patients, managing them through their treatment and beyond. The other 3 days are focused on administrative duties as the center's Executive Director. A short time ago, I served as Chief Medical Officer of Vector Oncology, which was recently sold. There I was predominantly helping biotech companies develop protocols for phase I and II studies," he revealed. 
"During my period in hematology research, I quickly realized I liked high‑stakes health care. I wanted to do things that were meaningful in a life-and-death way."

— Lee S. Schwartzberg, MD, FACP




Tweet this quote



Dr. Schwartzberg continued: "I've always enjoyed splitting my time between individual patients in the clinic and conducting clinical research trials and programmatic development. Naturally, there's some spillover on the weekends, which makes the workweek run about 70 hours, but that's part of this business." 
Just Let Me Hear Some of That Rock and Roll Music 
WHEN THE discussion turned to physician burnout and the need to decompress from the rigors of oncology care, Dr. Schwartzberg's chief diversion (next to spending time with his family and two wonderful grandchildren) is music. "When I was a kid, like millions of others, I saw the Beatles on the Ed Sullivan Show, and it was life changing. I fell in love with popular music, specifically rock and roll. I took piano lessons, formed a band in high school, and have always had a band throughout school and in my career, including at Memorial; that band was named the L-17's after a leukemia protocol. We played once a month on Friday afternoon after liver rounds, when we had a little party for all the staff termed 'liver rounds.' I even had a couple of famous musicians come up and play with us." 
"When I came to Memphis, I put together a group with a few doctors and a few nonphysicians. We would play at local bars a few times a year. That lasted for a while, and it was a lot of fun. Then about 15 years ago, due to a chance encounter with some people in the pharmaceutical industry, we formed a band called the Oncotones in 2003 as a way to showcase oncology musicians at the ASCO Annual Meeting."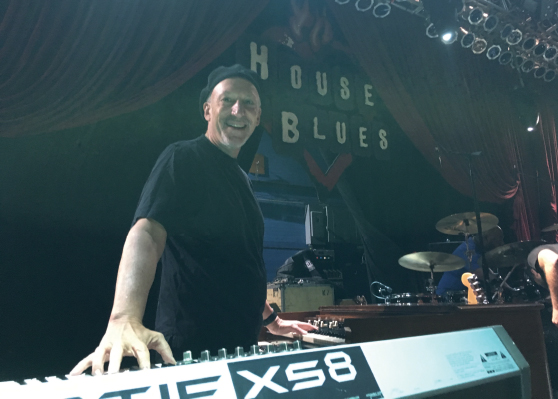 Lee Schwartzberg on the keyboards at the House of Blues, Chicago, following a day at ASCO's Annual Meeting, Sunday, June 3.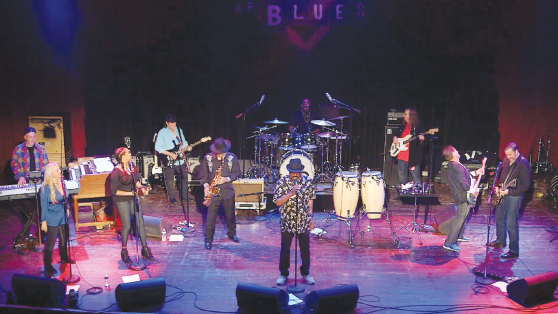 The Oncotones performing at the House of Blues in Chicago.
"There were nondoctors from pharma involved, and I was the permanent doctor member. We have some rotating doctor-musicians such as Bruce Cheson, Bill Audeh, and George Demetri. We played almost every year at the House of Blues on Sunday night during the ASCO meeting. The events were fundraisers for the major cancer foundations. We stopped for a while and then started up last year. We played on Sunday night at this year's meeting and had a great time playing to hundreds of people until midnight. It's a great feeling to see oncologists let their hair down and dance with abandon after a long day at ASCO! Most importantly, we were able to raise meaningful funds to support Susan G. Komen's mission." 
Asked about any memorable moments in his musical career, Dr. Schwartzberg said: "Melissa Etheridge had recently finished her treatment for breast cancer and was doing a lot of benefits for oncology-specific audiences. So she played at the ASCO meeting, and after her set we did our usual dance music gig; so in effect we can go around telling people we were the headline act and Melissa Etheridge opened for us," he quipped. 
Besides being a way to de-stress, music, for Dr. Schwartzberg, is a universal art form to overcome many of the things that divide people. "Music transcends any differences people have, from background or socioeconomic situation. I can play music with people of any age or background. And if it's going well, the human connection is ineffable. And if you can play in front of an audience and bring pleasure, it's just a total joy, something I love to do," he added. 
"Music transcends any differences people have…. I can play music with people of any age or background. And if it's going well, the human connection is ineffable."

— Lee S. Schwartzberg, MD, FACP




Tweet this quote



'Work Hard, Play Hard' 
DR. SCHWARTZBERG said his motto for leading a full life is "work hard, play hard, and live with the understanding that time is finite." Besides being a lifelong musician, he is also an avid cyclist. 
"Not only is cycling a great total workout, it is very mind-clearing; it allows me to think in an uncluttered way, which is hugely important. Being disconnected from the electronic buzz that we live in is valuable, because the mind operates differently. It is truly a great time to be an oncologist, and passions such as music and cycling have rounded out my life in a way that's actually made me a better clinician," he concluded. ■
DISCLOSURE: Dr. Schwartzberg reported no conflicts of interest.
---