Cancer Survivor Publishes Book for Children About Cancer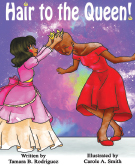 A book aimed at helping young families understand cancer, Hair to the Queen! is now available on Amazon. Written by first-time author Tamara B. Rodriguez and illustrated by Carole A. Smith, the book empowers adults to discuss cancer with children in a simple and compassionate way.
Hair to the Queen! focuses on 7-year-old Corazon as she prepares for a costume party hosted by her mother, who is battling cancer and wears a wig after losing her hair. With the help of her father and sister, however, Corazon secretly uses the birthday celebration as an opportunity to plan a special surprise for her courageous mom. 
Written in Corazon's voice, Ms. Rodriguez wrote Hair to the Queen! after being diagnosed with breast cancer in 2014. She wanted to talk about the disease with her two young daughters but initially struggled to find the right words. This book is her homage to helping other families start the conversation in a fearless way.
Words of Praise
"From the perspective of a father, husband, and one who treats cancer as a radiation oncologist, I just loved this book. Written with such love and compassion, this is a must read for anyone who wants to discuss cancer with their young children and grandchildren," said Jean-Philippe Austin, MD, of 21st Century Oncology.
"Hair to the Queen! is absolutely essential for any child whose parent is being treated for cancer. Hopeful and uplifting, it provides just enough information to satisfy a child's curiosity about a potentially scary topic," said medical oncologist Lauren Carcas, MD, of Florida Cancer Care. ■
---