Women's Networking Center Addresses Gender Gap, Provides Mentorship for Annual Meeting Attendees

ASCO is committed to providing all oncologists with opportunities for professional development that will maximize their career success. In response to the recognized career gender gap for women in oncology, ASCO included a number of initiatives in the 2016 Annual Meeting program. In its 2nd year, the Women's Networking Center (WNC) not only provided an intimate and informal setting for women in oncology to meet and network, but also highlighted extraordinary women who excel as mentors and demonstrate outstanding commitment to the professional development of female colleagues as clinicians, educators, and researchers. One of the primary goals of the WNC is to recognize and promote the work of women in oncology and, ultimately, to narrow gender disparities through the mentorship and professional development of female oncology professionals.
Catherine H. Van Poznak, MD, a member of ASCO's Professional Development Committee, helped to facilitate sessions at last year's inaugural WNC. She noted that, "through the WNC, the Professional Development Committee addressed the need to further support female membership at various stages and roles in their profession. The WNC provided a wide range of resources, including several sessions with presentations by renowned speakers, a quiet environment for reflection on the data presented at the Annual Meeting, and a prime spot for networking.
"I went to the WNC daily," Dr. Van Poznak continued. "Each time, my exchanges with the WNC attendees were overwhelmingly positive. Junior and senior ASCO members were present, sharing with each other and providing mentoring. The speakers provided a wide range of role models for academics and community practice."
Sessions in this year's program included:
"Work–Life Balance for Women" with Dr. Van Poznak; Lynn M. Schuchter, MD, FASCO; Shelby A. Terstriep, MD; and Sonali Smith, MD
"ASCO's Female Past Presidents: How to Manage it All?" with Julie M. Vose, MD, MBA, FASCO; Sandra M. Swain, MD, FACP, FASCO; and Nancy E. Davidson, MD, FASCO
"Finding Courage to Ask: Promotions, Career Development, and Access to Resources" with Monica Morrow, MD, FASCO, FACS; Olufunmilayo I. Olopade, MBBS, FACP, FASCO; Linda D. ­Bosserman, MD, FACP; and ­Lillian Siu, MD, FRCP, FASCO
"Women in Industry" with Yvonne Gail Lin, MD, MS; Marisa Dolled-Filhart, PhD; and Ramona F. Swaby, MD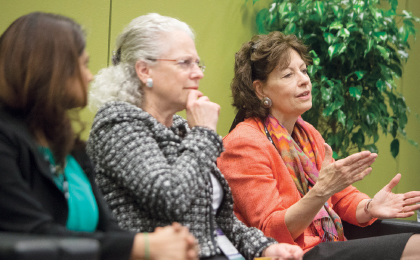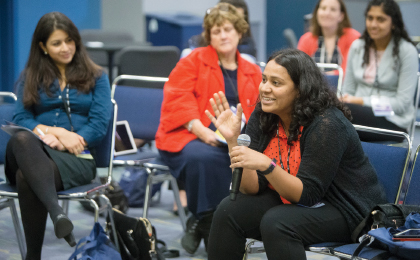 Mentoring Office Hours, organized by ASCO's Professional Development Committee, provided an opportunity for successful female oncologists to provide one-on-one situational mentorship to Annual Meeting attendees. Women discussed career goals and professional development issues and asked career-related questions of mentors.
This year's attendees gave overall positive feedback and indicated that they found the sessions and mentoring opportunities beneficial. One attendee commented, "This was an incredible opportunity to meet my oncology colleagues and get advice in career planning," and another shared that her "career plan was significantly enhanced due to the opportunities provided through the WNC." Attendees also "loved the small group and interactive format" and felt "the session speakers were helpful and friendly." ■
Selected portions reprinted from ASCO Daily News. © American Society of Clinical Oncology. "Women's Networking Center To Address Gender Gap, Provide Mentorship for Annual Meeting Attendees." am.asco.org/dn. All rights reserved.
---