A Concerned Physician Reflects on Today's Doctor-Patient Relationship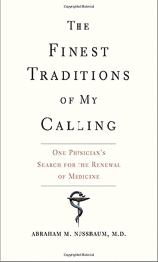 Bookmark
Title: The Finest Traditions of My Calling: One Physician's Search for the Renewal of Medicine
Author: Abraham M. Nussbaum, MD
Publisher: Yale University Press
Publication date: March 2016
Price: $28.50; hardcover, 320 pages
Doctoring isn't what it used to be. Like many other professions, it has gone through a multitude of changes ostensibly to improve efficiencies and lower costs. The digital age has reshaped clinical practice from the front office to the exam room. And with the advent of electronic health records and computer interoperability, data can be aggregated and shared among medical communities. However, according to Abraham M. Nussbaum, MD, population-based reforms are diminishing the relationship between doctor and patient—to the detriment of both—a subject he tackles in his newly published book The Finest Traditions of My Calling: One Physician's Search for the Renewal of Medicine.
A Hopeful Appeal for Change
This is a memoir that Dr. Nussbaum uses to explore the vast new territory of medicine that is being practiced, in what seems like, continually reforming reform. Drawing on personal stories, validated studies, and what he thinks is neglected history, Dr. Nussbaum makes a hopeful appeal for change. What he thinks of current health is spelled out in the opening pages, and he goes on for quite a while, using a boat race as a metaphor. Here's the gist: "When you practice medicine, health-care reform seems like a well-organized race and more like being at seas on an unmarked course of indeterminate distance. You cannot recall where the starting line is and cannot envision the finish line. You feel like a crew member on a vast ship steered by multiple captains who cannot agree on the course."
For a memoir to be successful on the commercial market it needs a compelling story that begins by asking a central existential question that is ultimately answered in the end; in other words, a hurt that is somehow healed by the experiences detailed in the book. Dr. Nussbaum makes that task even more difficult by promising the reader he will also offer an antidote to what he sees as a broken health-care system.
Striking Gold Early On
The book is organized in 16 chapters, and although it's only about 300 pages (average length for this kind of book), there is a feeling of uncomfortable density on the pages. It needs more paragraphs, something to give the pages air. That said, in the compelling department, Dr. Nussbaum strikes gold early on, describing a point in medical school when the students were sent away for week-long apprenticeships.
On his first day, he was involved in a life-and-death medical emergency. A patient of the doctor he was following was being taken to a nearby hospital. The doctor was too busy and sent Dr. Nussbaum. The patient, a middle-aged black woman, arrives at the emergency room (ER) in cardiac arrest. Young Dr. Nussbaum watched the ER team frantically work on the woman, until finally, despite their efforts, the woman dies.
The Finest Traditions of My Calling is filled with interesting anecdotes about the noble calling of medicine, but anecdotes are not enough for a gratifying memoir….

— Abraham M. Nussbaum, MD




Tweet this quote



If that wasn't bracing enough for a first day dealing with real-life patients, a nurse approached Dr. Nussbaum and told him the physicians were too busy, her son's in the waiting room, and go break the bad news. He writes: "A young African-American man about my age was standing in the middle of the room, rocking from side to side. He'd been called from work as a cook and still had his uniform on. Through tears, he asked, 'Where's my mother?' I told him the bad news, her heart failed. "He let out a cry and said, 'She's not a her! She's my mama. Her name is Gloria, and I don't know what I'll do without her.'"
Anecdotes Are Not Enough
The book takes the reader chronically through Dr. Nussbaum's interesting and often-dramatic medical journey, and throughout he weaves in observations about the medical system he's part of. He critiques these observations, and once in a while he offers a better way of doing things. His biggest gripe is that health-care reform, with its onerous burden of regulations and coding and oversight, comes between the intimate doctor-patient relationships.
Many in the oncology community would agree with that, but the reason we have health-care reform is because our $3 trillion system is spinning into an untenable spending pattern, and he never addressed that. The Finest Traditions of My Calling is filled with interesting anecdotes about the noble calling of medicine, but anecdotes are not enough for a gratifying memoir, especially one that purports to make an appeal for change and the direction of that change. This book is not recommended for readers of The ASCO Post. ■
---