Clara D. Bloomfield, MD, FASCO: Never One to Back Down From a Challenge


Clara D. Bloomfield, MD, FASCO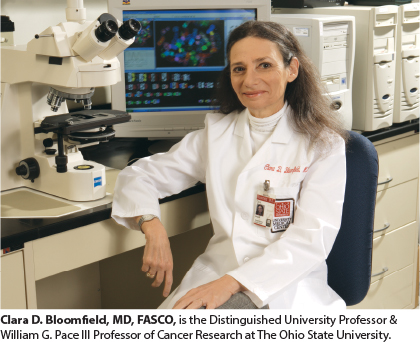 Clara D. Bloomfield, MD, FASCO, is the Distinguished University Professor & William G. Pace III Professor of Cancer Research at The Ohio State University.
Don't be afraid to challenge authority…. Look at what's in front of you and trust your own analysis. That's the way breakthroughs happen.

—Clara D. Bloomfield, MD, FASCO
Clara D. Bloomfield, MD, FASCO, always sat in the front row at school. She grew up during a rigidly paternalist period in American society, and her early feminist leanings were brushed aside as grade-school adventures. The medical school lecture room of the 1960s was a male-dominated culture, and when Dr. Bloomfield sat front-row center, it raised eyebrows. "The dean called me into his office and rather curtly explained that sitting in the front row that way was unladylike. I said, 'When you become a lady you can tell me how to act like one,' and walked out," Dr. Bloomfield told The ASCO Post.
Academic Childhood
Dr. Bloomfield was born in New York, New York, during World War II. Both parents were academics, and the household brimmed with a bookish environment: comic books and even TV, once available, were not allowed. With her trademark frankness, Dr. Bloomfield told The ASCO Post that she was conceived to spare her father from combat in the war. Early on, a man with a dependent was deferred.
Dr. Bloomfield's father was an expert in labor and industrial relations, which was needed on the War Labor Board, so he uprooted the family and moved to Washington DC. "When the war ended, my father took a position at the University of Illinois in Champaign-Urbana. Many of his trainees and visitors were foreign, and we'd often have dinner guests from South America or sub-Saharan Africa. It was an exciting time, full of possibilities," said Dr. Bloomfield.
Mother as Mentor
Although her father filled the household with worldly intellectuals, Dr. Bloomfield regards her mother as her mentor, the spark that set her career path toward medicine. She had an early interest in science, and one day, when she was in second grade, she told her mother that she wanted to be a nurse when she grew up. "My mother, not one to disparage nursing, said, 'If you want to go into medicine, why not become a doctor!' So that's when I made my decision to become a doctor, and I never swayed," said Dr. Bloomfield.
Her mother, a feminist in her own right, was one of the first women to attend the law school at the University of Illinois. Having an independent and self-motivated mother also helped mold Dr. Bloomfield's mettle and career drive.
"My mother began law school when I was in first grade, and she received her law degree when I graduated high school," said Dr. Bloomfield, adding, "When I was 9, my mother announced that she wasn't spending enough time with the family, so she decided to quit law school. My younger brother and I started crying and screaming that we couldn't have a mother who wasn't going to law school," said Dr. Bloomfield.
She commented that the state had to pass a law allowing her mother to obtain her law degree since her lengthy schooling had passed the statute of limitations governing the time it takes to complete law school.
Interest in Oncology and Genetics
While attending grade school, Dr. Bloomfield had classmates who developed leukemia. Because of the limited options in the early 1950s, they were sent to the National Cancer Institute for treatment. "Then they'd return with steroid-bloated faces and soon die," she said.
"I remember thinking to myself, how cool it would be to develop a medicine that could save kids from dying of childhood leukemia. I'd already decided to become a doctor, so seeing the real-life effects of cancer certainly helped shape my early desire to become an oncologist."
In 1959, after graduating from the University of Illinois Laboratory High School, Dr. Bloomfield entered the University of Wisconsin and while doing her premed, she became very interested in genetics, which would inform much of her later research. She married a chemist during her junior year who wanted to do his postdoctoral work in a renowned research institute in La Jolla, California, so off they went to the West Coast.
"Since the University of California at San Diego did not exist at the time, I finished my last year of college at San Diego State College and then was faced with the challenge many women in academia face: how to coordinate two academic careers," said Dr. Bloomfield. Coordinating careers resulted in a long-distance commuter marriage: Her husband accepted a chemistry professorship offer at the University of Illinois in Champaign-Urbana, and she decided to go to medical school at the University of Chicago.
In the year prior to entering medical school, Dr. Bloomfield worked in a biochemistry lab at the prestigious Scripps Research Institute, which was at the cutting edge of scientific exploration. "At that time, a prominent faculty member working where my husband was had Hodgkin disease, and he was traveling back and forth to Stanford to see renowned Hodgkin specialist Henry Kaplan, MD, a radiotherapist who was largely responsible for the transformation of Hodgkin disease from a hopeless to highly curable disease."
She continued, "My mindset, from my grade school days seeing classmates die of leukemia, was that cancer was a death sentence—I was amazed by how well my husband's professor colleague was responding. That experience had a significant effect on my decision to study hematologic malignancies," said Dr. Bloomfield.
At the University of Chicago, Dr. Bloomfield worked with Henry ­Rappaport, MD, best known for his "Rappaport Classification" in lymphoma. "The structure at the University was geared toward an academic career, which fit in to how I'd been brought up," said Dr. Bloomfield.
Grand Rounds With Dr. Kaplan
Between her junior and senior years, Dr. Bloomfield did a subinternship at the University of California at San Francisco (UCSF). "After a month or so, I saw a patient with Hodgkin disease who was not being treated with curative intent. I said, this is terrible, you're not giving this patient modern therapy," said Dr. Bloomfield. Her attending replied, "Well, if you're so smart, we'll have you do grand rounds on how to treat Hodgkin disease."
Not one to back down from a challenge, but also wanting support, Dr. Bloomfield called Stanford and asked the famous Dr. Kaplan for advice. "Henry was really nice; he said he'd be thrilled to come and help me do grand rounds," said Dr. Bloomfield. To the surprise of the attending at UCSF, Dr. Bloomfield, a medical student, conducted grand rounds with her associate from Stanford, Dr. Henry Kaplan.
Confronted Pay Discrimination
In 1971, Dr. Bloomfield began her medical oncology fellowship at the University of Minnesota, where she became one of the institution's first female Chief Residents and was awarded an American Cancer Society Junior Clinical Faculty Fellowship.
"Throughout my career in academia, I've confronted issues of pay discrimination for women," said Dr. Bloomfield. While at the university, she moved from Assistant Professor to Associate Professor in just 3 years and later became the university's first female full Professor of Medicine.
Dr. Bloomfield recalled how her promotion unfolded. "My husband also worked at the university. When the head of medicine called me into his office, he said, 'Congratulations on the promotion, Clara, but because your husband makes such a good salary, we've decided not to give you a raise.' And he said it with a straight face! When I got home, I told my husband. He was a bit of a heavyweight there, so he called his dean who called the University president, and my pay issue was immediately solved. That was my first, but certainly not my last, exposure to the pay bias women face in the academic setting," Dr. Bloomfield said.
Leukemia Research
As a beginning assistant professor, she created and ran the Medical Oncology Division's newly formed Leukemia and Lymphoma Service at the University of Minnesota, initially seeing every patient herself. It proved to be an invaluable career move.
As a fellow, she conducted a seminal study looking at all adult patients with acute leukemia seen at her institution over the past 10 years. "The majority had acute myeloid leukemia (AML). Our longest survivor was 17 years old and lived for 33 months. Given the success we were beginning to see in childhood leukemia, I saw an opportunity in adult disease. We stratified the patients by age, and as a result, I found that the older adult patients could do just as well as the younger ones," said Dr. Bloomfield.
Dr. Bloomfield and coauthor ­Athanasios Theologides, MD, PhD, published their results in 1973 in JAMA, showing that older adult patients could respond just as well to treatment as their younger counterparts. "At the time, all of the major hematologists contended that treating AML patients over 50 years of age was tantamount to malpractice. So you can imagine the stir I caused," said Dr. Bloomfield.
"It was an important lesson," she continued, "one that resulted in my telling my fellows, don't be afraid to challenge authority, even if it's the biggest name in the field. Look at what's in front of you and trust your own analysis. That's the way breakthroughs happen."
Dr. Bloomfield's subsequent research further helped reshape the clinical approach to hematologic malignancies. "We conducted one of the first prospective studies on bone marrow chromosomes and their clinical significance. We learned that leukemia and lymphoma belong to a heterogeneous group of genetic diseases." Subsequently, she and her team were the first to identify the Philadelphia chromosome in acute lymphoblastic leukemia as well as the biologic and genetic markers important in the diagnosis and treatment of AML—more controversial, groundbreaking work from the young, indomitable researcher.
"Many prominent cytogeneticists did not believe my data on the Philadelphia chromosome. However, one of them, Dr. Avery Sandberg, while surprised by the discovery said, 'She may be right. Sometimes these youngsters get things that we've missed,'" said Dr. Bloomfield.
Dr. Bloomfield left Minnesota in 1989, taking a position at Roswell Park Cancer Institute, serving as Roswell's Chair of the Department of Medicine. In 1997, a career turn took her to The Ohio State University (OSU), where she served as Director of the Division of Hematology and Oncology and Director of the OSU Comprehensive Cancer Center – Arthur G. James Cancer Hospital and Solove Research Institute (OSUCCC–James) until 2003. She is currently a Distinguished University Professor, William G. Pace III Professor of Cancer Research and Senior Advisor at the OSUCCC–James.
On the global scale, her work has also translated into internationally accepted classification systems for blood disorders, including that of the World Health Organization, which incorporated genetics into its classification of AML. "We now cure 40% of adult patients between the ages of 16 and 60 with primary (de novo) acute leukemia," Dr. Bloomfield pointed out.
Baroness Bloomfield
After Dr. Bloomfield's first marriage ended, she married Albert de la ­Chapelle, MD, PhD, a geneticist and Professor in the Department of Molecular Virology, Immunology, and Medical Genetics at Ohio State University. "We've been married for 31 years, but as we have different names and are prominent in separate fields, lots of people don't know we're a couple," said Dr. Bloomfield.
Dr. de la Chapelle is of Finnish nobility, a landed baron whose family owns a vast estate by the sea in his homeland. So, among Dr. Bloomfield's other notable designations, she has added baroness.
Asked what she and her husband do besides work, Dr. Bloomfield said, "That's about it. Although we have a tandem bicycle that we have enjoyed riding. But last year, my husband was unable to ride in the 180-mile cancer fundraiser at the OSUCCC, so now I ride with one of my fellows on the tandem bike. He's a bull." ■
Disclosure: Dr. Bloomfield reported no potential conflicts of interest.
---