Concurrent Immunotherapy Pays Off in Advanced Melanoma


Mario Sznol, MD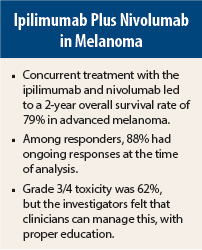 Ipilimumab Plus Nivolumab in Melanoma
Concurrent therapy with nivolumab and ipilimumab results in what I believe to be an unprecedented 2-year survival [in patients with advanced melanoma].

—Mario Sznol, MD
In advanced melanoma, two immune checkpoint inhibitors may be better than one, according to the promising outcomes of a study reported at the 2014 ASCO Annual Meeting.
Concurrent treatment with the anti–CTLA-4 antibody ipilimumab (Yervoy) and nivolumab, an antibody targeting the programmed death (PD) receptor-1, resulted in a 2-year survival rate of 79% for patients with advanced melanoma, according to Mario Sznol, MD, lead study author and Professor of Medical Oncology at Yale School of Medicine, New Haven, Connecticut.1
"While this is a small trial, that is very impressive 2-year survival data," Dr. Sznol said. "Concurrent therapy with nivolumab and ipilimumab results in what I believe to be an unprecedented 2-year survival."
Sensible Combination
PD-1 and CTLA-4 are nonredundant immune checkpoints in T-cell differentiation and function. Both are active in metastatic melanoma, and in murine models have shown antitumor synergy. "It makes sense to combine them," he said.
Dr. Sznol reported updated data for the initial 53 patients treated with concurrent combination treatment regimens in the phase I CA209-004 trial reported at last year's ASCO Annual Meeting by Jedd D. Wolchok, MD, PhD, of Memorial Sloan Kettering Cancer Institute, New York,2 and subsequently published in the The New England Journal of Medicine.3 Dr. Sznol also reported preliminary response data in a new cohort of 41 patients treated with the regimen used in the subsequent phase II/III trials; this confirmatory cohort included patients from the University of Pittsburgh Medical Center and Georgetown University Medical Center.
The induction schedule for the initial cohorts was nivolumab (0.3–3.0 mg/kg) and ipilimumab (3 mg/kg [one cohort received 1 mg/kg] every 3 weeks for four doses, followed by nivolumab every 3 weeks for four doses, then maintenance with the combination every 12 weeks for eight doses. In the new cohort, the dose for induction was nivolumab at 1 mg/kg and ipilimumab at 3 mg/kg; this was followed by nivolumab at 3 mg/kg every 2 weeks for up to 2 years. There was also a sequential treatment cohort; these outcomes will be presented at a later date.
All 94 patients had stage III or IV melanoma and could have received up to three prior systemic therapies, although 55% had received no prior systemic treatments.
Combination Yields Promising Outcomes
In the original cohort, the 1-year overall survival rate was 85%, and with 1 year of additional follow-up, the 2-year survival rate was 79%. The overall response rate was 42%, with confirmed complete responses increasing from 10% to 17%. To accommodate patients who had "unconventional" responses (ie, immune-related partial responses and prolonged stable disease), the researchers used an "aggregate clinical activity rate," and this was 70%.
Nearly 42% of patients had ≥ 80% reduction in overall tumor measurements, "and I can tell you from my own experience that many of those patients had near-complete responses," he added. "This is larger than we would see with either agent alone."
In the new 41-patient cohort, the objective response rate was 43%, with 10% complete responses. (Of the four complete responses in this cohort, two were unconfirmed at the time of presentation.) The aggregate clinical activity rate was 53%, and 28% of patients experienced ≥ 80% reduction in tumor burden. These numbers are very similar to those seen in the original cohort, "so we feel confident that the activity of this combination regimen is real," Dr. Sznol stated.
The responses were durable, and 18 of the 22 responses (82%) were ongoing at time of analysis, with median duration of response not yet reached. Clinical responses were seen regardless of tumor BRAF mutation status or PD-L1 status.
Responses were seen across all dose levels, though higher doses appeared to convey better overall survival, providing data supportive of synergy, he said. With nivolimab at 1 mg/kg plus ipilimumab at 3 mg/kg, the 1-year overall survival rate was 94% and 2-year survival was 88%, as compared to 57% and 50%, respectively, for the cohort receiving nivolumab at 0.3 mg/kg and ipilimumab at 3 mg/kg.
Increased Toxicity
Combining ipilimumab with nivolumab did result in increased toxicity compared to therapy with either agent alone. Grade 3/4 side effects occurred in 58 of the 94 patients (62%). These events, however, "were generally manageable and reversible with algorithms that were established for ipilimumab," Dr. Sznol said.
The most common grade 3/4 toxicities were increased lipase and amylase—laboratory abnormalities that were easily reversible, he said. Approximately 23% of patients discontinued the combination therapy due to treatment-related adverse events. Most of the toxicity occurred during induction, not maintenance, and in "the vast majority" of patients, all adverse events were reversible, he said. One drug-related death occurred in the latest cohort, a consequence of colitis.
"We feel fairly confident that these are adverse events that can be managed with a little bit of education and training. It certainly appears as though the activity of the regimen would justify the increased rate in adverse events," Dr. Sznol said. ■
Disclosure: The study was supported by Bristol-Myers Squibb and Ono Pharmaceutical. Dr. Sznol reported a consultant or advisory role with Symphogen, Anaeropharma, Bristol-Myers Squibb, Amgen, MedImmune, Nektar, and Genentech.
References
1. Sznol M, Kluger HM, Callahan MK, et al: Survival, response duration, and activity by BRAF mutation status of nivolumab and ipilimumab concurrent therapy in advanced melanoma. ASCO Annual Meeting. Abstract LBA9003. Presented June 2, 2014.
2. Wolchok JD, Kluger HM, Callahan MK, et al: Safety and clinical activity of nivolumab in combination with ipilimumab in patients with advanced melanoma. ASCO Annual Meeting. Abstract 9012. Presented June 1, 2013.
3. Wolchok JD, Kluger H, Callahan MK, et al: Nivolumab plus ipilimumab in advanced melanoma. N Engl J Med 369:122-133, 2013.
---
Related Articles
Jeffrey S. Weber, MD, PhD, Director of the Donald A. Adam Comprehensive Melanoma Research Center at the Moffitt Cancer Center and Research Institute, Tampa, Florida, was very impressed by the response rate and survival outcomes.
"Responses were outstanding. Eight of nine patients in cohort 2...