Vanderbilt Oncologists Partner with Cardiologists to Research Chemotherapy-related Cardiac Toxicity

Cardiac toxicity related to chemotherapy is not a new topic but it is an increasingly important one, as concerns are no longer limited to the anthracyclines. Targeted agents unfortunately "target" the cardiovascular system as well, especially bevacizumab (Avastin), trastuzumab (Herceptin) when given with the anthracyclines, and the oral tyrosine kinase inhibitors.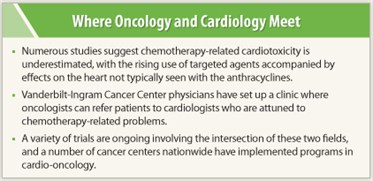 A number of studies suggest the problem of chemotherapy-related cardiotoxicity is underestimated and underappreciated. In the Dana-Farber Sunitinib Cardiac Study of 75 patients receiving sunitinib (Sutent) for gastrointestinal stromal tumors (with normal cardiovascular parameters at baseline), 11% experienced a cardiovascular event and 8% developed class III heart failure.1 Hypertension developed in 47% of the patients after only four cycles, including grade 3 hypertension in 17%.
In a meta-analysis from Stony Brook University Medical Center, Stony Brook, New York, the use of bevacizumab in clinical trials increased the incidence of grade 3/4 hypertension fivefold over regimens that excluded this drug.2 And in a review from Moffitt Cancer Center & Research Institute, Tampa, Florida, investigators reported a 35% rate of trastuzumab-related cardiotoxicity, which was asymptomatic in most patients.3
Clinicians Are Proactive

Oncologists must be concerned, therefore, about protecting the heart and blood vessels while treating the tumor. Clinicians and research scientists at Vanderbilt-Ingram Cancer Center, Nashville, not only appreciate this, but have developed a collaborative approach that partners oncologists with cardiologists.
"The need for this became apparent to me 2 years ago when I began to see patients with cardiac complications from chemotherapy," said David Slosky, MD, a cardiologist. Anthracyclines were initially to blame, but as the use of targeted agents grew, so did the volume of patients he saw. "As a result of newer agents, we began to see a number of issues besides reduction in left-ventricular ejection fraction, such as hypertension and arrhythmias. In researching the problem, I found there was no systematic approach to managing these patients." 
Dr. Slosky, along with Department Chair Douglas Sawyer, MD, PhD, set up a clinic in which oncologists could easily refer patients to cardiologists who were attuned to chemotherapy-related problems. "We wanted to be able to co-manage patients with cardiovascular comorbidities that exist at the time of a cancer diagnosis or that develop during chemotherapy. The overall theme is the management of two different diseases. The implications are profound," he said.
"We have a lot of experience in taking care of these types of patients. Our goal now is to bring this knowledge to the oncology community," Dr. Slosky added. "Vanderbilt is a university medical center with a spirit of collaboration. We hope we are creating a model that can be used in other places."

Ingrid Mayer, MD, a breast cancer specialist at Vanderbilt, said the collaboration has improved the care of her patients with underlying cardiac conditions, and has helped protect the hearts of her long-term survivors. 
"A partnership between oncologists and cardiologists can troubleshoot situations that we encounter with targeted therapies—for example, conduction problems like QT prolongation. It's not just about ejection fraction anymore," she agreed with Dr. Slosky. "We are learning how to spare our patients these long-term complications."
The result of collaborative management is early recognition of the potential for problems. Patients are more likely to remain on medications they need for their heart, more likely to be prescribed cardioprotective drugs, and less likely to discontinue chemotherapy for cardiac reasons.
Quick Response to Problems
The clinic operates more or less "as needed." Vanderbilt oncologists, who are trained to be alert to cardiac signals and risk factors, simply phone Dr. Slosky, Dr. Sawyer, or Daniel Lenihan, MD, directly when they have concerns. Patients are seen almost immediately, so there is little delay in chemotherapy. If necessary, their cardiovascular care is optimized before chemotherapy is started. A dedicated echocardiographer performs all exams so that serial testing is consistent. Oncologists and cardiologists also meet monthly to review informative cases.

Emily Chan, MD, PhD, a gastrointestinal cancer specialist, said the collaboration has raised awareness on both sides of the coin. "Both specialties now have greater awareness that oncology and cardiology are intertwined. Many of our drugs have short- or long-term implications for other organ systems."
She also said the university setting facilitates such collaboration. "In private practice, oncologists don't always have easy and fast access to cardiologists. Here, if I am concerned about a patient and need cardiac clearance to start chemotherapy, I can set this up quickly. And if I have a question about an EKG, for example, I can talk directly to the cardiologists. They are willing to help us in every way."
"We have a tacit agreement," added Dr. Mayer. "I can call these doctors any time, and they will see my patients as soon as possible."
Opportunities for Research
Vanderbilt faculty are not just helping today's patients, but are also leading clinical trials and basic science experiments.
Dr. Lenihan is heading up the PREDICT trial, which is evaluating potential biomarkers of cardiac damage, including B-type natriuretic peptide and troponin I. "If we identify these markers, we can treat patients early to ameliorate cardiotoxicity," Dr. Slosky said. Previous studies have suggested that early intervention of troponin-positive patients improves cardiac outcomes.
"This is very exciting," he added. "Typically, we do an echocardiogram or MUGA scan, and if we see significant cardiac dysfunction we initiate treatment. Measuring biomarkers moves this curve significantly."
Dr. Sawyer is interested in the mechanisms of action of chemotoxic agents, and his research aims to predict the cardiac effects of new agents.
Other studies are evaluating the benefit of treating patients with underlying cardiac problems with ACE inhibitors or angiotensin blockers. The effect of exercise on cardiac function during chemotherapy is another research area, based on animal models showing adverse effects of exercise during treatment with anthracyclines. "Dr. Sawyer obtained data in animals. We are now designing a study in patients," Dr. Slosky noted.
Another Vanderbilt-led study is exploring the effect of statins on reducing the risk for thromboembolism in patients with cancer. Dr. Slosky is also developing a registry of Vanderbilt cancer patients to facilitate enrollment in trials of chemotherapy-related cardiotoxicity.
The Vanderbilt cardiologists' work is not confined to their own institution. Dr. Lenihan, together with Carlo Cipolla, MD, of Milan, Italy, wanted a more formal appreciation of the problem and thus started the International CardiOncology Society 4 years ago, which attracted 150 clinicians and scientists to its last annual meeting (www.cardioncology.it). The society's goal is the education of clinicians and the development of research protocols and clinical guidelines. ■
Financial Disclosures: Dr. Slosky and Dr. Mayer reported no potential conflicts of interest. Dr. Chan has reported a compensated consultant or advisory relationship with Amgen, Genentech, Pfizer, sanofi-aventis, ImClone, Bristol-Myers Squibb, and Celgene. She has reported receiving research funding from Astellas, Pfizer, Genentech, Amgen, Idera, Merck, Bristol-Myers Squibb, Lilly, ImClone, and MethylGene.
References
1. Chu TF, Rupnick MA, Kerkela R, et al: Cardiotoxicity associated with tyrosine kinase inhibitor sunitinib. Lancet 370:2011-2019, 2007. 
2. Pulipati BC, Chu D, Wu S: The incidence and risk of high-grade hypertension in cancer patients treated with bevacizumab: A meta-analysis of randomized controlled studies. American College of Cardiology 58th Annual Scientific Session. Abstract 1001-303. Presented March 29, 2009.
3. Reynolds CC, Hartlage G, Patel V, et al: Trastuzumab cardiotoxicity: Not as benign as it looks? American College of Cardiology 58th Annual Scientific Session. Abstract 1033-191. Presented March 30, 2009.
---