Plenary Report: High-dose Methotrexate Improves Outcome for High-risk Acute Lymphoblastic Leukemia in Younger Patients

High-dose methotrexate achieved superior event-free survival rates compared with standard Capizzi (escalating) methotrexate treatment in children and young adults with high-risk acute lymphoblastic leukemia (ALL), according to a practice-changing study reported during the Plenary Session of the 2011 ASCO Annual Meeting.1
"Methotrexate has been around for a long time. The Children's Oncology Group (COG) planned this study almost 10 years ago in an effort to optimize the use of an older agent in childhood ALL. The trial was halted early [in January 2011] when a planned interim analysis showed clear superiority of the high-dose arm," stated lead author Eric Larsen, MD, Barbara Bush Children's Hospital, Maine Medical Center, Portland.
Although methotrexate is a key component in treating childhood ALL, before this trial the best way to use this agent was not established, Dr. Larsen explained. Additionally, a trend had been seen toward increased central nervous system failure relative to marrow failure in this setting.
COG AALL0232 was designed to evaluate two different established methods of administering methotrexate in children with high-risk ALL, with the goal of reducing central nervous system failure. In 2004, 3,154 patients aged 1 to 30 years with newly diagnosed high-risk B-cell precursor ALL were randomized to receive standard Capizzi methotrexate followed by asparaginase (Elspar) or high-dose methotrexate with leucovorin rescue.
Key Data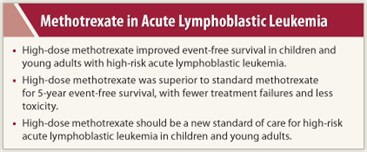 The 5-year event-free survival rate was 82% in the experimental arm vs 75% in the Capizzi methotrexate arm (P = .006). Event-free survival rates at 5 years were 86% vs 82% (P = not significant) among rapid early responders, and 79% vs 65% (P = .04) among slow early responders, in the high-dose and Capizzi methotrexate arms, respectively. At the interim analysis, patients in the Capizzi methotrexate arm were allowed to cross over to high-dose methotrexate when feasible.
Fewer treatment failures occurred in the high-dose methotrexate arm; 68 marrow failures were reported in the Capizzi methotrexate arm vs 42 in the high-dose methotrexate arm; a total of 68 and 32 central nervous system failures occurred in the two arms, respectively.
Adverse events were closely monitored, and no increased toxicity was observed for high-dose methotrexate vs Capizzi methotrexate. Febrile neutropenia occurred in fewer patients treated with high-dose methotrexate vs Capizzi methotrexate (5.1% vs 8.2%, respectively; P = .006). No statistically significant differences were observed between the two arms in acute neurotoxicity, osteonecrosis, or other clinically relevant toxicities. ■
Financial Disclosure: Dr. Larsen reported no potential conflicts of interest.
Reference
1. Larsen EC, Salzer WL, Devidas M, et al: Comparison of high-dose methotrexate (HD-MTX) with Capizzi methotrexate (C-MTX) plus asparaginase (C-MTX/ASNase) in children and young adults with high-risk acute lymphoblastic leukemia (HR-ALL): A report from the Children's Oncology Group Study AALL0232. 2011 ASCO Annual Meeting. Abstract 3. Presented June 5, 2011.
---
Related Articles

The acute lymphoblastic leukemia study presented by Eric Larsen, MD, during the 2011 ASCO Plenary Session "was designed to test intensified CNS-directed therapy during the interim maintenance phase of treatment. CNS control is an important issue. Although CNS involvement occurs in less than 10% of...