Plenary Report: Busulfan/Melphalan Improves Survival in High-risk Neuroblastoma Patients, Phase III Study Results Show


Myeloablative therapy with a busulfan (Busulfex, Myleran)/melphalan combination (BuMel) was superior to a regimen of carboplatin/etoposide/melphalan (CEM) in pediatric patients with high-risk neuroblastoma, according to results of the large, phase III HR-NBL1/SIOPEN trial presented at the 2011 ASCO Annual Meeting.1 Three-year event-free and overall survival rates were both significantly higher in BuMel-treated patients, with the strongest effect in patients with residual disease.
'Extraordinary' Survival
"Three-year event-free survival of 49% [in the BuMel arm] is extraordinary," remarked lead author Ruth Ladenstein, MD, of St. Anna Children's Hospital and Research Institute, Austria. "This study shows that the choice of myeloablative therapy matters. BuMel should be the standard of care [in high-risk neuroblastoma]."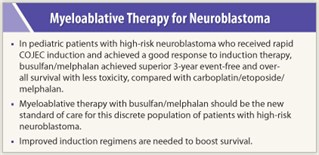 Neuroblastoma is the most common extracranial solid tumor of childhood, and 50% of patients are high-risk at diagnosis. High-risk features include advanced disease (widespread dissemination to bone and other sites), age greater than 18 months, MYCN amplification, and diploid DNA content. Long-term survival is less than 40% at 5 years. High-risk neuroblastoma is currently treated by intensive multiagent induction chemotherapy and surgery, followed by myeloablative therapy and stem-cell rescue, then radiation and maintenance therapy.
"This is one of the few tumors where the role of myeloablative therapy is established over chemotherapy," Dr. Ladenstein said.
Study Specifics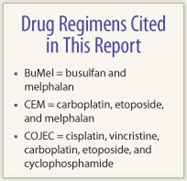 Of 1,577 patients with high-risk neuroblastoma, 563 were randomly assigned in a 1:1 ratio to either BuMel or CEM following rapid induction therapy with cisplatin, vincristine, carboplatin, etoposide, and cyclophosphamide (COJEC). At randomization, median age was 3 years, with 347 males and 216 females. Median follow-up was 3.5 years when the trial was stopped because a prespecified interim analysis showed a 49% event-free survival rate with BuMel vs 33% for CEM (P < .001).
Three-year overall survival was 60% for BuMel vs 48% for CEM (P = .003), and the rate of relapse or progression was significantly lower in the BuMel group (47% vs 60%; P < .001). BuMel showed an impact by stage: 3-year event-free survival in stage IV patients was 43% for BuMel vs 29% for CEM (P = .001). For stage II and III patients, 3-year event-free survival was 84% for BuMel vs 65% for CEM, but this difference was not statistically significant. A multivariate analysis found that BuMel was significantly associated with improved event-free survival (P < .001).
Moreover, the benefits of BuMel did not come at a cost of greater toxicity. The frequency of grade 3 or 4 infection, fever, and renal toxicity was higher in the CEM arm. BuMel-treated patients had no renal toxicity. The rate of acute toxic death was 3% for BuMel and 5% for CEM; severe toxicity in the first 100 days following treatment initiation (including death and admission to the ICU) was reported in 4% of BuMel patients vs 10% of CEM patients (P = .012). The rate of venous occlusive disease, which was reversible, was much higher in the BuMel arm. ■
Financial Disclosure: Dr. Ladenstein reported no potential conflicts of interest.
Reference
1. Ladenstein RL, Poetschger U, Luksch R, et al: Busulphan-melphalan as a myeloablative therapy (MAT) for high-risk neuroblastoma: Results from the HR-NBL1/SIOPEN trial. 2011 ASCO Annual Meeting. Abstract 2. Presented June 5, 2011.
---
Related Articles

At the ASCO Plenary Session where the HR-NBL1/SIOPEN trial was presented, formal discussant Julie R. Park, MD, of the University of Washington, Seattle, said, "Large randomized trials have previously shown that myeloablative therapy improves outcomes in high-risk neuroblastoma, and it is now...