Novel Agents Improve Survival in Patients with Metastatic Melanoma
Melanoma studies were the newsmakers at ASCO 2011.

Novel treatments for metastatic melanoma dominated the buzz at the 2011 ASCO Annual Meeting and across the major news outlets, with reports that two agents with entirely different mechanisms of action could extend survival. The studies' inclusion in the ASCO Plenary Session attested to the significance of the findings, which clearly could alter the care of patients who historically had poor survival.
BRAF Inhibitor Hits the Mark

In an international phase III trial, targeting of the BRAF V600E mutation with the orally administered agent vemurafenib (PLX4032) led to a 63% reduction in the risk of dying of melanoma, reported Paul Chapman, MD, of Memorial Sloan-Kettering Cancer Center in New York.1 The study was published online concurrently in The New England Journal of Medicine.2
An improvement in the survival of advanced disease "is really a huge step toward personalized care in melanoma," said Dr. Chapman.
Marc S. Ernstoff, MD, of Dartmouth-Hitchcock Medical Center in New Hampshire, commented in an editorial accompanying the publication, "The results…represent a major shift in the way we think about and treat melanoma…For patients with metastatic melanoma with the BRAF V600E mutation, the availability of vemurafenib is a major defining moment that will have an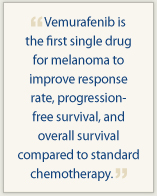 important effect on survival and quality of life."3
The open-label BRAF Inhibitor in Melanoma (BRIM-3) trial evaluated vemurafenib compared to standard treatment with dacarbazine in 675 patients with inoperable, previously treated stage IIIC or IV metastatic melanoma harboring a V600E mutation. This abnormality in the BRAF gene is present in about half of all melanoma patients.
In the first interim analysis, progression-free survival was 5.3 months with vemurafenib vs 1.6 months with dacarbazine, for a 74% reduced risk of progression. Estimated overall survival at 6 months was 84% vs 64%, respectively (Fig. 1), and the risk of dying was reduced by 63%, which was highly significant. Overall and progression-free survival benefits were observed across all subgroups, Dr. Chapman reported. Vemurafenib also led to a significantly higher response rate than dacarbazine: 48.4% vs 5.5%.
The study was halted very early to allow the control arm to immediately cross over to active therapy. Median follow-up was only 3 months at the time of the analysis, and median overall survival has not been reached in the vemurafenib arm, he added.
"Vemurafenib is the first single drug for melanoma to improve response rate, progression-free survival, and overall survival compared to standard chemotherapy," he noted. "It is a promising new therapy for patients with metastatic BRAF V600E–mutated melanoma and a foundation upon which to build combination therapies."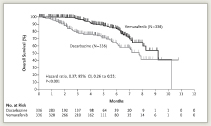 He added that many patients have durable remissions while on vemurafenib, and the hope is that these will translate into long-term survival.
Although adverse events were generally mild (approximately 10% grade 3+ toxicity), dose interruption or modification was required in 38% of patients. Vemurafenib is now available in an expanded access program, and FDA approval is expected for patients with BRAF mutations.
Immunotherapy Drug Also Improved Survival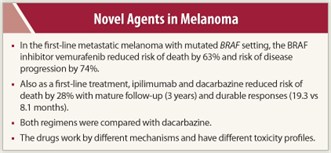 The immune-stimulating monoclonal antibody ipilimumab (Yervoy) also produced solid results indicative of benefit in the first-line metastatic setting.4 Ipilimumab blocks CTLA‑4 and thus augments T-cell activation. The drug was approved by the FDA in March 2011 for the second-line treatment of metastatic melanoma. The current study confirmed its activity as a first-line agent for metastatic disease.
Study 024 included 502 patients with untreated metastatic melanoma randomly assigned to dacarbazine (8 cycles) plus ipilimumab (every 3 weeks for 4 cycles, then every 12 weeks) or dacarbazine alone. Median overall survival was 11.2 months with ipilimumab/dacarbazine vs 9.1 months with dacarbazine alone, which was a highly significant 28% reduction in the risk of dying of melanoma (P = .0009), reported Jedd Wolchok, MD, of Memorial Sloan-Kettering Cancer Center, New York. Like the BRIM‑3 trial, this study was also published concurrently online.5
At 1 year, 47.3% of the ipilimumab/dacarbazine group was alive, compared with 36.3% of the control group. The survival rate at 2 years was 28.5% vs 17.9%, and at 3 years was 20.8% vs 12.2%, respectively (Fig. 2).
Many responses are durable, he added. Median duration of response was 19.3 months with ipilimumab/dacarbazine compared to 8.1 months with dacarbazine.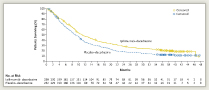 "This is the second randomized ipilimumab phase III trial to show a significant survival improvement in metastatic melanoma," Dr. Wolchok noted. Further development is ongoing in the adjuvant setting, with alternative combination regimens, in different doses and schedules, and in different cancer types. ■
Financial Disclosure: Dr. Wolchok serves as a consultant for Bristol-Myers Squibb. Dr. Chapman has received consultation fees from Roche/Genentech and GlaxoSmithKline. Dr. Ernstoff reported institutional grants open or pending from Roche and GlaxoSmithKline.
References
1. Chapman PB, Hauschild A, Robert C, et al: Phase III randomized, open-label multicenter trial (BRIM3) comparing BRAF inhibitor vemurafenib with dacarbazine (DTIC) in patients with V600EBRAF-mutated melanoma. 2011 ASCO Annual Meeting. Abstract LBA4. Presented June 5, 2001.
2. Chapman PB, Hauschild A, Robert C, et al: Improved survival with vemurafenib in melanoma with BRAF V600E mutation. N Engl J Med. June 5, 2011 (early release online).
3. Ernstoff MS: Been there, not done that—melanoma in the age of molecular therapy. N Engl J Med. June 5, 2011 (early release online).
4. Wolchok JD. Thomas L, Bondarenko I, et al: Phase III randomized study of ipilimumab plus dacarbazine vs DTIC alone as first-line treatment in patient with unresectable stage III or IV melanoma. 2011 ASCO Annual Meeting. Abstract LBA5. Presented June 5, 2011.
5. Robert C, Thomas L, Bondarenko I, et al: Ipilimumab plus dacarbazine for previously untreated metastatic melanoma. N Engl J Med. June 5, 2011 (early release online).
---
Related Articles
Discussing the melanoma studies at the Plenary Session, Kim Margolin, MD, of the University of Washington Fred Hutchinson Cancer Research Center in Seattle, noted that while the new therapies are welcomed, they are not without their challenges.
"Ipilimumab now shows a survival benefit in...