Cancer Diagnosis Can Spark Worry over Numerous Health Concerns

The early discovery of my endometrial cancer is a prime example of the health rewards you can reap if you are lucky enough to have good medical care and a dogged physician. Long past menopause, I wasn't experiencing any of the typical warning signs of the disease—vaginal bleeding or pelvic pain—when I made an appointment with my gynecologist for my yearly checkup. It was fortunate for me that my doctor believes that pelvic sonograms should be part of the routine gynecologic exam for postmenopausal women, and she recommended that I have one.
The test revealed several polyps, which turned out to be malignant. Although getting the diagnosis was initially alarming, I was quickly reassured by my doctor that my cancer was in its earliest, most curable stage—stage I—and that it was "absolutely the best of bad news." She recommended a radical hysterectomy and suggested that I get a second opinion.
Looking for Alternatives
Hoping to find an alternative to a radical hysterectomy, I got into active mode, searching the Internet for information about endometrial cancer and treatment options and asking everyone I knew who had had some experience with cancer for advice. After a second opinion confirmed the diagnosis and treatment plan, I decided that I couldn't take absolute charge of my cancer. I had to put my trust in my doctors. Less than 3 weeks after my diagnosis, I had the surgery.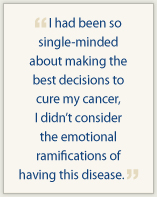 A week later, I was sitting in my oncologist's office for my follow-up visit. Although the surgery had gone well, explained my doctor, a second pathology report showed that cancer cells had penetrated the endometrial wall more deeply than first thought. She recommended a regimen of three high-dose radiation treatments to kill any errant cells.
Although my doctors now consider me cured of my cancer (I'll feel more confident of that prognosis after I pass the 2- and then 5-year mark), every new ache and pain I experience makes me nervous. A month following my radiation treatment, I had severe lower back spasms and, even more alarming, my hair started falling out. It wasn't the kind of hair loss that patients going through chemotherapy describe, but it was enough to send me back to my doctors.
Because my symptoms seemed to be unrelated to my cancer or subsequent treatment, no one really took them seriously. But losing my hair was really scary to me, and no one had warned me that it's common to have this kind of hair shedding following major surgery. I know that losing your hair is practically irrelevant compared to having cancer, but that's where the emotional part of having this disease came up for me.
Preoccupation with Symptoms
I had been so single-minded about making the best decisions to cure my cancer, I didn't consider the emotional ramifications of having this disease. I think the emotional form my disease takes at this time is my preoccupation with any new symptom I experience. Although my hair loss has subsided, I'm still having lower back problems and I have numbness in my lower left leg. My doctor says I may have spinal stenosis and that it may be age, injury, or treatment related. But in the back of my mind, I'm thinking, "This isn't stenosis, it's cancer."
But it's not just cancer I'm worried about these days. My family history is riddled with other serious illnesses that concern me. And then there's the specter of myriad health problems that can develop as part of the normal aging process.
Having cancer has taught me that it's not enough for doctors to focus solely on the physical part of the disease. Although I don't expect them to be psychotherapists, they also need to be sensitive and responsive to the toll cancer takes on a patient's emotional well-being. ■
---