Bequest from Dr. Nora Janjan and Jack Calvin Supports Conquer Cancer Foundation's Work in Palliative Care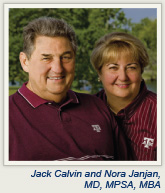 For Nora Janjan, MD, MPSA, MBA, the practice of oncology is rooted in purpose, empathy, and trust.
"You walk into the hospital and you know exactly why you're there," she says. "You are there to help patients and their loved ones through probably the most difficult experience that they will ever face. The greatest responsibility anyone can assume is to have a patient entrust his or her life to our care.
"Each one of us will be a patient someday, and it is important to deliver the compassionate care that we hope to receive later in our own life. The impact of compassionate care is not only with the patient—it also has a lasting effect on the family." Dr. Janjan learned the value of the physician-patient relationship early on, when her younger sister was born with Down syndrome and the family pediatrician supported her parents in their decision to keep her sister at home.
'Where can I contribute the most?'
Dr. Janjan retired in 2008 as a Professor of Radiation Oncology and Symptom Research at the University of Texas MD Anderson Cancer Center in Houston. Her second act is dedicated to influencing the future of cancer care through health policy.
Retirement from clinical practice was a hard decision—but the right one, she says. "I found myself telling my patients that I was going to D.C. on behalf of all patients. At some point, I started to ask myself where can I contribute the most?"
Armed with a unique combination of credentials in medicine, business administration, and public policy, Janjan is working as a consultant to the National Center for Policy Analysis—a nonprofit think tank—focusing largely on the potential impact of health-care reform.
Creating a World Free from the Fear of Cancer

Dr. Janjan is also working to shape the future of cancer care through philanthropy. In partnership with her husband, Jack Calvin, she is a strong supporter of the Conquer Cancer Foundation, an independent not-for-profit organization launched by ASCO and dedicated to conquering cancer worldwide by funding breakthrough research and sharing cutting-edge knowledge.
Both Dr. Janjan and Mr. Calvin have been touched by cancer—she through the experience of caring for her patients, and he through the experience of supporting his first wife through her struggle with breast cancer. Together, they have made a bequest to the Conquer Cancer Foundation, with the gift earmarked for palliative care research. The Foundation's vision—a world free from the fear of cancer—is one that resonates deeply with them.
"A lot of the fear that people have about cancer is actually fear of the symptoms of the disease and its treatment," says Dr. Janjan. She recalls a patient with cancer seated next to her on a plane; the patient had been treated 2 decades earlier but vividly recalled the side effects of therapy, while the cure of the disease seemed an afterthought.
A New Narrative for Cancer
From childhood, Dr. Janjan remembers a great-aunt suffering unrelieved pain and the toxicities of treatment for metastatic colon cancer. Her mother's best friend worked in a lingerie shop, specializing in fitting women who had had mastectomies, many of whom were suffering from lymphedema.
"Cancer's storyline has changed, as conservative treatment—combining radiation therapy with a limited surgical approach—has resulted in fewer disfiguring surgeries, less disability, and better quality of life," says Dr. Janjan. "The symptoms of cancer and its treatment are now better controlled. We're continuing to improve outcomes, and now deal with issues of survivorship that allow the patient to get past the cancer experience and reach important personal milestones."
Equally important, she says, is the cancer care community's responsibility to be there in the most difficult moments. "Dealing with the diagnosis and treatment of cancer is among the most overwhelming challenges anyone can face. Relieving symptoms and providing comforting support and reassurance to the patient is a critical function of every member of the health-care team."
Leaving a Legacy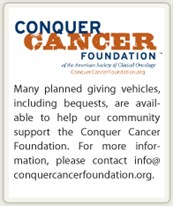 That mission—to provide supportive care all along the continuum of treatment—is what motivated Dr. Janjan and Mr. Calvin to make a bequest to the Conquer Cancer Foundation.
"By applying our gift to palliative care research, we hope to continue to improve the lives of patients with cancer," says Dr. Janjan. "ASCO is an outstanding organization. It's multidisciplinary and creative. It's the voice of oncology. And the Conquer Cancer Foundation is equally impressive and results-driven. Every choice we make in life is made on trust, and we trust the Foundation to be good stewards of our funds and improve the lives of patients with cancer."
"Cancer care is a team effort, involving everyone from the oncologist to the transport staff, who assume great responsibility in monitoring the patient's status in often remote hospital corridors," she adds. "Jack and I see philanthropy as a team effort as well. We all need to contribute to accomplish our shared goal of improving cancer care. It's so important to leave a legacy, to appreciate what others have done to help you along the way, and to give something back—to help others with your skills, your time, and your resources." ■
The generous bequest made to the Conquer Cancer Foundation by Nora Janjan and Jack Calvin will make a tangible difference for patients whose lives will be enhanced and extended by palliative care, an area in which the Foundation is already making an impact. To learn more about our work in the palliative care area, including two Foundation-funded landmark studies that have demonstrated the value of palliative care in supporting treatment and extending survivorship, visit the websites ConquerCancerFoundation.org or Cancer.Net.
---