A Serendipitous Opportunity Steers a Theater Major Into Oncology

Lymphoma expert Jeremy S. Abramson, MD, was born in Westchester County, New York, but soon after, his family relocated to Bergen County, New Jersey, where he spent his formative years. "I attended Tenafly High School and had dual passions: one was the natural sciences and the other on the extracurricular side was the theater program, where I acted in multiple plays and musicals," said Dr. Abramson.
Asked about early events or people who influenced his decision to pursue a career in medicine, Dr. Abramson responded: "My only exposure to medicine growing up was from the very good care of my pediatrician and the care my mother received when, after a series of fainting spells, she was diagnosed with sick sinus syndrome. She had a pacemaker implanted, which at the time to me, as I was still quite young, seemed very frightening. At an early age, I saw the care and humanity that went into being a doctor, which certainly influenced me in a positive way. But it would a long time before I actually considered a career in medicine."

I found a through-line between the arts and theater and the special communication skills needed in medicine.

— Jeremy S. Abramson, MD




Tweet this quote



A Love of Theater
During high school Dr. Abramson participated in a summer combination study program at Tuft's University in botany and theater. "After high school, I went to Wesleyan University, a private liberal arts university in Middletown, Connecticut, where I focused primarily on theater. I developed a strong interest in theater directing and lighting design. Although I still was interested in science, particularly biology, I majored in theater, which I thought would eventually be my career," said Dr. Abramson. "But the thought of going to medical school was still there in the back of my mind."
During the first semester of his sophomore year, Dr. Abramson had a serendipitous event that would prove life changing. "I was walking past a kiosk on campus—which was largely how information was shared in those days—and saw a poster inviting students who studied the arts and humanities to an information session on careers in medicine. It almost felt like someone had posted this and was standing behind a tree waiting for me to pass and see it. So, I went and learned about a Mount Sinai School of Medicine pilot program, whose goal was to encourage nontraditional arts and humanities students into medical school. The idea was to enhance a more diverse culture of medicine, which would ultimately produce a more humanistic physician. It was an intriguing program because if you were accepted, they effectively eliminated most of the premed requirements and the MCAT," he shared.
Dr. Abramson continued: "Although they looked over my high school transcripts, the admission process was based largely on an interview and essay. So, I was accepted to medical school during my sophomore year at Wesleyan, which was a bit shocking. All I had to do was maintain a B average and attend summer school in New York City, where I'd catch up on some of the premed classes I had missed. They put us up in apartments, so we had a good time as well."
Although Dr. Abramson was on a glide path to a medical career, the unique arrangement with Mount Sinai School of Medicine afforded him time during his last 2 years of undergraduate work to pursue his passion in theater. "I got to direct some plays including Beyond Therapy by Chris Durang, Summer and Smoke by ­Tennessee Williams, and my senior thesis project, The ­Tempest by Shakespeare. I also did a lot of lighting design, as I'm very interested in the dynamic visual artistry and emotional gravity of light and set design. I even taught theater classes to children, so it was a very different undergraduate experience than I would have had if I'd done the typical premed course work."
Unique Opportunity 
After graduating from Wesleyan University with honors, Dr. Abramson entered Mount Sinai School of Medicine to purse his medical degree. "Since Mount Sinai is in New York City, it was a great place to be for someone passionate about the theater. In fact, through some connections, I managed to do some off, off, off Broadway lighting design while in medical school and started an arts group at the medical school called Sinai Arts, which I believe is still in existence some 22 years later. And the actual practice of medicine in medical school was fascinating, so I knew I'd made the correct decision," he stated. 
Dr. Abramson continued: "I think the arts and humanities to medical school program fostered by Mount Sinai truly worked, as we didn't check those features at the door, we brought them into the school. Theater directing at its essence is about communicating on various levels with a varied set of collaborators and an audience. I found a through-line between the arts and theater and the special communication skills needed in medicine."
Decision Time 
Once he attained his MD, Dr. Abramson moved to Boston to do his internal medicine internship and residency at Massachusetts General Hospital. "At the time, I was deciding between pediatrics and adult medicine and ultimately chose adult medicine because I loved hearing the stories people tell about their lives. When you care for people who have lived a long life, there are always lessons learned and wisdom to learn from."
Dr. Abramson continued: "I originally thought about primary care, but it was during this training that a patient of mine presented with abdominal pain, which after imaging was found to be advanced pancreatic cancer. At that time, there were so few options, so he decided to go on hospice care. As the resident who'd been his primary care doctor, I'd known him longer than his oncology team. I eventually became involved in his counseling and end-of-life care, which was a moving and important experience. On the other end, I was seeing patients with cancer in the clinic who were receiving life-saving ­therapies, so the whole oncology experience felt so worthwhile and promising. I ultimately decided to pursue oncology and stayed in Boston to do my hematology/oncology fellowship at the Dana-Farber Cancer Institute/Mass General program."
First Exposure to Lymphoma
According to Dr. Abramson, his first real clinical exposure to lymphoma came during his fellowship. "I was quicky taken in by lymphoma, both the clinical art and science in a disease that has more than 70 different subtypes, each representing a distinct biologic profile with unique approaches to treatment. Also, it is a disease that affects younger and older people, men and women, and people from every walk of life, which gives you the opportunity to treat the full spectrum of people with cancer."
Dr. Abramson mentioned a few colleagues who helped to foster his interest in lymphoma. "I worked with Dr. Tak Takvorian at Mass General, who inspired me with clinical lymphoma care. Then, during the research phase of my fellowship, I worked with Dr. Margaret Shipp studying the difference in biology in certain Hodgkin and non-Hodgkin lymphoma subtypes and thinking about identifying and validating targets in those subtypes in the laboratory and then treating those targets with novel drugs. At that point, I knew I didn't want to be in lab science but rather wanted to work in translational science and clinical trial and drug development, to explore different ways to treat unmet needs in patients with lymphoma. That has been the passion and guiding principle during my whole career."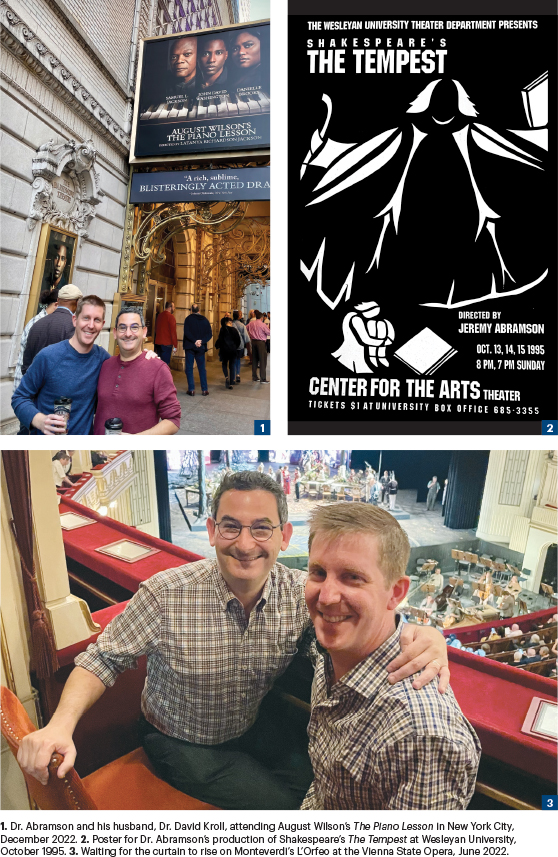 A Brighter-Than-Ever Future in Lymphoma
Following his fellowship at Dana-Farber/Mass General, Dr. Abramson took a job at Massachusetts General Hospital Cancer Center. "I was recruited by Dr. Bruce Chabner, who was a terrific person in every respect. He wanted me to see patients and begin building a lymphoma research program. At the time, there were only two lymphoma doctors at Mass General, and there was very little clinical research going on at the center. So, I began initiating clinical trials, writing new protocols, and collaborating with laboratory colleagues to get a better understanding of the emerging science. And over time, it has matured into a very robust research and clinical program, with a wonderful and growing team of physicians, nurse practitioners, pharmacists, research coordinators, and project managers. The list goes on, and it kind of makes me reflect on the team building and critically defined roles that are necessary in theatrical productions. And, from the earliest phase of clinical trials all the way throughout, all we do is ultimately in the service of our patients with cancer," shared Dr. Abramson.
When asked for some closing thoughts, Dr. Abramson commented: "The field of lymphoma has been revolutionized since I entered oncology. It's quite remarkable that since the beginning of my career, in diffuse large B-cell lymphoma (the most common subtype worldwide), we're curing about two-thirds of patients with standard initial therapy. However, that means about one-third relapse, and when I entered the field, a majority of those patients would die of their disease. In the past 5 years, we've seen the emergence of many novel therapies, such as CAR T-cell therapy, which we use successfully in many patients at relapse. We now have the potential to eradicate the most chemotherapy-resistant disease. It's simply a great time to be in this field, and the future looks brighter than ever." 
DISCLOSURE: Dr. Abramson has served as a consultant to AbbVie, AstraZeneca, BMS, Genentech, Genmab, Incyte, Janssen, Kite Pharma, Lilly, MorphoSys, Regeneron, and Takeda.
---