Winners of 40 Under 40 in Cancer Awards Announced

40 Under 40 in cancer is an awards initiative to identify and recognize contributions from across the field of oncology by approximately rising stars and emerging leaders younger than 40. Awardees were nominated by colleagues and selected by a panel of reviewers from a range of areas in oncology. The award is sponsored by The Lynx Group, Upstream Partners, Swim Across America, and the National Community Oncology Dispensing Association.
The members of the 2020 40 Under 40 in Cancer class are:
Carmine Attanasio, MBA, Bristol Myers Squibb
Alan Todd Blank, MD, MS, Midwest Orthopedics at Rush
Runcie C.W. Chidebe, Project Pink Blue-Health & Psychological Trust Centre
Julianne O. Darling, PharmD, BCOP, Indiana University Simon Cancer Center
Megan Dillaman, WVU Medicine
Sara Douglas, MSN, RN, OCN, Masonic Cancer Alliance, The University of Kansas Cancer Center
Srulik Dvorsky, Tailormed
Tara FitzPatrick-Forbes, Bayer
Elizabeth F. Franklin, PhD, MSW, Cancer Support Community
Gavin Ha, PhD, Fred Hutchinson Cancer Research Center
David Hadley, BSc, MSc, PhD, Inteliquet
Lauren M. Hamel, PhD, Wayne State University/Karmanos Cancer Institute
Stephanie R. Harris, MHA, RN, OPN-CG, Oklahoma City Indian Clinic
Danielle Blanch Hartigan, PhD, MPH, Bentley University
Ryan Haumschild, PharmD, MS, MBA, Emory Healthcare and Winship Cancer Institute
Alexandra Huffman, LCSW, OSW-C, UT Southwestern Medical Center/Simmons Cancer Center
Joan Kelly, Janssen
Laura Kleiman, PhD, Reboot Rx
Eric Lim, PhD, Stoke Therapeutics, Inc
Arturo Loaiza-Bonilla, MD, MSEd, FACP, Vidence/Cancer Treatment Centers of America
Jacqueline Luma, Ipsen Pharmaceuticals
Aaron Lyss, MBA, OneOncology
Omkar Marathe, MD, The Oncology Institute of Hope and Innovation
Thomas U. Marron, MD, PhD, Tisch Cancer Institute, Mount Sinai Hospital
Laura Martin, MS, RN, OCN, BMTCN, MedStar Georgetown University Hospital
Molly Mendenhall, BSN, RN, Oncology Hematology Care
Donald C. Moore, PharmD, BCPS, BCOP, DPLA, Levine Cancer Institute–Northeast, Atrium Health
Misako Nagasaka, MD, Wayne State University
Shannon McQuillan Norris, Shannon's Comfy Chemo Care Bag Project Inc
Sumanta Kumar Pal, MD, City of Hope
Chirag B. Patel, MD, PhD, MSE, Stanford University School of Medicine
Sameer Patel, MD, UC Health Department of Surgery
Sarah Elizabeth Pesek, MD, FACS, Trinity Health-St Peter's Health Partners
Michael Andrew Postow, MD, Memorial Sloan Kettering Cancer Center
Nitya Raj, MD, Memorial Sloan Kettering Cancer Institute
Chevon Rariy, MD, Cancer Treatment Centers of America
Jason M. Redman, MD, National Institutes of Health
Melissa A. Reimers, MD, Washington University School of Medicine in St. Louis
Shelly Rosenfield, Cancer Legal Resource Center
Robyn M. Scherber, MD, MPH, Incyte & UT Health San Antonio MD Anderson Cancer Center
Triparna Sen, PhD, Memorial Sloan Kettering Cancer Center
Kate Deen Taucher, PharmD, MHA, BCOP, UCHealth
Dyer Vann, TerSera
Namrata Vijayvergia, MD, Fox Chase Cancer Center
Ayn Wisler, Merck.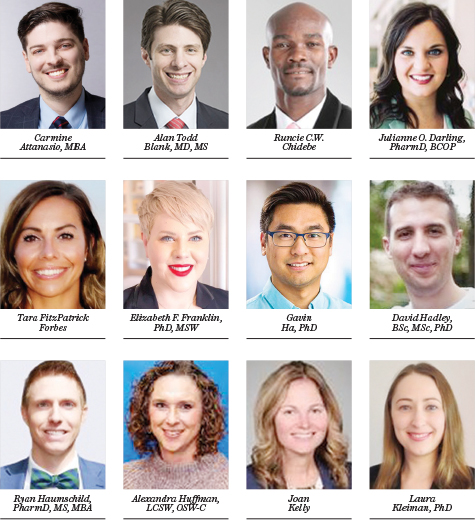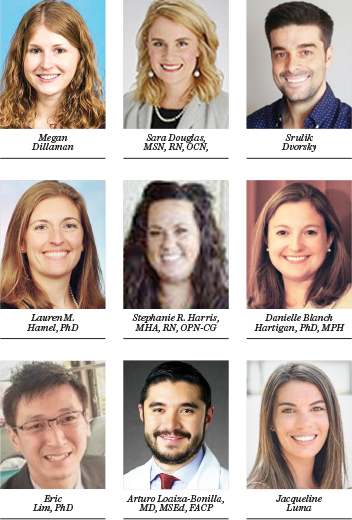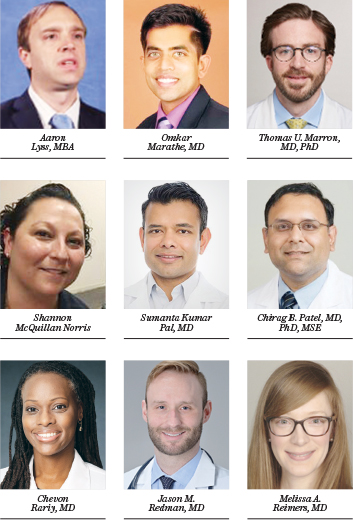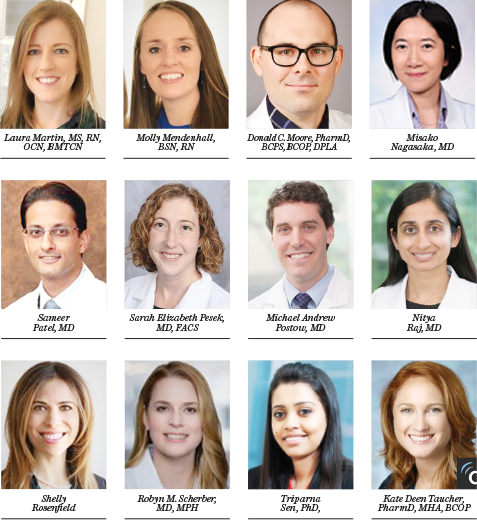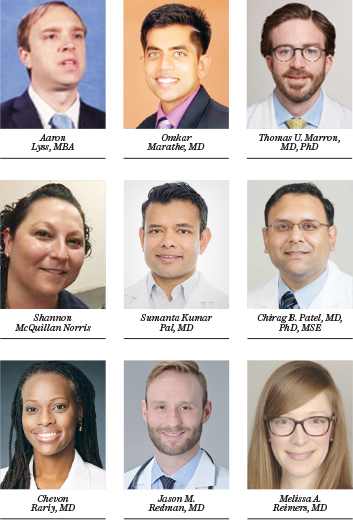 ---