Innovation Discovery Grants Awarded to Mass General Brigham for Scientific Advancements in 2020

Five Innovation Discovery Grants (IDG) have been awarded to faculty from Mass General Brigham for scientific advancements, as the highly competitive IDG program exceeds $3.5 million in grants since inception. Each of the five potential patient health and health-care delivery breakthroughs for 2020 will receive $100,000 toward ongoing development and future commercialization, based on their potential to improve health outcomes, meet articulated milestones, and achieve follow-on investment support as assessed by outside industry experts.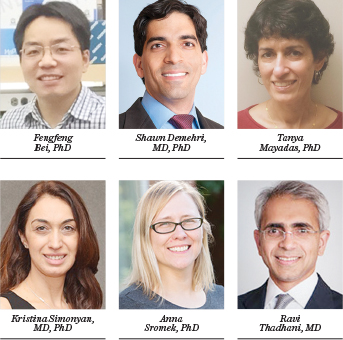 The Mass General Brigham Harvard faculty who will receive the IDG awards and their area of focus are:
Fengfeng Bei, PhD, Brigham and Women's Hospital: Brain Penetrant AAV Vectors for CNS Gene Therapy
Shawn Demehri, MD, PhD, Massachusetts General Hospital: Commensal Papillomavirus Vaccine Development for Skin Cancer Therapy
Tanya Mayadas, PhD, Brigham and Women's Hospital: Harnessing Neutrophil Plasticity for the Treatment of Cancer
Kristina Simonyan, MD, PhD, Massachusetts Eye and Ear: A Clinically Applicable AI Toolbox for Dystonia Diagnosis
Anna Sromek, PhD, McLean Hospital: Addressing the Need for Early, Accurate Diagnosis of Parkinson's Disease: A New PET Radiotracer.
"These translational projects are in some of the most promising areas of medical research," said Ravi Thadhani, MD, Mass General Brigham Chief Academic Officer. "Each represents a significant opportunity to improve treatments for patients faced with challenging diseases," he explained. "IDG supports translation of breakthrough research from the lab into real-world products, allowing the technology to potentially reach patients and caregivers with fewer delays. Congratulations to these award recipients and teams, and our appreciation to the industry panel for their assessment of this year's applications."
In a new round of funding for 2021, IDG will focus exclusively on cell and gene therapy. More information about the 2021 program can be found here. 
---