Indian Surgical Oncologist Offers Insights Into Delivering Equitable Cancer Care in a Resource-Challenged Country

The ASCO Post is pleased to introduce this department on Global Health-Care Equity. On an occasional basis, we will publish interviews between Guest Editor, Chandrakanth Are, MBBS, MBA, FRCS, FACS, and another oncologist or cancer care specialist spanning regions around the world. Our goal is to raise awareness about inequities in low- and middle-resource countries and to learn how physicians in these countries work within such confines. Ultimately, our hope is to see that all patients with cancer receive equitable care globally.
India, the world's most populous democracy, has a vast cancer care system that has made substantial progress over the past several decades, but there remain many disparities in quality cancer care between rural and urban areas as well as between public and private health-care facilities. Given that the oncology community is a globally interconnected network, the cancer care experience in India may reveal strengths and weaknesses in efforts to provide equitable cancer care in a resource-challenged country.
Chandrakanth Are, MBBS, MBA, FRCS, FACS

T. Subramanyeshwar Rao, MBBS, MS, MCh
To gain insights into cancer care in India, Guest Editor Chandrakanth Are, MBBS, MBA, FRCS, FACS, Vice Chair of Education, Department of Surgery, University of Nebraska Medical Center, Omaha, spoke with his friend and colleague T. Subramanyeshwar Rao, MBBS, MS, MCh, Chief Surgical Oncologist at the Basavatarakam Indo American Hospital & Research Institute in Hyderabad, India.
Family Background
Dr. Are:Please tell us about your personal background, where you were reared, and any influences in your journey to a career in medicine.
Dr. Rao: I was born and reared in a farming family. My grandfather and father were well educated, but in the mid-1900s, during the Indian independence movement, agriculture was the nation's main industry and was considered a noble profession. Our prime minister at the time, Jawaharlal Nehru, presented two 5-year-plans. The first plan (1951–1956) encouraged the development of the primary sector, which included farming. My parents came from large communal families; I am the third of four children in a household that placed a high value on what springs forth from higher education.
My father was keen for his children to enter professional careers, such as medicine or engineering. I remember him stressing that there was no better occupation in a developing nation than that of a physician. Even though his income was modest, my father sent his children to the best schools in the state, at that time. As a child, I had two preoccupations: studies and sports. I recognized sports would not lead to a career. Ultimately, I was drawn to medicine.
Path to Becoming a Surgeon
Dr. Are:Please give the readers a little insight into your pathway to becoming a surgeon.
Dr. Rao: My decision to become a surgeon was largely inspired by a childhood experience. I went to boarding school, as my father believed that boys did best in that environment. When I was in the fifth grade, a boy who was a year or so younger than me developed such severe abdominal pain that he tossed and turned at night, keeping me awake also. There was only one surgeon in the town, and the headmaster had me, as the senior student, accompany the boy to the surgeon. However, it was Saturday, and the surgeon had gone to the capital city for the weekend and was not to return until Monday, some 36 hours later.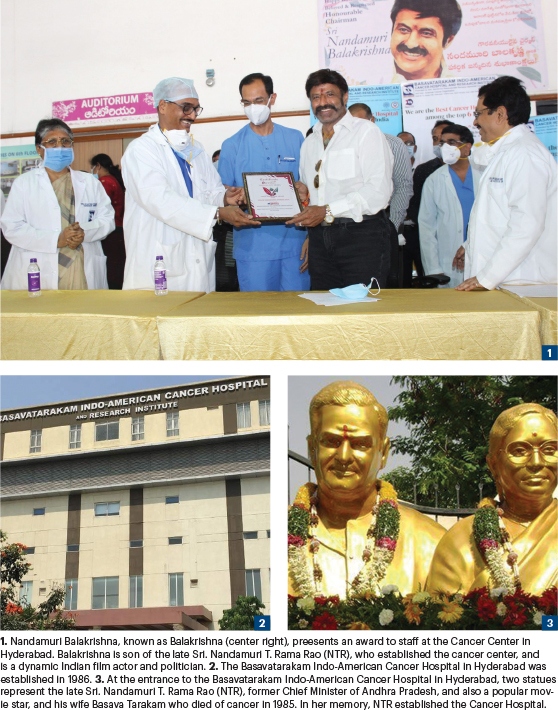 While we waited, I had visions of a grand professional arriving back from the city to care for my fellow student. When the surgeon finally walked into the clinic, I was underwhelmed by his demeanor but hopeful when he immediately diagnosed the boy with appendicitis and took him into surgery. The boy slept for a solid 12 hours after surgery; when he awoke, he said the horrible pain was gone and he felt renewed. On that day, I decided to become a surgeon and acquire the skills needed to cure sick people.
I had to work extremely hard to pursue a career in medicine, as in India there was a very competitive system in which only 1 of 400 applicants was accepted to medical school. I went to Kakatiya Medical College in Warangal, which is one of the premier medical schools in the state. I was taught and trained well, not only in medicine but in sports, which is a big part of Indian culture. I ran the 100- and 200-meter dash and started on the school's field hockey team, which is how I met and became close friends with Dr. Are. After receiving our MBBS degrees, Dr. Are journeyed to the United States by way of Ireland and the United Kingdom, and because of various financial and social issues, I remained in India.
After receiving my MBBS degree, I was thrown back into stiff academic competition. To be accepted into a general surgery program, you had to take very competitive entrance exams and finish in the top 15 applicants in the region, which was not easy, as you were competing against the best and brightest. So, for 9 months, I did nothing but study, but in the end, it paid off. I was accepted into the prestigious Osmania Medical College in Hyderabad, which was founded in 1846.
Since Osmania has one of the highest surgical volumes in the country, the best professors were recruited during the 1990s, giving me a remarkably good surgical training experience. The pressure to perform efficiently and clear the surgical waiting list was intense, but the high volume of patients and different operative procedures required made me a better surgeon.
Dr. Are:As a surgical alum of Osmania, I can attest that the sheer surgical volume and excellence of teaching made me a better surgeon as well. Please tell us why you decided to specialize in oncologic surgery.
Dr. Rao: That decision was inspired by a teacher, who was the first cancer surgeon in the state of Telangana. At that time, cancer surgery in India was inadequate, far inferior to Western standards. So, even though oncology was a tough path, it presented the most urgent surgical need in India. In 1993, there were just four surgical oncology training positions in the whole country, and competing for a spot in one was like climbing a towering mountain. The other alternative was to go to the United Kingdom for training, but at that point, I could not afford that option. So, I persisted and was accepted to Kidwai Memorial Institute of Oncology in Bangalore, which is a first-rate institution.
The other inspiration on my surgical career path was the medical procedure itself. Multidisciplinary oncology pathways intersected with general surgery, creating vast opportunities for clinical improvement. I have always been proud of my abilities to deliver the highest quality care possible for my patients with cancer. Now, after about 3 decades of practicing surgical oncology, I have no regrets, only extreme satisfaction with the path I chose.
Growing Cancer Burden in India
Dr. Are:You alluded to the workforce shortage of surgical oncologists, which is magnified by the country's growing cancer burden. From your leadership role, traveling across the country, moderating symposia, and advising policymakers, can you give us your thoughts on India's rising cancer rates and how they differ from those in the West?
Dr. Rao: When we trained in oncology, the cancer care gap in outcomes between India and the West was enormous. To begin, there were very few trained professionals in India. The cancer care delivery system was primarily run by the government, with all the inherent limitations of that model. Commonly, patients with cancer were on 2- to 3-month waiting lists for surgery. You literally watched tumors grow in front of your eyes because of the delays. The private payers were mostly focused on cardiology and neurology and other disease settings because they were much more lucrative than oncology. When I discussed this with policymakers and hospital administrators, they'd brush the argument aside that treating cancer was not profitable.
As time passed, India's social and economic conditions improved, as did life expectancy. And with an aging population comes a growing cancer burden. So, it became obvious that the cancer care system needed vast improvement. Over the past 2 decades, we've had an exponential expansion of oncology workforce and hospital infrastructure. Currently, most institutions across India, whether governmentally or privately run, have major oncology departments. As mentioned, when I trained in the early 1990s, there were only four surgical oncology training positions open per year in the whole country, and that number has increased to more than 200.
The majority of the nation's focus was communicable diseases, understandably, but when you spend only a little more than 1% of your gross domestic product on health care, that leaves far too few resources for cancer care and research. India has been described as a group of nations within a nation that has a vast heterogeneous population of multiple languages, religions, and races.
The types of cancers we see in India are also undergoing a transition. Infection-related cancers, such as gastric and cervical, have declined, whereas there's been a steady rise in cancers historically more prevalent in the West, such as breast, colorectal, and prostate. Naturally, this shift in disease sites requires an increase in oncologists who specialize in organ-based diseases and the infrastructure to support them.
"Wealthy developed nations should support efforts that ensure equitable [cancer] treatment on a global scale. The world is rapidly becoming a village, and we need to look beyond our own country's population."

— T. Subramanyeshwar Rao, MBBS, MS, MCh




Tweet this quote



In the developed world, most of the health-care expenses are borne by private insurance companies or government programs. Historically, in India, patients with cancer have had to foot the bill for their care, leaving huge gaps in access. For instance, the vast number of medical care infrastructure and teaching facilities are concentrated in just 6 of India's 28 states. One part of India, the North East with eight states, has the poorest population and least access to medical facilities, with few medical schools. This large heterogeneity in wealth and services has created severe inequities in care.
However, over the past decade, we've seen a transition in the payment model. For instance, in our state at the Basavatarakam Indo American Hospital in Hyderabad, all patients with cancer have free access to surgery, radiation, chemotherapy, and supportive care. We have also seen great improvement in our nation's infrastructure and aviation industry, which allow rural patients greater access to care than ever before. When Dr. Are and I were students, the only transport for patients outside the city was an outmoded rails system, which took several days to reach the hospital. Thankfully, our improved transportation network has relieved much of that burden, creating more equitable access to care.
Significant Changes in Oncology
Dr. Are:You spoke about India's evolution over several decades from infection-based cancers to lifestyle-based cancers. What were the two most significant changes in oncology you've seen from the day you finished your training?
Dr. Rao: The first is the realization by the government that it must deal with inequities in care by taking whatever steps necessary to ensure that the Indian people, regardless of socioeconomic status, will have access to quality cancer care. The second most significant change, although not specific to cancer, has been the overall increase in quality-of-life measures, from access to food, transportation, schooling, and primary care medicine. When people are without those basic necessities, especially food, seeking cancer services falls far down the list, which has dire public health consequences. We have a lot of work to do, but the government has evolved into a vital and willing partner with the Indian oncology community.
Charismatic Founder of
Cancer Center
Dr. Are:Please tell us about the charismatic founder of your cancer center?
Dr. Rao: The founder of Basavatarakam Indo American Cancer Hospital was N.T. Rama Rao. He was a famous actor, a matinee idol popularly known throughout India as NTR. He was also a dynamic politician who served as Chief Minister of Andhra Pradesh for 7 years over three terms. Like me, he was the son of farmers, and throughout his career, he championed causes of the dispossessed.
When Rama Rao was 20, he married -Basavatarakam, who later developed retroperitoneal sarcoma. Rama Rao shifted his wife to the United States for treatment, and she later bemoaned the fact that so many of her fellow citizens did not have the wherewithal to travel for better cancer treatment. She eventually died of her cancer in 1985, and, in her honor, Rama Rao established the Basavatarakam Indo American Cancer Hospital.
Dr. Are:There's also the Smt. Nandamuri Basava Taraka Rama Rao Memorial Cancer Foundation, an adjunct to your institute. Who oversees that, and how has it grown since its inception?
Dr. Rao: One of Rama Rao's sons, Mr.-Balakrishna, who is also a popular actor, is Chairman of this foundation. Rama Rao allotted about 7 acres of his own land to develop the foundation. Several high-profile Indian oncology specialists who had emigrated to the United States were recruited back to India to supervise the auxiliary funding and organizational needs. They also donated their own money and did crowd funding in India and the United States for this worthwhile cause. Established in 1988 with a humble 40 hospital beds, it has since grown to a 600-bed facility. Apart from the hospital, the foundation also runs the Indo American Nursing School, established in 2003, which aims to deliver top-quality nursing and midwifery training.
Cancer Center Initiatives
Dr. Are:Your center is engaged in multiple oncologic services. Can you tell us about a couple of its specific initiatives?
Dr. Rao: When our cancer center opened its doors, there were no student training or fellowship programs run by any private institution. We began intensive programs in these areas, which help to train physicians in all of the oncology disciplines including pathology. In 2000, we pushed into new terrain with minimal access surgery, which we became recognized for nationally. We purchased a few minimal access surgical units, which furthered our expertise in this area. We also started a bone marrow transplant program, one of the first in the country. In short, we became a one-stop shop for cancer care that became a model for the country, providing care for all with much better outcomes for patients with cancer and better postoperative outcomes.
In fact, a team of government officials will be visiting the hospital shortly to study the organization. We'll be starting fellowship programs with organizations such as the Indian Association of Surgical Oncology. After an outcome audit of our surgical procedures over the past 6 years, we were pleased to learn that we had better outcomes than most similar international cancer centers. We are inching closer to the West in terms of outcomes, which redeems our long and hard efforts.
Personal Investment in Minimal
Access Surgical Unit
Dr. Are:You talked briefly about the introduction of laparoscopic surgery at your cancer center. You were skilled in this approach from working at other centers, one of which you invested your own money in order to purchase equipment. Please tell us about that experience.
Dr. Rao: In 2002, I was working in a regional cancer center that was very resource-challenged. We had only 10 inpatient beds on the main portion and 20 beds on the outside, with innumerable patients waiting for those beds. There were quite a few patients with inoperable disease that could not be diagnosed on scan. And there were situations when a patient would undergo a scan and would not be operated on until the next month. By then, ascites and liver metastases had developed. So, the better option was not to do another scan, which would put the patient back on the waiting list, but to perform a laparotomy. However, these patients would occupy our beds for extensive periods. For example, we performed a laparotomy on a patient with gallbladder cancer and on a patient with ovarian cancer that proved inoperable. These two patients needed additional surgery and stayed for about 45 days in the hospital, which, of course, in an institution with limited bed space was problematic.
This difficult situation stimulated me to acquire a minimal access surgical unit. However, the hospital administration was not sold on the idea because it was new technology and quite costly, not within the budget. Driven by emotion and concern for patients, I applied for a loan and purchased the equipment for the hospital myself. I actually taught myself how to use the equipment on various cancer sites by studying anatomy books. It was a complex process, as parts were repeatedly being added to the unit. But the benefits for my patients were obvious, so I proceeded undaunted. For instance, I could perform a diagnostic procedure, leaving only a pinhole wound, so the medical oncologist could immediately begin giving the patient chemotherapy. Whereas with more invasive laparotomy, they would postpone chemotherapy until the more extensive wound healed, which delayed treatment for quite some time.
I must say, it was an emotional time, but looking back, I am glad I took the risk and used my hard-earned money to create better outcomes for my patients with cancer. It made me who I am today as a surgical oncologist who puts the welfare of patients above anything else.
Challenge of Initiating
Cancer Research
Dr. Are:Research is a pressing need to accelerate progress in cancer care in India. How do you conduct studies when there is barely enough time to care for patients?
Dr. Rao: Basic and clinical research has long been on our minds in India, but as you mentioned, there are challenges to initiate research in a country with limited manpower and ever-expanding volumes of patients. Yet, we look for progress, not excuses, so we've looked to the West for assistance, such as the University of Nebraska Medical Center. This is a work in progress, but we are committed to developing robust research programs.
I would like to acknowledge the role of Dr. -Chandra Are, who is an advisor on our scientific board, for stimulating our youngsters to initiate research. This effort has culminated in a relationship with the Indian Institute of Technology to develop tools and models to be used for patients with cancer. It's also important to note that patients with cancer in India have full faith in us and our cancer care system, so it's time for us to pull up our socks and utilize all our resources to create a better future for our patients.
COVID-19 and Cancer Care
Dr. Are:Naturally, we would like to know how the COVID-19 pandemic has affected your delivery of cancer care.
Dr. Rao: I say with great pride that we responded much better than we anticipated. We realized that despite the difficult challenges presented by the upheaval, we could not stop delivering care for our patients with cancer. Yes, there was significant fear among certain staff, and our revenue dropped markedly. But I decided not to halt services irrespective of the lockdowns.
To that end, we set up a team to develop extensive safety protocols and create an emergency insurance fund for our staff members in case they contracted the virus. More than 300 of our 1,500 staff members tested positive for the coronavirus and were treated without incurring any costs. This proactive approach improved the morale of the entire medical community. We acted promptly and with assurance, and there have been no pay cuts or layoffs to date. It's been a challenge and an adventure, but we are proud of our efforts and outcomes.
Closing Thoughts
Dr. Are:Do you have any parting words for readers about efforts to relieve cancer suffering in low- to
middle-income countries?
Dr. Rao: It is important to adjust our global attitudes toward costs of care and concentrate on delivering equitable high-value care to all patients with cancer. We face a global reality of an aging population that will create an exponential increase in the incidence of cancer cases. We know that costs will be lower when these cancers are diagnosed at an early stage, so screening programs should be prioritized in the developing world. However, in India, we look to the West for guidance, yet we need to find Indian solutions for Indian cancer care problems.
That said, wealthy developed nations should support efforts that ensure equitable treatment on a global scale. The world is rapidly becoming a village, and we need to look beyond our own country's population. Cancer is universal, and needs to be treated as such, with all patients having access to and receiving equitable, high-quality care. ν
DISCLOSURE: Dr. Are is a board member with Global Laparoscopy Solutions; has received research funding from Pfizer; and has a patent with the University of Nebraska Medical Center for a laparoscopy instrument. Dr. Rao reported no conflicts of interest.
---