Huntsman Cancer Institute Appoints Cancer Center Research Program Leaders


Jay Gertz, PhD
Huntsman Cancer Institute (HCI) at the University of Utah recently announced that Jay Gertz, PhD, and Trudy G. Oliver, PhD, have accepted invitations to serve as co-leaders of HCI Comprehensive Cancer Center research programs. Dr. Gertz will serve alongside Jared Rutter, PhD, as co-leader of the Nuclear Control of Cell Growth and Differentiation Program, succeeding Brad Cairns, PhD. Dr. Oliver will serve alongside Sheri Holmen, PhD, as co-leader of the Cell Response and Regulation Program, succeeding Alana Welm, PhD.
"I have no doubt Drs. Gertz and Oliver are poised for incredible success," said Neli Ulrich, PhD, Executive Director of the HCI Comprehensive Cancer Center. "They have been leaders at our center in developing research collaborations with our clinic teams, where they have each worked to advance research studies directly informed by clinical challenges experienced by HCI patients."
Dr. Gertz joined HCI in 2013 and is Associate Professor of Oncological Sciences. His lab uses genomics approaches to study the roles of transcription factors in cancer, with a particular interest in how hormone receptors lead to uterine and breast cancers.
Dr. Gertz earned a BA in mathematics from Cornell University and a PhD in computational biology from Washington University in St. Louis. He completed a postdoctoral fellowship at the HudsonAlpha Institute for Biotechnology. His research is supported by the National Institutes of Health, including the National Cancer Institute and the National Human Genome Research Institute, the Department of Defense, and Huntsman Cancer Foundation.
Dr. Oliver joined HCI in 2011 and is Associate Professor of Oncological Sciences at the University of Utah and HCI Endowed Chair in Cancer Research. Her lab focuses on understanding how lung cancers develop and acquire resistance to therapy, with the goal of improving treatments.
Dr. Oliver earned her PhD from Duke University in pharmacology and cancer biology and completed her postdoctoral fellowship at the Massachusetts Institute of Technology. She is co-leader of the HCI Lung Cancer Disease Center. Dr. Oliver received the William C. Rippe Award for Distinguished Research in Lung Cancer from the Lung Cancer Research Foundation and now serves on the institution's Scientific Advisory Board. Her research program has been supported by the National Cancer Institute, Lung Cancer Research Foundation, Damon Runyon Cancer Research Foundation, American Cancer Society, American Lung Association, Jimmy V Foundation, Closer to Cure, and Huntsman Cancer Foundation.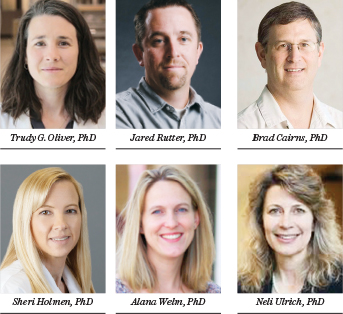 ---