Forbes Magazine Names 2020 Class of 30 Under 30, Including Honorees in Science and Health Care

Forbes magazine released the ninth annual "30 Under 30" list Class of 2020 in December 2019, featuring the newest group of 600 young entrepreneurs, scientists, and innovative individuals who were recognized for their extraordinary accomplishments at early ages. A total of 30 honorees were selected for each of 20 different categories, ranging from arts and style to education, health care, and science, among others.
The 2020 list includes a diverse and unique class of individuals. A number of the honorees who were recognized for exceptionalism in science and health care are included here.
Honorees in Science Category
Balkees Abderrahman, MD, 28, is the Dallas/Ft. Worth Living Legend Fellow of Cancer Research at the Department of Breast Medical Oncology, The University of Texas MD Anderson Cancer Center, Houston, and a PhD candidate at the Faculty of Biological Sciences, the University of Leeds in West Yorkshire, United Kingdom. Dr. Abderrahman works in the laboratory of V. Craig Jordan, CMG, OBE, Professor at MD Anderson Cancer Center. She received her medical degree from the University of Jordan in Amman.
Ann Lin, a 23-year-old PhD candidate at Stanford University, is focusing her research on gene-editing technology to develop and implement new procedures that can better confirm the on-target activity of proposed cancer therapies. Ms. Lin is a former intern in the laboratory of Jason Sheltzer, PhD, at Cold Spring Harbor Laboratories, in Cold Spring Harbor, New York, where she first participated in this research. She received her BA/BS degree from Stony Brook University in New York and is a native of Flushing, New York.
Honorees in Health-Care Category
Joey Azofeifa, PhD, is the 29-year-old founder of Arpeggio Bio, a company that developed an automated system to collect information about genes and biomarkers to indicate whether a particular treatment may be successful or not. Dr. Azofeifa received his BA/BS degree from Vassar College and his PhD degree from the University of Colorado-Boulder.
Erica Barnell, MD, PhD, 29, is the Cofounder and Chief Scientific Officer of Geneoscopy, a clinical-stage diagnostic company working to provide noninvasive alternatives to colonoscopies to aid in the early detection of colorectal cancer. Dr. Barnell received her BA/BS degree from Cornell University and her medical and PhD degrees from Washington University School of Medicine, St. Louis.
Calgary resident and 21-year-old Catharine Bowman is Board Director of the Alberta Lymphedema Association in Canada. Ms. -Bowman devoted her early life to research in lymphedema following her own mother's experience with the side effect of cancer treatment. She received her BA/BS degree from Calgary University, Alberta.
Jean Fan, PhD, is a 28-year-old postdoctoral fellow at Harvard University. Dr. Fan works to develop computational methods to study the role of cellular spatial context in cancer. In the coming year, Dr. Fan will become Assistant Professor at Johns Hopkins University, Baltimore, where she received her undergraduate degree.
Annette Grotheer, MD, is the 29-year-old founder of a nonprofit organization known as The Shop Docs. The group works to provide preventive health screenings to men while they wait for a haircut. Dr. Grotheer is a resident of Fort Collins, Colorado. She received her undergraduate degree from the University of Colorado School of Arts and Sciences and her medical degree from the University of Miami.
Twenty-nine year old Arthur Kuan, of Irvine, California, is Chief Executive Officer of the biotech company Cold Genesys, which genetically modifies viruses to target cancer and boost the immune system. He completed his undergraduate degree at the University of Pennsylvania and received an MA/MS degree from Johns Hopkins University.
A principal investigator at the University of California, San Francisco, Vijay Ramani, PhD, 29, co-invented a process enabling high-throughput chemical screening using single-cell RNA sequencing as a read-out. [This work was done with co–first authors Sanjay Srivatsan and Jose McFaline-Figueroa, PhD, and was published recently in Science. Dr. Ramani received his BA/BS degree from Princeton University and his PhD degree from the University of Washington, Seattle.
Researcher Sana Raoof, MD, PhD, 29, received her undergraduate, medical, and PhD degrees from Harvard University, Harvard Medical School, and the Harvard Medical School-Massachusetts Institute of Technology, respectively.Her research interest is focused on reducing the burden of tobacco-related disease and lung cancer in the United States. Dr. Raoof characterized evolutionary drug-resistance in a subtype of non–small cell lung cancer and discovered a drug combination that might prevent resistance. She has provided expert testimony leading to changes in smoking laws in some areas.
Visionaries and Game-Changers
Randall Lane, Chief Content Officer, Forbes and creator of the Forbes Under 30 franchise, remarked in a news release: "The Forbes 30 Under 30 list has become the preeminent recognition for the most up-and-coming visionaries, game-changers, and pioneers the world has to offer—and we can't wait to see what they accomplish next."
More than 15,000 online submissions were received for 600 slots, making it a 4% acceptance rate. For the complete list of honorees, visit www.forbes.com/30under30. ■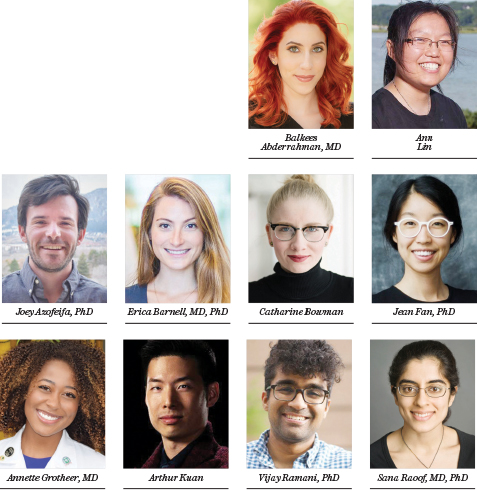 ---