Cleveland Clinic Taussig Cancer Institute Recognizes New Staff, New Appointments

In a news release issued by Cleveland Clinic Taussig Cancer Institute, the following announcements were made.
Center Adds Clinical Psychologist to Staff
Melissa Walt, PsyD, a clinical psychologist, recently joined the Cleveland Clinic Taussig Cancer Institute. She will focus on the psychological treatment of individuals with cancer including adjustment to initial diagnosis of the disease, adjustment to cancer and chronic medical illness, issues of grief and loss, chronic pain management, mood and anxiety disorders among individuals diagnosed with cancer, and stress management. Previously, Dr. Walt was a staff psychologist for the Outpatient Behavioral Health/Mental Health Clinic located at the VA Southern Nevada Healthcare System in Las Vegas, within the Addictive Disorders Treatment Program, Posttraumatic Stress Disorders Program, Behavioral Health Integration Program, and Pain Medicine Service.
Center Staff Receive Society Appointments
Hetty Carraway, MD, a hematologist at Cleveland Clinic Taussig Cancer Institute, has been appointed Vice Chair of the American Society of Hematology (ASH) . The Committee seeks to foster high-quality training programs in clinical and research hematology for pre- and post-doctoral trainees, provides career and educational opportunities for hematology trainees in a variety of settings, offers support and guidance for training program directors and educators, and serves as the ASH liaison with other organizations involved in aspects of hematology training. Dr. Carraway's research at Cleveland Clinic is focused on experimental therapeutics of acute leukemias and myeloproliferative diseases. She is also Vice Chair of Strategy and Enterprise Development at Taussig Cancer Institute.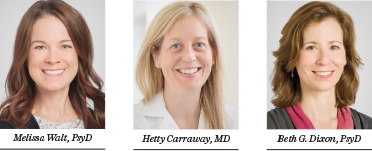 Beth G. Dixon, PsyD, has been appointed Director of Development & Strategic Planning on the American Psychosocial Oncology Society (APOS) Board of Directors. Dr. Dixon is a clinical psychologist at Cleveland Clinic Taussig Cancer Institute. In her role, she provides outpatient psychological services for individuals with cancer and their families, in collaboration with oncology, psychiatry, and social work teams.
For more information, visit mycleavelandclinic.org.■
---