AMMF–The Cholangiocarcinoma Charity, The Bili Project Foundation, Cholangiocarcinoma Foundation, and TargetCancer Foundation Join Forces to Advance Cholangiocarcinoma Research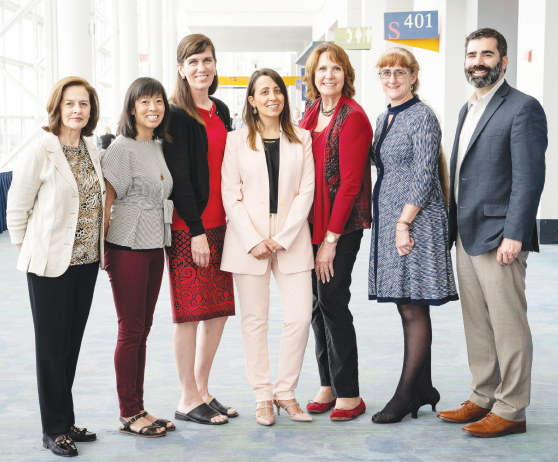 2018 Young Investigator Award recipient Marina Baretti, MD (center), with supporters from AMMF–The Cholangiocarcinoma Charity, The Bili Project Foundation, Cholangiocarcinoma Foundation, and TargetCancer Foundation. Photo credit: © ASCO/Brian Powers 2018.
For the first time, four nonprofits have joined together to support a Conquer Cancer Foundation of ASCO Young Investigator Award (YIA).
Marina Baretti, MD, postdoctoral oncology fellow at Johns Hopkins University, is the recipient of the 2018 Conquer Cancer Foundation of ASCO/AMMF–The Cholangiocarcinoma Charity, The Bili Project Foundation, Cholangiocarcinoma Foundation, TargetCancer Foundation Young Investigator Award. Together, the charities are advancing innovative cholangiocarcinoma research and encouraging early-career investigators to study this rare cancer.
Dr. Baretti's YIA supports a phase II clinical trial of entinostat in combination with nivolumab for patients with previously treated unresectable or metastatic cholangiocarcinoma and pancreatic adenocarcinoma. Leveraging the clinical trial expertise of a highly collaborative team of basic science and clinical researchers, Dr. Baretti will obtain tumor biopsies and serial blood specimens from patients participating in the trial before and during treatment to further define how these agents work in patients. The use of immune-based therapy to treat advanced cholangiocarcinoma has only recently been investigated, but this trial has the potential to significantly increase therapeutic options for patients with cholangiocarcinoma.
Collaboration is key for Dr. Baretti's clinical trial and for the supporting organizations. The visionary leaders representing these organizations have lost friends and loved ones to cholangiocarcinoma—and do not want others to experience that same pain and suffering.

AMMF–The Cholangiocarcinoma Charity (Essex, United Kingdom), founded by Helen Morement in 2002 in memory of her husband, Alan Morement, provides information and support for those affected by cholangiocarcinoma, campaigns to raise awareness, and supports research focused on discovering better diagnostic techniques and treatments and, ultimately, a cure for this devastating disease. Learn more about AMMF at ammf.org.uk.

The Bili Project Foundation (Burbank, California) works to reduce the incidence and improve the outcome of hepatobiliary cancers by promoting research to identify early signs and symptoms as well as treatment options for this silent, fast-acting group of cancers. Founded by Sue Acquisto after her husband, Vince Acquisto, passed away from cholangiocarcinoma, The Bili Project Foundation has created a hepatobiliary tumor tissue bank with more than 400 patient samples at the University of California, San Francisco (UCSF) to encourage meaningful research at UCSF and in collaboration with other institutions. Learn more about The Bili Project Foundation at thebiliproject.org.
Cholangiocarcinoma Foundation (Salt Lake City, Utah) was founded in 2006 by Stacie Lindsey after she lost her brother to the disease. The organization's mission is to find a cure and improve the quality of life for those affected by cholangiocarcinoma through Collaboration, Understanding, Research, and Education (CURE). The organization awards fellowships and grants to advance cholangiocarcinoma research and supports the International Cholangiocarcinoma Research Network and International Cholangiocarcinoma Patient Registry. Learn more about Cholangiocarcinoma Foundation at cholangiocarcinoma.org.
"Because the Cholangiocarcinoma Foundation prioritizes collaboration, we are thrilled to partner with other organizations who are focused on improving research and treatment options available to patients worldwide," said Ms. Lindsey.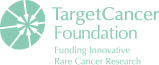 TargetCancer Foundation (Cambridge, Massachusetts) was founded by Paul Poth in 2009 after he was diagnosed with cholangiocarcinoma. He died shortly thereafter, but his goal to raise awareness and support for rare cancer research endures. TargetCancer Foundation works at the forefront of cancer treatment by funding innovative research, fostering collaborations, and raising awareness of rare cancers among scientists, clinicians, and patients. Learn more about TargetCancer Foundation at targetcancerfoundation.org.
"This is the first time that like-minded nonprofits have joined forces to support a YIA, demonstrating the power of collaboration to effect better treatments and eventually a cure for this devastating disease," said Nancy R. Daly, MS, MPH, Executive Vice President and Chief Philanthropic Officer of Conquer Cancer. ■
© 2019. American Society of Clinical Oncology. All rights reserved.
---