FDA Approves Arsenic Trioxide With Tretinoin for First-Line Treatment of Acute Promyelocytic Leukemia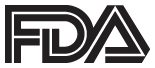 ON JANUARY 15, 2018, the U.S. Food and Drug Administration (FDA) approved the use of arsenic trioxide (Trisenox) injection in combination with tretinoin for the treatment of adults with newly diagnosed low-risk acute promyelocytic leukemia whose disease is characterized by the presence of the t(15;17) translocation or PML/RAR-alpha gene expression. 
The approval was based on a Priority Review by the FDA on data from published scientific literature, as well as a review of the manufacturer's global safety database for arsenic trioxide. The drug is manufactured by Teva. 
"This label expansion represents an important benefit as [arsenic trioxide] is now an FDA-approved first-line treatment option for patients with acute promyelocytic leukemia," said Paul Rittman, Senior Vice President and General Manager, Teva Oncology. 
The new indication reinforces the current practice guidelines by the National Comprehensive Cancer Network®. 
For more information about this agent, visit FDA.gov. ■
---