Diary of a Storm
As Hurricane Harvey Barreled Across Texas, The University of Texas MD Anderson Cancer Center Prepared to Maintain Continuity of Care for its Patients.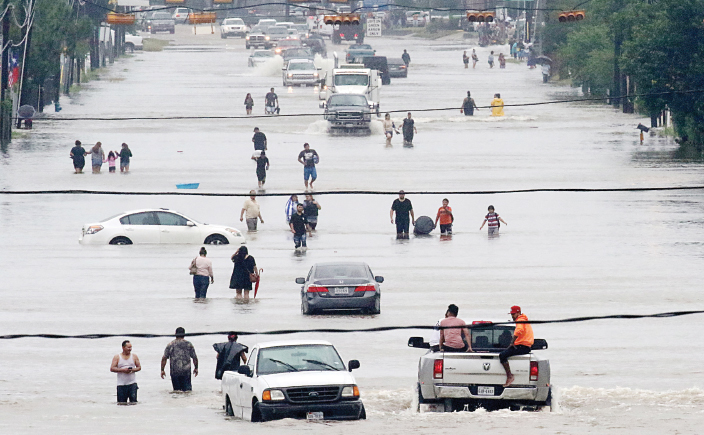 On August 27, 2017, Hurricane Harvey dropped massive amounts of water on Houston, Texas. Here, residents try to make their way through floodwaters along Telephone Road, one of Houston's important north/south thoroughfares connecting major commercial and residential areas. Photo by Thomas B. Shea/ AFP/Getty Images. Photos on the following pages courtesy of The University of Texas MD Anderson Cancer Center.
FOR DAYS BEFORE HURRICANE HARVEY was expected to move toward Houston, Texas, on Sunday, August 27, 2017, after pummeling other cities in Texas and Louisiana, the leadership team at The University of Texas MD Anderson Cancer Center (MD Anderson) in Houston strategized on how to ensure the continuity of care for the center's more than 500 inpatients and 13,000 outpatients receiving cancer care. Taking lessons from the devastation Tropical Storm Allison wrought on several hospitals in the Texas Medical Center in 2001, including flooding building interiors and knocking out generators, necessitating patient evacuation, MD Anderson has since built interior and exterior flood walls and relocated electrical life support systems, so the facility could remain in operation during a flood event. And, while some flooding did occur in the basement and lobby of the cancer center's main building during intense periods of rain, water never reached the upper levels of the hospital, electrical power was never lost, research facilities and laboratory animals were protected, and patients did not have to be evacuated. However, the facility was closed for outpatient appointments for nearly a week. 
As Hurricane Harvey swept over Houston, MD Anderson activated its 1,000-member ride-out team of on-site clinical, housekeeping, facilities, dining services, and security staffs who remained in the hospital over several days to provide care and meals for 538 patients receiving treatment in the hospital, 15 patients in the Emergency Center, and nearly 300 family members. 

Matt Berkheiser
"We delivered 1,000 cot beds to our main campus for our ride-out team, which were placed in empty patient rooms, conference rooms, and other secure areas, and kept our fitness center open so the staff could use the shower facility," said Matt Berkheiser, Associate Vice President and Chief Safety Officer of Environmental Health Safety and Corporate Services at MD Anderson. "We are designed to shelter in place and ride out storms of this magnitude, and that's what we did. We accomplished our goal to ensure the safety of our patients, our facilities, and one another, and we did so in a caring way."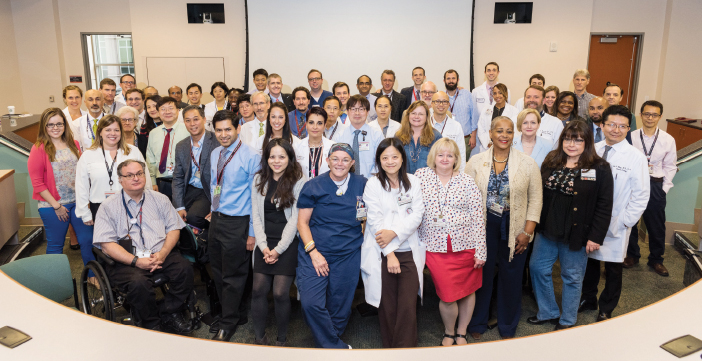 Efforts made by the staff of MD Anderson's Cancer Center's Radiation Oncology Department during Hurricane Harvey's onslaught ensured that patients continued to receive radiation therapy. Their dedication enabled more than 500 patients to receive care just 3 days following the storm.
As Hurricane Harvey grew into a category 4 hurricane with winds increasing over 130 miles per hour, knocking out power lines, dropping between 40 and 50 inches of rainfall over much of Texas, and causing the evacuation of hundreds of thousands of residents, oncologists and nurses at MD Anderson prepared to leave their homes to return to the hospital to care for their patients. In many cases, these clinicians left their homes uncertain of what they would find when they returned—at least 35% of the cancer center's 20,000 workforce had to evacuate or experienced damage to their homes or vehicles during the storm—and risked potential personal injury, as some walked miles in often fast-moving, debris-filled knee- and waist-high water or drove through flooded streets determined to reach the cancer center and their patients. 
In this special feature, The ASCO Post chronicles the heroic efforts of four of those clinicians: Jose A. Cortes, MD, Assistant Professor in the Department of Critical Care, Division of Pediatrics; Adi Diab, MD, Assistant Professor in the Department of Melanoma Medical Oncology; Rachel A. Gershenson, RN, a registered nurse in the Intensive Care Unit; and Joseph Herman, MD, MSc, Interim Head of the Division of Radiation Oncology. 
In addition to these clinicians, The ASCO Post would also like to recognize and pay tribute to the hundreds of health-care providers who made personal sacrifices to care for their patients during Hurricane Harvey as well as other hurricane disasters that impacted Florida and are still being felt in Puerto Rico. 
Dr. Cortes: Caring for Four Critically Ill Children 
AS HURRICANE HARVEY was making landfall along the Texas Coast on Friday, August 25, 2017, Dr. Cortes volunteered to be among MD Anderson's ride-out team to care for four critically ill pediatric patients in the center's intensive care unit. One young patient with leukemia was being monitored for tumor-lysis syndrome; another just had surgery to place a ventriculoperitoneal shunt in his skull to drain fluid accumulation; a third patient was on a ventilator; and the fourth patient had a critical respiratory condition possibly requiring escalation of care. 
"At that point, the cancer center was still open, and we did not have plans to transfer or discharge patients ahead of the storm because all of my patients were too ill to be moved," revealed Dr. Cortes. As Saturday dawned, and intermittent rain gave way to sunny skies, Dr. Cortes thought Houston might be spared the worst effects of the storm. After making rounds around 5:00 PM to monitor his patients' vital signs and answer questions from the nursing staff, he decided to leave the hospital and drive to his home in nearby suburban Meyerland, in southwest Houston, to have dinner with his family and planned to return to the hospital later that evening.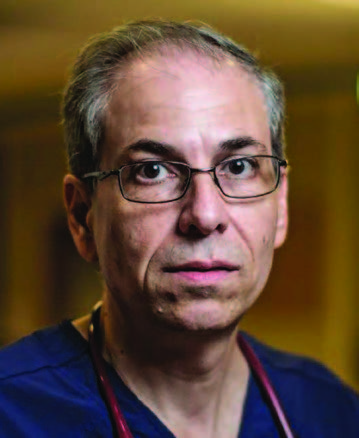 Jose A. Cortes, MD
Although it was raining lightly as Dr. Cortes arrived home, he was convinced the storm had bypassed Houston and had a leisurely dinner with his family. But as the evening progressed, the rain intensified, and the street in front of his house quickly became flooded. As he watched news reports of Hurricane Harvey, now headed to Houston, Dr. Cortes realized if he didn't get back to the hospital soon, it would be too late to make the trip, and he would not be at the cancer center in time to make patient rounds the next morning. 
"I was anxious to leave because I needed to take care of my patients and knew there wouldn't be staff to make rounds the next day," shared Dr. Cortes. 
With the streets now completely flooded, making driving impossible, Dr. Cortes decided to set out on foot to make the 8-mile journey to the cancer center. He traded his hospital scrubs for a T-shirt, shorts, and a raincoat; slipped on a pair of water shoes; and packed a trash bag filled with clean scrubs, socks, and shoes. Then he headed off into the dark night. He wouldn't see his family again until 3 days later. 
"When my young daughter, Maria, saw I was leaving the house, she begged me not to go, worried it would be too dangerous to walk through the flooded streets in the dark. I explained to her why it was important for me to get back to the hospital, so, in a way to help me, she handed me the lantern my wife was saving in case the power went out, and I took off with the trash bag of clean clothes in one hand and the lantern in the other hand," said Dr. Cortes. 
The Long Journey Home 
WALKING VERY SLOWLY through the thigh-high water, trying not to fall or step in a hole in the pavement, it took Dr. Cortes 2 hours and 30 minutes to make the 8-mile journey to the cancer center. "All the time, I just kept in mind that I needed to reach the hospital; that was my only goal. I tried not to think about the treacherous conditions and instead kept walking until I got to the hospital. 
Once I reached the building, my sense of relief was overwhelming. I took a shower and cleaned the wounds on my feet as well as a cut in my right leg, changed into my clean scrubs, and went on rounds. After making sure my patients were doing well and communicating with my family to ensure they were safe, I rested for a while," said Dr. Cortes. 
It wasn't until later Sunday morning that Dr. Cortes learned the rainfall from the hurricane had affected parts of his home and electrical power had been lost. Subsequent reports showed that hundreds of homes and buildings in the Meyerland area were flooded during Hurricane Harvey, some suffering irreparable damage. "That was a very difficult day for me, but by Monday, my wife, Fiorella, sent me a text message saying the water level was decreasing, so I was able to concentrate on my work," he added. 
Dr. Cortes was finally able to leave the cancer center at 8:00 PM on Tuesday night and return to his home and his family. "My wife and children were very happy to see me, and I was relieved to find them safe, with minimal damage to our home from the storm. And while life is returning to normal for my family and me, it will take a long time for our community to be fully restored. This storm has hit us very hard," said Dr. Cortes. 
Dr. Diab: Caring for a Patient to Receive Immunotherapy 

Adi Diab, MD
FOLLOWING IN HIS mentor James P. Allison's footsteps, Dr. Diab decided, in 2013, to make the move from Memorial Sloan Kettering Cancer Center in New York to MD Anderson to focus on research in immunotherapy for melanoma and other solid tumors. As Hurricane Harvey bore down on Texas, Dr. Diab's main concern was his patient, John Cormier, who had stage IV melanoma and was enrolled in a phase II clinical trial evaluating tumor-infiltrating lymphocyte therapy. 
Ten days before Hurricane Harvey was scheduled to make landfall in Texas, Dr. Diab had admitted Mr. Cormier into the hospital to undergo several rounds of lymphodepletion high-dose chemotherapy to ablate his immune system and make room in his bone marrow for an infusion of his engineered T cells together with interleukin-2. Although Dr. Diab was not part of MD Anderson's ride-out team and was not on call as the hurricane made its way to Houston, he worried, as the storm picked up pace, it could jeopardize Mr. Cormier's procedure, planned for Monday, August 28. 
"Even though we were coordinating schedules with the three lab technicians, two physicians, and a nurse who were working with this patient, I was not sure who would be able to make it to the cancer center in time to do the procedure, and I couldn't leave my patient alone," said Dr. Diab. "I had to come up with an alternative plan or do what I could do to make sure he got his treatment."
Overcoming Fear of the Unknown 
WATCHING THE NEWS at home and seeing the devastation the storm was wrecking across Houston, including flooding the parking garage that housed his car, making it impossible for him to drive back to the hospital, Dr. Diab made the decision to walk the 3 miles to the cancer center to be sure he would be there in time to start Mr. Cormier's treatment.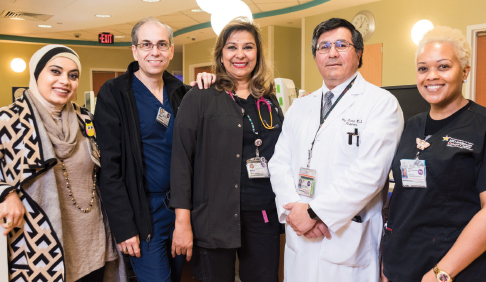 Jose A. Cortes, MD, and some members of the Department of Pediatrics-Patient Care ride-out team. Left to right: Shehla Razvi, MD, Assistant Professor; Dr. Cortes; Soraya Neal, BSN, RN; Cesar A. Nunez, MD, Associate Professor; and Angela McGaskey, MSN, RN.
"I was concerned about what the conditions would be once I got outside, because as a responsible person, I didn't want to take unnecessary risks. But what was driving me was the fear of my unknown compared with the fear of my patient's unknown, and there was no match," said Dr. Diab. "I always tell my patients, 'You will never walk this journey alone. I cannot promise a cure, I cannot promise positive responses from our treatment, but I can promise you that you will not be alone.'" 
Wading through knee-deep water in the early morning light, Dr. Diab made it to the cancer center around 10:00 AM on August 28 and was relieved to find that members of his team were already there, including Marie-Andrée Forget, PhD, Clinical Research Scientist and Director of the Clinical Cell Production at MD Anderson, who was preparing Mr. Cormier's engineered T cells for infusion. At 6:00 PM, the infusion process was underway and ended about an hour later. Although Mr. Cormier tolerated the treatment very well and his disease is stable, it is too early to evaluate the efficacy of the treatment. 
Despite having to walk back home in the dark and in even more treacherous conditions, Dr. Diab felt a sense of relief, because he had accomplished his most important mission: fulfilling his promise to his patient that he would never be alone. 
Ms. Gershenson: 'An Honor to Serve Other People Every Day' 
MS. GERSHENSON, a registered nurse in the intensive care unit at MD Anderson, had been preparing for Hurricane Harvey's arrival for more than a week. She had attended daily meetings with hospital leaders, who had advised the nursing staff to pack suitcases with extra clothes and other necessities to be ready to shelter in place if the storm turned out to be as dangerous as predicted. 
Although she was not part of the hospital's ride-out team, Ms. Gershenson was scheduled to work Saturday through Tuesday as the storm approached Houston. Because there was just slight drizzling as her shift came to an end on Saturday night and she lives just 5 minutes from the hospital, Ms. Gershenson decided to drive home and get some rest before returning to the hospital the next morning at 6:45 AM. 

Rachel A. Gershenson, RN
With the light drizzle turning to a torrential downpour during the night, Ms. Gershenson awoke Sunday at 5:00 AM to find the street in front of her house completely flooded and impassable, already littered with stalled cars. 
"I was in a complete panic," she said. "In some places, the water was waist deep and moving rapidly down our street. As a nurse, my first instinct is to put others first, and I felt guilty because I knew my colleagues had been working more than 14 hours and, even though I wanted to be safe, I was willing to take the risk of walking to the hospital to relieve my colleagues and take care of my patients." 
Ms. Gershenson waited until the rain had subsided and the water had receded a bit before putting on rain boots and packing a backpack with clean clothes and other essential items she would need over the next 3 days. Around 1:00 PM, she set out to make the 3-mile walk to the cancer center. But after traveling just 15 blocks, she had to turn back because it had begun raining heavily again, and she worried about being run over by people in kayaks escaping their flooded neighborhoods. 
By 3:00 PM, water had again begun to recede from the streets, and she thought it might be safe enough to make another attempt to reach the hospital. Ms. Gershenson asked her mother to drive her as close to the vicinity of the hospital as possible without getting stuck in a flooded area. They drove about 2 miles before the water and floating debris became too dangerous to proceed, and Ms. Gershenson walked the last mile, at times in waist-high water, finally reaching the cancer center at 4:00 PM. 
Experiencing the Best of Human Nature 
"THE WHOLE EXPERIENCE was terrifying because my parents are older and I worried about leaving them alone, but they encouraged me to go to the hospital, and I was so glad I did," said Ms. Gershenson. When she arrived at the hospital, she found an unexpected calmness. The medical staff had stayed overnight in the cancer center to ensure uninterrupted care for the patients in the intensive care unit and was even tending to the needs of patients' family members, who also remained in the hospital during the storm. 
"Hurricane Harvey was the worst of Mother Nature, and we were the best of Human Nature," said Ms. Gershenson. "All of us were proud to be nurses and physicians at MD Anderson, and everyone showed such resilience and courage during very harrowing circumstances. Some of my colleagues' family members had to be evacuated from their homes, and it was terrible for them not to be able to help their families, but they persevered. It was a very emotional time, but I am humbled by the experience. It reinforced for me the reasons I became a nurse and what an honor it is serve other people every day." 
Dr. Herman: Ensuring Patients Receive Radiation Therapy 

Joseph Herman, MD, MSc
WITHIN A FEW WEEKS of Hurricane Harvey making landfall in Texas, Dr. Herman experienced two-life changing events: he had been promoted to Interim Head of the Division of Radiation Oncology and welcomed a baby daughter into his family. Having arrived at MD Anderson from Johns Hopkins University in Baltimore, just a year before Harvey hit Houston, Dr. Herman was unaccustomed to the type of ferocious tropical storms frequenting the Texas coast and wasn't sure what to expect as Harvey made its way to Houston. 
"My wife and I had never experienced a hurricane like this before, and we knew that with two young children and now a newborn, we couldn't evacuate our home, because we weren't prepared for that. So we got ready for the hurricane as best we could to keep our family safe and stay in place," said Dr. Herman. 
As Dr. Herman was making plans to protect his family's safety, he was also on multiple daily conference calls with colleagues at the cancer center to determine how to treat patients needing radiation therapy if the center's outpatient radiation facility and the multiple radiation outpatient facilities throughout Houston had to close during the storm. 
"We started making calls to get the radiation oncology ride-out team in place at the cancer center. We knew some of our patients required urgent radiation therapy for conditions such as cord compression and brain metastases and had to have a staff to provide that therapy," he explained. 
A Team Effort 
DESPITE THE FLOODING surrounding the Houston area following Harvey's onslaught, Dr. Herman and Prajnan Das, MD, Residency Director in the Department of Radiation Oncology, and Eugene Koay, MD, PhD, Assistant Professor, as well as several radiation therapists, resident physicians, and physics staff, were able to drive to the cancer center by the Tuesday following the storm and treat a handful of patients. Others, including Steven Frank, MD, Medical Director of the Proton Therapy Center; Albert Koong, MD, PhD, Chair of the Department of Radiation Oncology; Mary Martel, PhD, Chair ad interim of the Department of Radiation Physics; Robert Ghafar, MBA, RTT, Division Administrator; and Denise Zaebst, MS, Administrative Director, led an effort by home to mobilize the team for the next day. The following day, August 30, as more staff members arrived and calls were placed to patients alerting them the radiation facility was open, over 100 patients were treated, and 500 more received therapy over the next 3 days. 
"What impressed me the most was to see how everyone was willing to do whatever it took to take care of our patients," shared Dr. Herman. "This was a team approach. A number of the staff and faculty who made it to the cancer center volunteered their time because they thought it was the right thing to do. Other colleagues dropped off food for the staff, patients, and family members; everyone helped out during very difficult circumstances. Specifically, several faculty and staff had been displaced from their own homes during the storm yet continued to be involved in caring for our patients."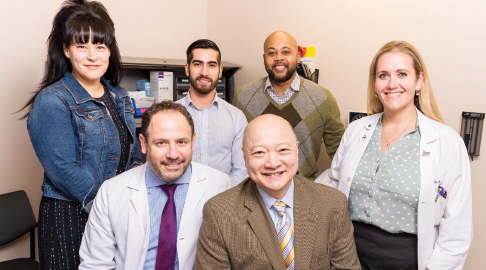 Members of the Department of Melanoma Medical Oncology. Bottom, left to right: Adi Diab, MD, and Michael Ka Keu Wong, MD, Professor, Melanoma Medical Oncology. Top, left to right: Marie-Andrée Forget, PhD, Clinical Research Scientist; René J. Tavera, Clinical Cell Therapy Specialist; Orenthial J. Fulbright, Supervisor, Cell Therapy Lab; and Natalie J. Jackson, MSN, RN.
Forever Changed 
ALTHOUGH MD ANDERSON and its outpatient facilities did not suffer any permanent damage from Hurricane Harvey and are now back to full operational capacity, many hospital employees are still coping with the after effects of the storm and the loss of homes and other personal property. To help displaced colleagues secure shelter, food, and other basic needs, staff members are contributing to MD Anderson's Caring Fund, which provides financial assistance to employees in need, and the outpouring has been overwhelming, said Dr. Herman. 
"The cancer center is back together now, but we are forever changed. In addition to the contributions we are making to the Caring Fund, within our department we are making an effort to bring in gift cards and food for our employees who are still dealing with the disaster as well as offering our support," Dr. Herman added. "Even though living through the aftermath of Hurricane Harvey has been extremely difficult, seeing how everyone worked together to keep our patients well cared for was a wonderful experience. It just goes to show how much you can get done when everyone pulls together as a team. It was a reminder to all of us of why we are here." ■
DISCLOSURE: Mr. Berkheiser, Ms. Gershenson, and Drs. Cortes, Diab, and Herman reported no conflicts of interest. 
---