Celebrating the Life of Jimmie Holland, MD

The oncology community mourns the sudden passing of Jimmie C. Holland, MD, who died on December 24, 2017, at the age of 89. Dr. Holland's achievements over her 40-year career are legend. They include the founding of the subspecialty of psycho-oncology, the establishment of a full-time Psychiatry Service at Memorial Sloan Kettering Cancer Center, the founding of the American Psychosocial Oncology Society, and the cofounding of the International Psycho-Oncology Society, among others.
Dr. Holland was born on April 9, 1928, in Nevada, Texas. It was a time and place when cotton was king and little girls were named Bobbi and Jimmie, she would recollect years later. She always loved science and medicine, and during high school, she dreamed of becoming a doctor. But World War II was in full roar, and times were lean. After graduating high school, she pursued undergraduate studies at Baylor University in Waco, Texas.
It was during these years that the war ended. With encouragement from the hometown family doctor and the support of her family and teachers, Dr. Holland enrolled at Baylor Medical School. She was 1 of only 3 women accepted into a class of more than 90 men, most of whom were older war veterans. She excelled in her studies and emerged on a path to a lifelong career in medicine.
The Road to Psychiatry 
Dr. Holland's roots were still planted in her small rural hometown, and after attaining her medical degree from Baylor, she planned on returning home to practice pediatrics or family medicine. However, during her internship at St. Louis City Hospital, the experience of monthly rotations opened a new world of possibilities.
After rotation on the surgical and ob-gyn wards, her plans of returning home to a family medicine practice veered into indecision, until her rotation in psychiatry, which she immediately found fascinating. That fascination with psychiatry bloomed into a possible career path during her residency at Malcolm Bliss Psychiatric Hospital and Washington University in St. Louis. 
Later, during her residency in psychiatry at Massachusetts General Hospital in Boston, the nation was in the grip of a raging polio epidemic, with many of those afflicted flooding into Mass General, some of whom were paralyzed from the neck down. The direct human drama sparked Dr. Holland's interest in discovering how humans deal with catastrophic illness, and her career in psychiatry was born. 
Psycho-oncology: A Brave New Chapter in Cancer Care 
After her residency, Dr. Holland relocated to Buffalo, New York, where she met and married James F. Holland, MD, who was Chair of Medicine at Roswell Park Memorial Institute. Having children put Dr. Holland's career on hold for several years, though she engaged wholeheartedly with her husband about his clinical trial work in Cancer and Leukemia Group B, specifically asking whether he and his associates ever queried patients as to how they feel about being on a trial. Together the Hollands would conduct the first-ever quality-of-life studies on trial participants. 
After their children got a bit older, the Hollands moved to New York City. It was 1977, and Dr. -Holland jumped at an opportunity. On her own, with just two psychiatry fellows, Dr. Holland initiated the Psychiatric Service at Memorial Sloan Kettering Cancer Center, where she conducted some of the first epidemiologic studies of the psychological impact of cancer on patients and their families, putting the field of psycho-oncology on the medical map. Dr. Holland was a masterful clinician, researcher, educator, and mentor. And she knew that the nascent field of psychosocial oncology had to have its own professional organization to truly flourish. She led the effort to establish the American Psychosocial Oncology Society as an interdisciplinary organization that welcomes a wide variety of professionals, as well as patients and patient advocates, to advance a "whole-person" approach to cancer care. She also embraced an international vision for the field, cofounding the International Psycho-Oncology Society.
Dr. Holland coedited the authoritative book on the field, Handbook of Psychooncology: Psychological Care of the Patient With Cancer, and coedited the seminal journal Psycho-Oncology. She also led the Distress Management Panel for the National Comprehensive Cancer Network, which created the Distress Thermometer and Problem List—the most widely used distress-screening tools in the world. 
Dr. Holland's lifelong work centered on studying and treating the most difficult symptom cancer patients often face: a frail and vulnerable psyche. During her early years of research, when she was spearheading psycho-oncology, she also tussled with an oncology establishment that largely viewed the upstart field as "soft science." 
Yet Dr. Holland remained unperturbed by naysayers, and thanks to her fierce determination and commitment, the formal beginnings of psycho-oncology took root in the late 1970s—when the word "cancer" was still a social stigma—finally allowing patients the emotional freedom to explore the feelings associated with the scary ups and downs of battling a life-threatening disease. 
Acceptance in Mainstream Oncology 
In a 2013 interview with The ASCO Post, Dr. -Holland noted the 2007 Institute of Medicine (IOM) report, Cancer Care for the Whole Patient: Meeting Psychosocial Health Needs, as a watershed event for psycho-oncology, in which the central message was that there are evidence-based interventions—both psychological and pharmacologic—for cancer patients, and the practice of high-quality cancer care must integrate the psychosocial aspect into the standard care model. She noted it would still be several years after the 2007 IOM report before the treating-the-whole-person transformation took firm hold in mainstream oncology practice. 
For her efforts in treating both the physical symptoms and emotional distress patients with cancer often face, Dr. Holland received numerous awards, including the Medal of Honor for Clinical Research from the American Cancer Society and the Presidential Commendation from the American Psychiatric Association. In 2015, Dr. Holland received the T.J. Martell Foundation's Pioneer Award for her leadership and vision in the field of psycho-oncology.
Dr. Holland's life's work left a huge and lasting imprint on the practice of oncology—one that will continue to grow more important with time. She had a profound impact on the lives she touched—her patients, colleagues, family, and friends. Dr. Holland will be remembered not only as a great doctor, but also as a beautiful person. We extend our sincere condolences to Dr. Holland's husband, James F. Holland, MD, and to their six children and nine grandchildren, in addition to her patients and colleagues. ■
REMEMBRANCES
Ivelisse Belardo, MSW
Assistant to Dr. Holland at Memorial Sloan Kettering Cancer Center
To her patients and colleagues, she was known as Dr. Holland, but to me, Jimmie C. Holland, MD, was simply "My Jimmie." And she returned my affection by calling me "Ivy Girl" or "Sweetheart" in her still distinguishable Texas accent.
Jimmie's humanistic approach to the holistic healing of patients was well known both nationally and internationally, and as busy as she was conducting research and seeing patients in the clinic, she unselfishly made time to mentor trainees, consult with colleagues, and support staff members. She was compassionate, loving, giving, sincere, modest, humble, and, most of all, genuine.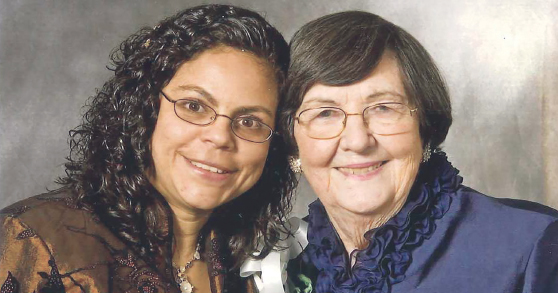 Ivelisse Belardo, MSW, and Jimmie C. Holland, MD
Everything was possible in Jimmie's world, and there was no room for excuses. When I saw the light go on in her office each morning, I knew it was time to get going—there was work to be done, and not a minute to waste. Whenever we finished one of our many great projects, we would celebrate with a hearty high-five for a job well done and be on to the next challenge.
In addition to her wonderful husband, Dr. James F. Holland, their loving children, and grandchildren, I am the luckiest person in the universe to have had the opportunity to know her. I was her assistant for more than 26 years. During that time, Jimmie taught me many things, but I am most grateful for her unconditional love.
Forever in my heart, she will always be My Jimmie.
William S. Breitbart, MD
Chairman, Department of Psychiatry and -Behavioral Sciences at Memorial Sloan Kettering Cancer Center
Jimmie C. Holland, MD, was a hero, an advocate, an inspirational leader, a teacher, a mentor who launched the careers of the leaders of the worldwide field of psycho-oncology, and always, up until the last 2 days of her life, a caring and effective clinician. -Jimmie didn't like being called the "Mother of Psycho-Oncology," even though she is internationally recognized today as the founder of the subspecialty. Despite all the accolades and worldwide recognition for her accomplishments, she remained humble. It is fitting that those who were closest to her referred to her by her pet name, Sugar.

William S. Breitbart, MD
We will remember Jimmie Holland for various reasons. I certainly have many memories from my 34-year-long career working alongside Jimmie. On my list is her generosity and loving attitude toward all who knew her: her family, patients, colleagues, trainees, and everyone who crossed her path.
We have lost a remarkable woman and a once-in-a-lifetime influencer. Her death is a profound loss to our department, to Memorial Sloan Kettering Cancer Center, to the nation, and to the world. We mourn her deeply and will miss her forever.

Clifford A. Hudis, MD, FACP, FASCO
Chief Executive Officer of ASCO
Dr. Holland established Memorial Sloan Kettering Cancer Center's Psychiatry Service—the first of its kind in the country—and launched an entirely new field in psycho-oncology, but through it all she took care of patients and families. Leading by example, she showed patients, families, caregivers, institutions, and the entire world that the needs of patients with cancer include recognition, treatment, and support for their psychological as well as physical challenges. The recognition that each patient, bringing a unique background and lifetime of experience to the diagnosis, can suffer and cope in very different ways was critical, but it was just the start. 
Clifford A. Hudis, MD, FACP, FASCO
Dr. Holland was driven to action. For her, this meant spending time addressing related and unrelated psychological burdens, even as cancer was being diagnosed and treated; it meant prioritizing time and space for this care along with the more conventional cancer-directed therapies. Building on her clinical observations, Dr. Holland developed hypotheses and tested them, refining and adjusting her views and understanding, like any great scientist. This was how she launched the new field of psycho-oncology.
The impact of Jimmie's work can be seen in each patient and family she and her colleagues and disciples have helped, but the societal impact of her work will continue to evolve and expand for decades to come. Understanding how to help patients cope can help them receive better individual care, but at scale, this ultimately helps drive improved outcomes.
Here is but one example: Upon hearing the news of Jimmie's passing, a longtime patient of mine sent an e-mail to share her sadness. Although many patients have reached out over the years as we faced the inevitable occasional loss of a colleague, I can't remember another patient who shared this kind of note. She wrote to say that Dr. Holland had been transformative to her and her family, both acutely at the time of her initial diagnosis and then for years to come, as she continued to help her cope with unrelated challenges and then diagnoses of cancer in other family members. My patient's diagnosis of a very low-risk breast cancer was ironically the "lucky break" that got her to see Jimmie, and it changed decades of her life for the better. 
Working at an institution with Dr. Holland; sharing patients; and witnessing her passion, drive, and intellect in action are among the greatest and most inspiring opportunities I have had in my career. With creativity, focus, and clear visionary thinking, she always focused on patients. Her career, contributions, and clinically meaningful impact are all that any of us can aspire to achieve in our own work, and we were lucky to have had her in our community. She will be missed.
Matthew J. Loscalzo, LCSW
Liliane Elkins Professor in Supportive Care Programs and Executive Director in the Department of Supportive Care Medicine at City of Hope, Duarte, California
Jimmie C. Holland, MD, was not the first physician to promote the importance of the psychosocial aspects of cancer care, but she was without any question the most effective. Her rural Texas roots and deeply held humanistic values propelled Dr. Holland's relentless pursuit of ensuring that all patients with cancer and their family members be treated compassionately.
In my 38 years of working with Dr. Holland, I was able to engage colleagues to work together while never losing sight that the reason why patients come to us for cancer care is so they can return to their lives and loves, including family, friends, and community and, most of all, to fulfill their personal aspirations.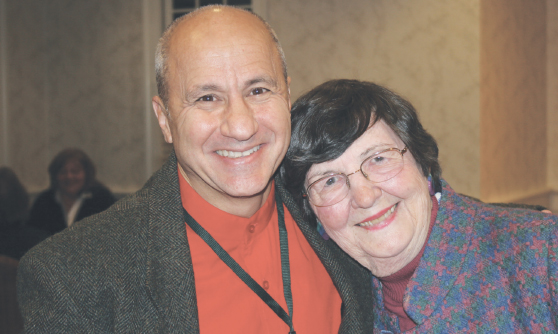 Matthew J. Loscalzo, LCSW, and Jimmie Holland, MD
It is not possible for me to do justice to Dr. Holland's many accomplishments because the true depth of her influence on the field of psycho-oncology, which she founded, has yet to be fully felt. This gentle warrior has planted many seeds that will continue to bloom for years to come, and patients—as well as colleagues—will continue to be the beneficiaries of her vision and many contributions to psychosocial cancer care.
What we already know for sure is that Dr. Holland has had a lasting international impact on how patients with cancer and their families are treated, especially in developing countries. She has mentored hundreds of oncology professionals across multiple disciplines—a courageous act in itself—and cared deeply about her colleagues and patients. Dr. Holland also excelled in her personal life. Married for over 6 decades to cancer research pioneer James F. Holland, MD, the couple raised 6 wonderful children.
Jimmie C. Holland had a big life, and she taught the rest of us how to do the same. I am forever grateful to have had Dr. Holland in my life, as my mentor and, most importantly, as my friend.
ADDITIONAL REMEMBRANCES
José Baselga, MD, PhD
Physician-in-Chief at Memorial Sloan Kettering Cancer Center
Jimmie C. Holland's death is a profound loss to us all. Throughout her remarkable career, Jimmie conducted important research about how battles with cancer affect the mind. She also shared her knowledge with the world and is credited with putting psychosocial and behavioral research on the agenda of the American Cancer Society in the early 1980s. Through her visionary work, Jimmie Holland has forever changed the landscape of cancer care.
Liz Blackler, LCSW-R, MBE
Senior Clinical Social Worker in the Department of Social Work at Memorial Sloan Kettering Cancer Center
We all have a story about how we met Jimmie and how she changed our lives. Mine starts when I asked to observe one of her long-running patient support group meetings at Memorial Sloan Kettering Cancer Center. She welcomed me with open arms and declared at the end of the meeting that I was now her new group co-facilitator. "See you in 2 weeks," she said. We would go on to spend the next 10 years together meeting every other week to co-lead a lung cancer support group.
Jimmie had an innate ability to command a room, she effortlessly moved from conversation to conversation, always looking for ways to connect people who had not met before. She mentored a generation of clinicians, while making it her mission to support patients through the unthinkable diagnosis of cancer.
Jimmie was my friend, supporter, and mentor. I am a better person and a better clinician because of her. I will always remember Jimmie sitting at the head of the table during our support group meetings, wearing one of her timeless tweed suits, and welcoming a new group member to the fold. "You are not alone," she would say. "This is a place to talk about what it feels like to have cancer."
I will miss her compassion and intellect and, most of all, her friendship.
Daniel C. McFarland, DO
Division of Network Services in the Department of Medicine at Memorial Sloan Kettering Cancer Center
Above all, Jimmie Holland was a compassionate human being who felt deeply for others. Her passion for making the lives of patients with cancer better was inspirational. She had countless mentees and inspired countless more. She was a living legend who touched the lives of so many patients and healers in oncology. She was forever modest—perhaps this was due to her humble upbringing—but she forever changed the world of oncology through her work to relieve the suffering of patients with cancer. Although she was gentle, she was in no way timid. She fought for what was right and what she believed in, and the field of psycho-oncology and thousands of patients benefited from her efforts.
By using a direct and honest approach to caregiving that was akin to her favorite quote by Francis W. Peabody, MD—"the secret of the care of the patient is in caring for the patient"—she was able to find a voice that resonated with patients and mental health practitioners working with cancer patients to do what works.
At a time when oncologic science and psychiatry could seem distant and cold, Jimmie's approach was well received and formed the basis for her myriad achievements, which are nothing less than extraordinary and legendary. She lives on through everyone who shares her helping spirit and through her contributions at the interface of psychiatry and oncology. Her esprit de corps lives on in all of us whose goal it is to alleviate the suffering of people facing cancer.
Mindy Greenstein, PhD, clinical psychologist and author
It's no accident that the founder of the field of psycho-oncology loved to paraphrase psychiatrist R.D. Laing's definition of life: a sexually transmitted disease whose mortality rate is 100%. Jimmie C. Holland, MD, was armed with an indefatigable spirit—she was still seeing patients and writing books at the time of her death at age 89—as well as a dark sense of humor and a sunny disposition. Jimmie's keen sense of empathy extended not only to her patients, but also to her colleagues and protégés, whom she nurtured professionally as well as personally. She often asked after our families, requesting pictures and never forgetting the details of the previous update.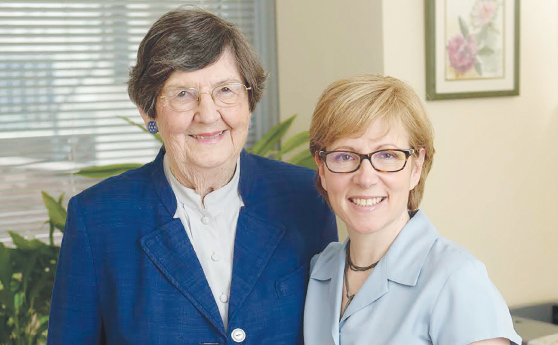 Jimmie C. Holland, MD, and Mindy Greenstein, PhD
Jimmie was an inspiration, both because of what she accomplished—the world-famous psycho-oncologist could still remember when electricity first came to her family farm in Nevada, Texas—and for who she was as a person. It's a testament to her nurturing character that in the 7 years we worked together on our book, Lighter As We Go: Virtues, Character Strengths, and Aging, we had only one argument. I thought she should be the book's first author, while she insisted on giving me that honor.
The world is a more welcoming place thanks to her guidance. I'm grateful to have known Jimmie Holland and honored to have called her my friend.
Nina
Cancer survivor and participant in Memorial Sloan Kettering's Lung Cancer Support Group
More than a talker, Dr. Jimmie Holland was a listener and a guide for our group. Once we had gone around the table and checked in, she would offer a theme for us to share that day. It was then up to us to respond to the "topic ball" she'd thrown. Her laid-back approach to getting us talking about our concerns always worked.
Jimmie didn't need to be a star; she was a star—a star of reflection. She pointed the way to raise our awareness that living with uncertainty could be a blessing, not just a cause of anxiety. 
My life is much fuller now that I understand uncertainty is just a part of the human condition. It has freed me to think that if nothing I thought was certain, then what else might be possible? And therein lie my hopes and dreams for a future filled with compassion and great beauty.
Larry Norton, MD, FASCO
Deputy Physcian-in-Chief for Breast Cancer -Programs at Memorial Sloan Kettering Cancer Center
Jimmie had a special gift. It is not often that one interacts with the founder of a whole field of treatment and research. But her gift was that in her presence, you felt enlightened. She always acknowledged your contributions, even though they may not have been novel. Jimmie brought out the best in people—a rare talent, and a lasting legacy.
Craig B. Thompson, MD
President and Chief Executive Officer of Memorial Sloan Kettering Cancer Center
Dr. Holland was a true pioneer in the field of psycho-oncology, and her passion for her patients and her research was evident. For more than 40 years, Jimmie made an essential question—"How do people with cancer feel?"—the center of her work. She profoundly influenced the field of cancer care by shining a light on the inner lives of patients. She will be dearly missed by the Memorial Sloan Kettering community and by the world.
David W. Kissane, MD
Head of Psychiatry at the School of Clinical Sciences and Health Sciences at Monash University in Melbourne
Dr. Jimmie Holland gave 40 glorious years of service as a consultation-liaison psychiatrist to Memorial Sloan Kettering Cancer Center (MSK). This was foundational in establishing the young discipline of psycho-oncology in cancer care. Her leadership as the first chairman of the MSK Department of Psychiatry and Behavioral Sciences was pivotal in the training and mentoring of many clinical and research leaders of the discipline, both nationally and internationally. Always gracious, deeply interested, and nurturing of both clinicians and patients, Jimmie was devoted to building this specialty committed to holistic, person-centered, psychosocial cancer care.
I was privileged to follow Jimmie as the second chairperson of the Department of Psychiatry and Behavioral Sciences at MSK. She was constant in her support and encouragement as the department tripled in size across the next decade. Jimmie was masterful in understanding philanthropy, well exemplified by the department's sustained support by the T.J. Martell Foundation. She was a beacon that drew scholars from distant countries to train in psycho-oncology, exceptionally generous in giving her time, and always willing to visit and teach on their shores.
Her marriage to the distinguished medical oncologist, James F. Holland, MD, made the pair a remarkable couple, and they mutually supported each other's scholarship and lifelong commitment to cancer research. Each morning, Jim dropped Jimmie at her office shortly after 8 AM, returning some 12 hours later to collect her, before heading off to share their evening meal together. They mirrored achievements as senior editors of classic textbooks for their respective disciplines, founded academic journals and professional societies, led clinical departments, and thrived on shared interests and pursuits (including parenthood). The world of cancer care has been deeply enriched by this extraordinary dynasty. ■ 
Drs. James and Jimmie Holland
Dr. Holland interviewed by Donna Drake after winning the Woman of Influence award from the T.J. Martell Foundation.
---