2018 ASCO Annual Meeting Call for Abstracts: Submit by February 13


ASCO INVITES you to submit an abstract for the 2018 ASCO Annual Meeting. Submit an abstract by February 13, 2018, at 11:59 PM (EST) to be considered for presentation or publication at this year's Annual Meeting, to be held June 1–5 in Chicago, Illinois.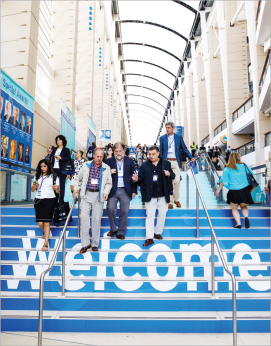 The 2017 ASCO Annual Meeting attracted nearly 5,800 abstract submissions from researchers around the world, helping to strengthen oncology knowledge worldwide. Don't miss the opportunity to showcase clinical and translational research to a global audience and ensure high-quality, high-value cancer care is delivered to all patients.
The 2018 Annual Meeting will focus on bringing together the brightest minds in oncology research, education, and care into a single community to benefit patients with cancer everywhere. Spanning all oncology disciplines, professions, and interests, this is the premier forum to share knowledge and gain insight on the future of patient-centered cancer care. 
This year's theme, developed by 2017–2018 ASCO President Bruce E. Johnson, MD, FASCO, is "Delivering Discoveries: Expanding the Reach of Precision Medicine." Precision medicine is transforming cancer care in profound ways by driving the most exciting and powerful advances to improve how providers care for their patients.
Join your colleagues and showcase your research at the world's premier oncology event. Visit am.asco.org to find more information about abstract submission policies, frequently asked questions, and to access the online submission tool. ■
©2018. American Society of Clinical Oncology. All rights reserved.
---