Venetoclax May Prove to Be Strong Weapon Against Poor-Prognosis Chronic Lymphocytic Leukemia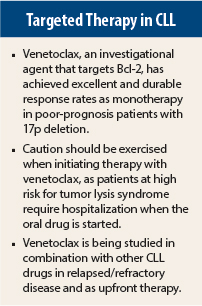 Targeted Therapy in CLL

Stephan Stilgenbauer, MD
In this pivotal multicenter phase II study of venetoclax monotherapy, we saw deep responses and acceptable toxicity in a relapsed/refractory population.

—Stephan Stilgenbauer, MD
Venetoclax, the latest entry into the field of treatment of chronic lymphocytic leukemia (CLL), is a powerful investigational therapy that promises to fill an important niche: treatment of high-risk relapsed/refractory patients with deletions of 17p. Nearly 80% of patients with relapsed/refractory CLL characterized by 17p deletions achieved response to venetoclax monotherapy, and responses appear to be durable, according to the results of a late-breaking phase II study presented at the 57th American Society of Hematology (ASH) Annual Meeting and Exposition.1
Deletions of 17p are associated with poor treatment outcomes. Venetoclax has received Breakthrough Designation status from the U.S. Food and Drug Administration (FDA) for patients with relapsed/refractory CLL and the 17p deletion.
Venetoclax is an oral, small molecule inhibitor of Bcl-2, a protein that promotes cell survival and is overexpressed in CLL. This agent unleashes such powerful antitumor activity that tumor lysis syndrome is a major concern, which has led investigators to use a cautious dosing schedule for this new drug, starting at very low doses and ramping up to a target dose slowly.
"In this pivotal multicenter phase II study of venetoclax monotherapy, we saw deep responses and acceptable toxicity in a relapsed/refractory population. We saw investigator-confirmed complete response of 7.5% and nodular partial response of 2.8%, with minimal disease negativity in greater than 20%," said presenting author Stephan ­Stilgenbauer, MD, of the University of Ulm, Germany.
"In this study, venetoclax had a favorable risk-benefit profile. The risk of tumor lysis syndrome was effectively mitigated by our careful dosing strategy, and we saw no clinical tumor lysis syndrome," Dr. ­Stilgenbauer told listeners.
Study Details
The pivotal study enrolled 107 patients with relapsed/refractory CLL who had 17p deletions confirmed by a central laboratory. These patients typically have a median progression-free survival with front-line chemotherapy of less than 12 months, he said.
Due to concerns about tumor lysis syndrome that emerged in preliminary studies, venetoclax was given in a stepped-up dosing schedule, starting with 20 mg/d and ramped up weekly to the target dose of 400 mg by week 4.
Median age was 67; 65% were male; median number of prior therapies was two; about 50% had previous bendamustine (Treanda) at relapse. About 42% were considered to be at high risk for tumor lysis syndrome.
Median time on the study was 12.1 months; 37 patients discontinued treatment with venetoclax due to disease progression, and 9 patients discontinued treatment due to adverse events. There were 18 deaths, 14 due to progressive disease.
Key Results
The primary endpoint of Independent Review Committee–assessed overall response rate was 79.4%, with a complete response rate of 7.5% and a nodular partial response rate of 2.8%. Minimal residual disease was negative in the peripheral blood of 18 of 45 patients.
Of 87 patients with baseline lymphocytosis, the absolute lymphocyte count did not normalize in only 4 patients. Median time to normalization on the drug was 22 days.
Median time to first response was 0.8 months; median time to response was 2.7 months. According to Dr. ­Stilgenbauer, venetoclax achieved durable responses. Median time to durability of response has not yet been reached, he noted.
The 12-month estimated rate of progression-free survival is 72%, and that for overall survival is 86.7%. Median overall survival has not yet been reached.
Toxicity
Adverse events were mostly low-grade neutropenia, anemia, and thrombocytopenia. Serious adverse events were reported in 55%. Adverse events of special interest were grades 3 and 4 neutropenia in 40%, infections in 72%, and tumor lysis syndrome (lab measurements only) in five patients during the ramp-up dosing period. Only two of these patients required dose interruption on 1 day. "There was no clinical tumor lysis syndrome event," he stated.
Combination Therapy
Venetoclax is being studied in combination with other drugs in CLL. At the ASH Annual Meeting, two different phase Ib studies showed that venetoclax could be safely and effectively combined with obinutuzumab, rituximab, and bendamustine/rituximab. Another phase 1b study looked at venetoclax monotherapy in patients refractory to ibrutinib or idelalisib. The phase III MURANO trial of venetoclax in combination with rituximab vs rituximab plus bendamustine in a broader relapsed CLL population is underway.
Clinical Consideration
Kanti Rai, MD, a pioneer in the staging and treatment of CLL who practices at Northwell Health System, New Hyde Park, New York, commented on Dr. Stilgenbauer's presentation. "Although this is welcome news about venetoclax, you have not mentioned the fact that the introduction of this drug deserves a very careful entry. You did mention ramp-up dosing, but you did not mention that patients have to be admitted to the hospital for safety with this oral agent," he stated.
"Tumor lysis syndrome was effectively eliminated in this trial. Nonetheless oncologists and pharmacists who will use this drug in the future ought to know that the start requires hospitalization and frequent monitoring in the first 24 to 48 hours," Dr. Rai said.
"This is a very important point," Dr. ­Stilgenbauer replied. "The initiation of venetoclax has to be handled with care. The ramp-up dosing has to be managed cautiously. Based on our management strategy, the current scheme requires hospitalization only for high-risk patients, but they need to be treated with allopurinol and have laboratory monitoring. Efficacy comes at a price, and vigilance is required." ■
Disclosure: The study was sponsored by AbbVie and Genentech. Dr. Stilgenbauer reported financial relationships with AbbVie, Amgen, Boehringer-Ingelheim, Celgene, Genentech, Genzyme Gilead, GlaxoSmithKline, Janssen, Mundipharma, Novartis, Pharmacyclics, and Hoffmann La Roche.
Reference
1. Stilgenbauer S, et al: Venetoclax (ABT-199/GDC-0199) monotherapy induces deep remissions, including complete remission and undetectable MRD, in ultra-high risk relapsed/refractory chronic lymphocytic leukemia with 17p deletion. ASH Annual Meeting. Abstract LBA-6. Presented December 8, 2015.
---
Related Articles
In a separate interview, Kanti Rai, MD, of the Northwell Health System in New Hyde Park, New York, noted that venetoclax is one of several "exciting recent developments in this disease." There is the Bruton tyrosine kinase inhibitor ibrutinib (Imbruvica), the PI3K inhibitor idelalisib (Zydelig),...