Study Confirms Benefit of Triplet vs Doublet in Newly Diagnosed Multiple Myeloma


Brian G.M. Durie, MD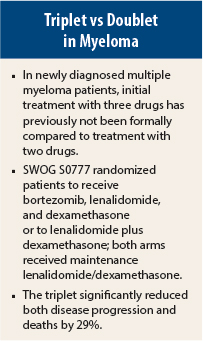 Triplet vs Doublet in Myeloma
[Bortezomib/lenalidomide/low-dose dexamethasone] induction followed by continuous [lenalidomide/dexamethasone] is a potential new standard of care.

—Brian G.M. Durie, MD
Triplets should be the standard of care in most newly diagnosed multiple myeloma patients, according to a study that validated a practice that has become common in the United States, though not necessarily elsewhere. The use of three drugs led to significant reductions in disease progression and death—by about 29%—in the phase III SWOG S0777 trial, as reported at the 2015 American Society of Hematology (ASH) Annual Meeting and Exposition by Brian G.M. Durie, MD, Chairman of the International Myeloma Foundation and an attending physician at Cedars-Sinai Comprehensive Cancer Center, Los Angeles.1
It was the first and only randomized trial comparing initial treatment with a doublet vs a triplet in this setting. The triplet of bortezomib (Velcade), lenalidomide (Revlimid), and low-dose dexamethasone, with continuous lenalidomide/dexamethasone maintenance, significantly improved progression-free and overall survival, compared with lenalidomide/dexamethasone plus maintenance, Dr. Durie reported.
"[Bortezomib/lenalidomide/low-dose dexamethasone] induction followed by continuous [lenalidomide/dexamethasone] is a potential new standard of care," he said. The findings might spur the use of triplets outside of the United States, some experts indicated, where the use of two drugs is still ­common.
Outcomes Improved With Triplet
The study randomly assigned 525 patients (n = 471 analyzable) to the triplet, which included bortezomib at 1.3 mg/m2 intravenously plus lenalidomide at 25 mg/d plus dexamethasone at 20 mg/d for 8 cycles of 21 days each, or the doublet of lenalidomide at 25 mg/d plus dexamethasone at 40 mg/d for 6 cycles of 28 days each.
Both arms were offered maintenance with lenalidomide at 25 mg plus dexamethasone at 40 mg; a total of 135 in the triplet group and 143 in the doublet group started maintenance and had a median time on maintenance of 385 days. Overall, 46% of patients went off maintenance without having progressive disease, and 14% of eligible patients were still on maintenance at the time of the analysis.
The overall response rates were 81.5% with the triplet and 71.5% with the doublet; complete responses were observed in 15.7% and 8.4%, respectively, and very good partial responses or better occurred in 27.8% and 23.4%, respectively, Dr. Durie reported.
Median progression-free survival was 43 months with the triplet, vs 31 months with the doublet (hazard ratio [HR] = 0.712, one-sided P = .0018). Median overall survival was 75 months vs 64 months, respectively (HR = 0.709, two-sided P = .0250).
In the multivariate age-adjusted analysis, the one factor that positively affected progression-free and overall survival were treatment with bortezomib/lenalidomide/low-dose dexamethasone, whereas factors negatively associated with outcomes included stage III disease (HR = 1.58 and 2.16, respectively) and age ≥ 65 (HR = 1.32 and 1.88, respectively). Dr. Durie noted that mutation data had not been fully analyzed.
"Both regimens are safe but with significantly greater grade 3 neuropathic and gastrointestinal adverse events with [the triplet]," Dr. Durie reported.
Adverse events ≥ grade 3 possibly related to treatment were significantly more common in the bortezomib/lenalidomide/dexamethasone arm, including neurologic events (33% vs 11%), pain (12% vs 4%), sensory toxicity (23% vs 3%), and gastrointestinal side effects (22% vs 8%), "but bortezomib was administered intravenously twice a week, as was the practice in 2008," he noted. Subcutaneous administration or less frequent dosing, as is typically done now, might have ameliorated some of these side effects, he suggested.
At a median follow-up of 55 months, secondary primary malignancies were reported in only 4% of each study arm. ■
Disclosure: Dr. Durie has been a consultant for Johnson & Johnson, Takeda, Onyx, and Celgene.
Reference
1. Durie B, Hoering A, Rajkumar SV, et al: Bortezomib, lenalidomide and dexamethasone vs. lenalidomide and dexamethasone in patients with previously untreated multiple myeloma without an intent for immediate autologous stem cell transplant: Results of the randomized phase III trial SWOG S0777. 2015 ASH Annual Meeting. Abstract 25. Presented December 5, 2015.
---
Related Articles
Responding to the assertion that bortezomib (Velcade)/lenalidomide (Revlimid)/low-dose dexamethasone induction followed by continuous lenalidomide/dexamethasone is potentially a new standard of care in newly diagnosed multiple myeloma, Sagar Lonial, MD, Chief Medical Officer of Winship Cancer...