Self-Reports Overestimate Mercaptopurine Intake in Childhood Acute Lymphoblastic Leukemia


Wendy Landier, PhD, RN, NP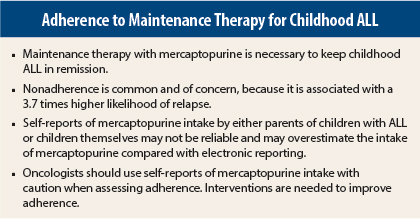 Adherence to Maintenance Therapy for Childhood ALL
We need a better way than self-reports to identify patients at risk of overreporting and nonadherence. The phenomenon we saw with mercaptopurine may be translatable to other cancer therapies.

—Wendy Landier, PhD, RN, NP
Mercaptopurine is critical for maintaining remission in childhood acute lymphoblastic leukemia (ALL). However, a study has shown that overreporting of intake is common, and self-reports of intake are not as reliable as electronic reporting.1
About 86% of parents and children overreported the number of days that mercaptopurine was taken, and 24% overreported by at least 5 days per month in more than 50% of study months, according to these findings, which were reported at the 57th American Society of Hematology Annual Meeting and Exposition.
"Subjective overreporting of mercaptopurine intake during maintenance therapy is common for children with ALL, particularly in nonadherent patients, and should be viewed with caution," said lead study author Wendy Landier, PhD, RN, NP, of Children's of Alabama, Birmingham, formerly of City of Hope in Duarte, California.
"Durable remissions in childhood ALL require about 2 years of maintenance chemotherapy that includes daily oral mercaptopurine. Previously we have shown that adherence rates below 95% are associated with a 3.7 times higher risk of relapse. Thus, accurate assessment of mercaptopurine intake is crucial to ensure timely intervention to prevent relapse," she told listeners.
Study Details
The prospective, longitudinal Children's Oncology Group (COG) AALL03N1 study was designed to compare self-reported mercaptopurine intake (reported by parents of children under 12 and patients aged 12 and older) vs electronic monitoring using TrackCap, a Medication Event Monitoring System that records each time a bottle is opened. Self-reports and electronic monitoring were compared at the end of each of 4 study months.
The study enrolled 416 patients, with a median age of 6 years. A total of 38% had high-risk disease according to National Cancer Institute criteria, and 40.4% were found to be nonadherent. Two-thirds of patients were male, and 61% were from families with paternal education less than college. Dr. Landier said they chose to include paternal education level because there was no correlation between intake and maternal level of education. The study analyzed a total of 1,344 patient-months of self-reports and Medication Event Monitoring System data.
Patients were categorized as perfect reporters if their self-reports equaled the electronic reporting; as overreporters if their self-reported days of mercaptopurine intake exceeded their electronic report by 5 or more days for more than half of the study months."
Nearly 25% Overreport
A total of 12% of patients were perfect reporters, and 24% were overreporters by at least 5 days per month in more than half of the study months. Less than 1% of patients were underreporters, and 64% were categorized as "other."
At the end of each month, a significant difference was found between self-reports and electronic reporting (P < .0001). At all time points, the mean number of self-reported days was higher than that for the Medication Event Monitoring System.
Risk Factors
A multivariate analysis identified four factors associated with overreporting: age older than 12, nonwhite race, paternal education less than college, and nonadherence. For each increasing year of age of the child, the risk of overreporting increased by 7%.
Further, nonadherent patients were much more likely to be overreporters: 2% of perfect reporters were nonadherent, whereas more than 80% of overreporters were nonadherent.
"We have learned that we need a better way than self-reports to identify patients at risk of overreporting and nonadherence. The phenomenon we saw with mercaptopurine may be translatable to other cancer therapies," said Dr. Landier.
Future interventions will be aimed at education of parents and children about the importance of adherence. "Within the Children's Oncology Group, we are currently testing an intervention that compares education alone with a multicomponent intervention that includes education plus a reminder system (text messaging and personalized calendars) coupled with directly supervised therapy," Dr. Landier told The ASCO Post. ■
Disclosure: Dr. Landier reported no potential conflicts of interest.
References
1. Landier W, Chen Y, Hageman L, et al: 6-Mercaptopurine (6MP) intake during maintenance for childhood acute lymphoblastic leukemia (ALL): A comparison of self-report and electronic monitoring: A report from the Children's Oncology Group (COG) Study AALL03N1. 2015 ASH Annual Meeting and Exposition. Abstract 82. Presented December 5, 2015.
2. National Institutes of Health: Assessing compliance with mercaptopurine treatment in younger patients with acute lymphoblastic leukemia in first remission (COG-ACCL1033, ClinicalTrials.gov identifier NCT01503632). Available at https://clinicaltrials.gov/ct2/show/NCT01503632. Accessed
December 17, 2015.
---
Related Articles
Commenting on the AALL03N1 study, press conference moderator Mark Crowther, MD, of McMaster University, Hamilton, Ontario, Canada, said: "This study is extremely important. We have many presentations on new and novel therapies that are expensive, complex, and revolutionary. But if patients don't...