Post-Transplant Brentuximab Vedotin Improved Progression-Free Survival in Hodgkin Lymphoma Patients


Craig Moskowitz, MD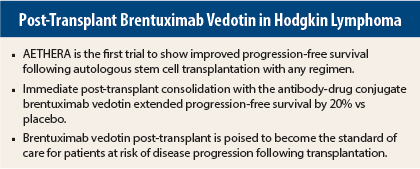 Post-Transplant Brentuximab Vedotin in Hodgkin Lymphoma
A 20% difference in progression-free survival has never been seen in this patient population.

—Craig Moskowitz, MD
In patients with Hodgkin lymphoma who are at risk for disease progression following autologous stem cell transplantation, early consolidation with brentuximab vedotin (Adcetris) post-transplant significantly improved progression-free survival compared with placebo in the phase III AETHERA trial.1 The median progression-free survival was 43 months for the brentuximab-treated group vs 24 months for the placebo group, representing a significant 43% reduction in the risk of disease progression (P = .001).
"In my opinion, once this study is published, brentuximab should be the standard of care for patients with the characteristics in this trial: that is, remission duration less than 1 year, extranodal disease, B symptoms, two or more prior salvage therapies, and primary refractory disease," said lead author Craig Moskowitz, MD, Clinical Director of the Division of Hematologic Oncology at Memorial Sloan Kettering Cancer Center, New York.
Dr. Moskowitz explained that autologous stem cell transplantation may achieve cure in approximately 50% of patients with relapsed/refractory Hodgkin lymphoma. Over the past 2 decades, no autologous stem cell transplantation regimens for aggressive lymphoma have improved outcomes further. About 50% of patients will relapse after autologous stem cell transplantation, reflecting the need for better treatments.
Brentuximab vedotin is an antibody drug conjugate directed to CD30, which is expressed almost universally on Reed-Sternberg cells malignant cell in Hodgkin lymphoma. The drug is approved by the U.S. Food & Drug Administration for relapsed/refractory Hodgkin lymphoma and for systemic anaplastic large cell lymphoma but not as post-transplant consolidation.
"AETHERA is the only placebo-controlled randomized study ever done in Hodgkin lymphoma and it compares brentuximab vs placebo in patients at risk for disease progression after autologous stem cell transplantation," he said.
Study Details
The multicenter AETHERA trial was conducted at 78 sites in the United States and Europe. A total of 329 Hodgkin lymphoma patients who had not received brentuximab and who had at least one risk factor for relapse were randomized to receive 16 cycles of treatment with brentuximab vedotin or placebo.
Risk factors for relapse included a history of refractory Hodgkin lymphoma, relapse within 1 year of front-line chemotherapy, and extranodal disease at the time of pre-autologous stem cell transplantation relapse. Nearly 50% of patients had three risk factors for relapse.
Patients who relapsed on placebo were allowed to cross over to the brentuximab vedotin arm, and 85% did so.
Survival Results and Toxicity
As assessed by investigators, the 2-year progression-free survival was 65% vs 45%, respectively. This finding represented a 50% reduction in the risk of disease progression at 2 years (hazard ratio = 0.50, 95% confidence interval = 0.36–0.70).
"A 20% difference in progression-free survival has never been seen in this patient population," Dr. Moskowitz said.
The progression-free survival benefit was consistent across all prespecified subgroups, including primary refractory patients who relapsed within 12 months of front-line therapy and patients who relapsed after 12 months with extranodal disease.
At the interim analysis, overall survival was similar in both groups at 2 years. Dr. Moskowitz attributed this finding to the large percentage of patients who crossed over to active treatment from the placebo arm (85%). Currently, overall survival is 88%. The final overall survival analysis is expected in 2016.
In the brentuximab vedotin arm, peripheral sensory neuropathy was the most common adverse event (56%), followed by neutropenia (35%), upper respiratory tract infection (26%), fatigue (24%), and peripheral motor neuropathy (23%). With dose reductions, peripheral sensory neuropathy resolved in 85% of patients on the brentuximab vedotin arm. ■
Disclosure: Dr. Moskowitz has received research funding from Genentech, Merck, and Seattle Genetics and also has served as a consultant for Seattle Genetics.
Reference
1. Moskowitz CH, Nadamanee A, Masszi T, et al: The AETHERA trial: Results of a randomized, double-blind, placebo-controlled phase 3 study of brentuximab vedotin in the treatment of patients at risk of progression following autologous stem cell transplant for Hodgkin lymphoma. 2014 ASH Annual Meeting. Abstract 673. Presented December 8, 2014.
---
Related Articles
AETHERA is the first study to show a significant effect of a post-transplant strategy in patients at high risk of relapse after transplant," said Brad S. Kahl, MD, Associate Professor at the University of Wisconsin School of Medicine and Public Health, Madison.
"The question remains whether...