Blinatumomab Achieves Complete Molecular Responses in Majority of B-Cell Leukemia Patients


Nicola Goekbuget, MD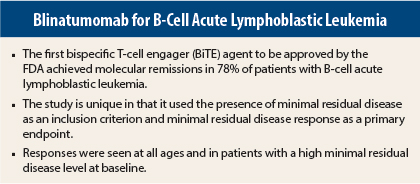 Blinatumomab for B-Cell Acute Lymphoblastic Leukemia
It is now possible to assess minimal residual disease by quantitative measurement of individual T-cell receptor and immunoglobulin rearrangements in more than 90% of acute lymphoblastic leukemia patients. Minimal residual disease is a strong prognostic factor for relapse and overall survival.

—Nicola Goekbuget, MD
Results from the international phase II BLAST study show that one cycle of blinatumomab (Blincyto) immunotherapy achieved complete minimal residual disease response in 78% of patients with acute lymphoblastic leukemia.1 Complete minimal residual disease response was achieved in 80% of patients across all cycles of blinatumomab.
The study is unique in that it used minimal residual disease status as part of the inclusion criteria and minimal residual disease response as its primary endpoint. Minimal residual disease response is a measure of complete eradication of disease.
Patients can achieve a complete hematologic remission by conventional measures, ie, less than 5% blasts, and still have minimal residual disease at the molecular level, explained lead author Nicola Goekbuget, MD, Goethe University Hospital, Frankfurt, Germany.
"It is now possible to assess minimal residual disease by quantitative measurement of individual T-cell receptor and immunoglobulin rearrangements in more than 90% of acute lymphoblastic leukemia patients. Minimal residual disease is a strong prognostic factor for relapse and overall survival. Nearly all patients with persistent or recurrent minimal residual disease relapse despite continued chemotherapy, and minimal residual disease persistence indicates resistance to conventional chemotherapy," she told listeners at a press conference during the 2014 Annual Meeting of the American Society of Hematology. "New approaches are needed to improve outcomes in patients with persistent or recurrent minimal residual disease."
Blinatumomab has recently been granted U.S. Food and Drug Administration approval for treatment of patients with Philadelphia-negative precursor B-cell acute lymphoblastic leukemia. It is the first in a novel class of drugs called bispecific T-cell engagers (BiTE), and it is designed to direct cytotoxic T cells to CD19-expressing cancer cells, found on the cell surface of B-cell acute lymphoblastic leukemia and non-Hodgkin lymphoma.
Study Details and Findings
BLAST enrolled 116 adults from 46 centers in 11 counties; all patients had B-cell acute lymphoblastic leukemia in complete hematologic remission (< 5% blasts after three cycles of chemotherapy) but were minimal residual disease-positive (ie, level of ≥ 10-3). Central nervous system involvement was an exclusion criterion. No prior allogeneic hematopoietic stem cell transplant was allowed.
The median age was 45 years (range, 18 to 76 years). Two-thirds were in first relapse, and about one-third was in second relapse; 2% were in third relapse.
All patients received at least one cycle of blinatumomab and were assessed for minimal residual disease in a reference lab. Patients continued on blinatumomab for up to three additional cycles, and transplant-eligible patients with a donor went on to hematopoietic stem cell transplant. They were followed for efficacy for 2 years.
Patients treated with blinatumomab achieved minimal residual disease responses regardless of age, minimal residual disease level at baseline, or relapse history. No predictive factor for response was identified.
Adverse events occurring in 20% or more of patents included immune reactions of pyrexia, fever, and chills; only 7% had grade 3 or higher fever. Gastrointestinal side effects occurred in about 22% of patients. Twenty-nine percent of patients had tremor, and 13% had aphasia. "Neurologic symptoms are clinically relevant, although most neurologic events on study were grade 1 or 2," she said.
"Blinatumomab is more easily applicable than CAR [chimeric antigen receptor] T cells. This drug makes the T cells do the job in vivo. The drug has just been approved for the treatment of relapsed/refractory B-cell acute lymphoblastic leukemia, and the question is whether it will find a role in front-line treatment," she commented. ■
Disclosure: Dr. Goekbuget reported being a consultant and receiving honoraria and research funding from Amgen Inc.
Reference
1. Goekbuget N, Dombret H, Bonifacio M, et al: BLAST: A confirmatory, single-arm, phase 2 study of blinatumomab, a bispecific T-cell engager (BiTE) antibody construct, in patients with minimal residual disease B-precursor acute lymphoblastic leukemia. 2014 ASH Annual Meeting. Abstract 379. Presented December 8, 2014.
---
Related Articles
Blinatumomab is one of several approaches to harness the immune system, and these therapies will revolutionize the treatment of cancer, but we will have to balance the effects of 'revving up' the immune system with toxicity. Compared with CAR [chimeric antigen receptor] T cells [made from each...