NIH Panel Endorses Active Surveillance in Low-risk Prostate Cancer

Active surveillance of localized prostate cancer is a viable management option that should be offered to low-risk patients in place of immediate treatment, said a panel of experts convened by the National Institutes of Health.
A fairly new concept, active surveillance takes a more proactive approach to early prostate cancer than the better-known observational strategy of watchful waiting. Both strategies involve monitoring rather than immediate intervention. But watchful waiting forgoes curative treatment and uses intervention only to relieve symptoms. Active surveillance delays curative treatment until indicated by the results of regular exams, prostate-specific antigen (PSA) tests, and/or repeat biopsies. Repeat biopsies are not necessarily part of active surveillance, and are often done only if PSA rises.
The state-of-the-science meeting, which took place December 5–7 in Bethesda, Maryland, concluded that many unanswered questions still surround this emerging strategy—too many to issue formal guidelines regarding active surveillance protocols, for instance. But the 3 days of presentations, discussion, and panel deliberations highlighted oncologists' growing recognition of active surveillance as a management option for low-risk disease.

"Physicians … will now have an NIH-vetted document that describes it as a reasonable approach," said Patricia Ganz, MD, Director of the Division of Cancer Prevention and Control Research at the Jonsson Comprehensive Cancer Center at UCLA, who chaired the panel. Some centers in the United States and Canada are already using active surveillance, and the meeting's final statement, she said, will "give them much more support in their practice and research."
Many of the remaining questions involve the best way to implement the strategy; For instance, who should be a candidate for active surveillance, what follow-up protocols should be used, and what are the indicators for starting active treatment?
Patient Acceptance
In current practice, the panel said there was an "emerging consensus" that men with a PSA less than 10 ng/dL and a Gleason score less than or equal to 6 are considered low-risk and eligible for active surveillance.
About 130,000 newly diagnosed patients in the United States fall into that category, but few currently opt for active surveillance. Instead they have immediate treatment—radical prostatectomy or radiation therapy—which can cause urinary, bowel, and sexual problems in a substantial portion of men. Because many prostate cancers progress very slowly and may never need treatment, the less aggressive strategy gives men a chance to safely avoid, or at least postpone, the side effects.
Nonetheless, 90% of those who are eligible for active surveillance opt instead for immediate treatment. Moreover, men who begin active surveillance often change their minds for reasons other than disease progression. The reasons for this low acceptance rate were one major focus of the meeting.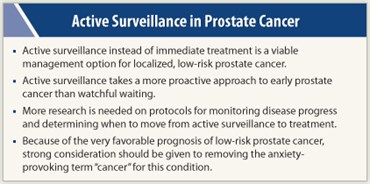 Physicians' recommendations are probably a key factor in patient acceptance, the panel concluded. Ganz said that even when a patient is given a choice of an observational strategy, "the way in which it is presented [by the physician], the order in which it is presented to the patient … may indicate that the observational strategy is not preferred, that it is not desirable."
Studies suggest that doctor's recommendations are very powerful. For instance, there is evidence that "if a patient goes to a urologist, he is more likely to be offered surgery, if he first sees a radiation oncologist, he is more likely to be offered radiation," said panel member Nananda F. Col, MD, MPH, FACP, from the University of New England College of Osteopathic Medicine.
New Terminology
Yet some of the reluctance to consider active surveillance is patient-driven. "The word 'cancer' sets off an emotional response in many patients that encourages them to choose what they perceive as a more active treatment regimen," said panel member, Barry Kogan, MD, FAAP, FACS, Chief of Urology at Albany Medical College.
The panel's final statement included a recommendation that "strong consideration should be given to removing the anxiety-provoking term for this condition." Questioned about alternative wording, panel members had no immediate suggestions but noted that terms such as dysplasia and others "on the early edge of the cancer continuum" were possibilities. Pathologists and communication specialists need to make this decision, Dr. Ganz said.
Dr. Donald Gleason, the early researcher who devised the scoring system named after him, originally used the term "adenosis" said Otis Brawley, MD, FACP, Chief Medical and Scientific Officer at the American Cancer Society. Brawley was not a panel member but said after the meeting that he agreed that a new term was needed. "We need a molecular definition of cancer in general," he said.
Others were concerned that using a different term might downplay the seriousness of the disease. Merel Nissenberg, an attorney from La Jolla, California, who is also President of the National Alliance of State Prostate Cancer Coalitions, said she worried that men could be misled into not getting curative treatment when they needed it. Dr. Col noted that the new term was not intended to replace all forms of prostate cancer, only the very early stages. "There is general agreement and firm evidence that men diagnosed with more serious forms of the disease are best served by receiving immediate treatment," she said.
Quality of Life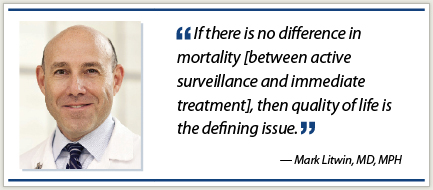 So far, results from cohort studies of active surveillance suggest that disease-free and survival rates compare favorably to surgery and radiation. Also, the first results from a trial comparing watchful waiting to treatment, the Prostate Cancer Intervention or Observation Trial (PIVOT), presented at the conference, showed no difference in prostate cancer mortality after 10 years' follow-up.
In the wake of such findings, quality-of-life endpoints become "the crux of the issue" said Mark Litwin, MD, MPH, of University of California, Los Angeles, who presented data from quality-of-life studies. If there is no difference in mortality, then quality of life is "the defining issue," he said.
But he and others pointed out that active surveillance is not without its own risks. Repeat biopsies carry a risk of infection, and men may have many biopsies under current protocols. In its final statement, the panel noted, "we have a particular concern with the complications that result from image-guided, transrectal biopsies of the prostate."
Standardized protocols need to be developed to minimize frequency and intervals of biopsies and to reduce pain and infection rates, the panel concluded. It also called for research on other indicators of disease progression, such as imaging, molecular classification of cancers, and biomarkers of a patient's risk of progression.
The panel did not recommend randomized controlled trials of active surveillance vs immediate treatment for low-risk patients with a life expectancy shorter than 20 years. Asked why, Dr. Ganz said, "we are comfortable with the data" that show active surveillance is a viable option for this group.
But for people with longer life expectancies and those at intermediate risk, such as those with Gleason scores of 7 or 8, the panel did recommend trials. But it explicitly recommended against federal funding of single-institution studies and strongly endorsed the creation of registries to collect data on large numbers of patients.
Other research needs include examining what influences the offer of, acceptance of, and adherence to active surveillance; determining optimal protocols for monitoring; and developing methods to enhance the decision-making process.
"There's going to be a very dynamic set of investigations going forward," Ganz said. ■
Disclosure: Drs. Ganz, Kogan, Nissenberg, and Col reported no potential conflicts of interest.
---