Estrogen for Vulvovaginal Atrophy in Breast Cancer: Debate Continues


Vulvovaginal atrophy is a concern for the majority of patients with breast cancer, not only because of its physical and psychosexual consequences, but because the optimal treatment—estrogen replacement—is controversial. Patients and physicians alike remain concerned that external estradiol may contribute to the risk of cancer recurrence.
But some women's health experts maintain that, with ultra–low-dose estrogen products on the market, such fears are misguided. "In the absence of clinical trial data showing these products are unsafe, the field has gone overboard and has deprived women of urogenital health, and unnecessarily so," said James A. Simon, MD, of Women's Health and Research Consultants in Washington, DC.
Dr. Simon delivered a lecture on vulvovaginal atrophy at the 2011 Breast Cancer Symposium in San Francisco.1 He also coauthored a recent article on the management of urogenital atrophy in women with breast cancer.2
Severity of the Problem
Genitourinary atrophy involves the entire perineum, an area loaded with estrogen receptors. "After menopause, 100% of women are affected," with about half of all women experiencing vaginal dryness, urinary incontinence, urinary tract infections, and sexual dysfunction, "but patients are not necessarily going to tell you about this," he added.
The most bothersome symptoms are vaginal dryness and dyspareunia. "Vaginal dryness is not the need for lubricants to have sex; it's the sensation of being dry between the legs regardless of whether you are having sex or not," he pointed out.
Women with sexual dysfunction are four times more likely to have vulvovaginal atrophy.3 "Reducing symptoms of one condition may also relieve symptoms of the other," he said.
Low-dose Estrogen Options
Estrogen therapy promotes vaginal cell growth and cellular maturation, fosters recolonization with lactobacilli, enhances vaginal blood flow, augments muscle tension development, increases vibratory sensation, improves vaginal thickness and elasticity, decreases vaginal pH, and relieves vulvovaginal symptoms. Level I evidence supports the use of estrogen in treating not only vaginal atrophy but also overactive bladder and recurrent urinary tract infections (by normalizing vaginal pH). For each condition, local treatment is superior to systemic. Products approved by the FDA include:
Estradiol vaginal cream
Conjugated estrogens vaginal cream (also indicated for dyspareunia)
Estradiol hemihydrates vaginal tablet (Vagifem)
Estradiol vaginal rings (Estring for local delivery; FemRing for systemic delivery)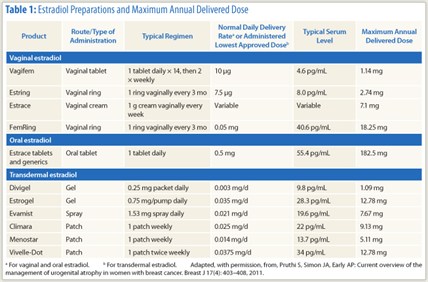 The local delivery of estradiol is very low with both Vagifem tablets (10 µg twice a week; 25 µg no longer available in the United States) and the Estring vaginal ring (7.5 µg/d). Vaginal creams deliver a much higher amount of estradiol into the systemic circulation, which is a concern in breast cancer, Dr. Simon said (see Table 1).2
The estrogen products are considered equally effective at recommended doses. "Physician experience, patient preference, and pharmacy coverage cost may drive the choice," he said. "For patients with breast cancer, the focus should be on avoiding systemic exposure and reducing total estrogenic exposure."
Results will not be felt for about 6 weeks, but thereafter 80% to 90% of patients report improvement with vaginal estrogen replacement, he said. In cases of extreme introital stenosis, vaginal agglutination, and insertional dyspareunia, vaginal dilators and physical therapy will probably be necessary. "For these women, no amount of estrogen will help without concomitant physical therapy. Intercourse becomes impossible, even with liberal use of lubricants," he pointed out.
Dr. Simon emphasized that avoidance of intercourse will only increase sexual dysfunction. "Use it or lose it," he said. "Continued sexual activity via coitus or masturbation increases blood flow to the pelvic organs." Moisturizers should also be used regularly and lubricants as needed (with intercourse).
Estradiol Preparations and Delivered Dose
"For patients with breast cancer, we recommend the low-dose vaginal tablet and low-dose vaginal ring, even in patients undergoing estrogen deprivation therapy," he said. With Vagifem and Estring, the typical serum level and maximum annual delivered doses are substantially lower than those of conventional estrogen products (Table 1).2
Dr. Simon added that part of the fear of estrogen arises from the package insert, which carries the same safety warning regardless of the product, and regardless of systemic absorption. The FDA is considering revision so as to differentiate between "local" and systemic therapies.
Counterpoint: Safety Not Proven
Daniel F. Hayes, MD, of the University of Michigan, argued that even low-dose estrogen cannot be endorsed for patients with breast cancer.
"I would add a strong note of caution," he commented. "I agree that vaginal atrophy is an enormous problem. It accounts for about 20% of my time in the clinic. On the other hand, the assumption that estrogen is not absorbed is not entirely fair."
According to Dr. Hayes, standard estrogen assays do not necessarily detect the levels of estrogen that may be of concern, especially in patients on aromatase inhibitors whose tissue estrogen levels are very low, he said.
In an assay specifically developed to measure low levels of estrogen in postmenopausal women, investigators from the Royal Marsden Hospital in London showed that vaginal estradiol tablets (Vagifem 25 µg) significantly raised systemic estradiol levels in women on aromatase inhibitors, at least in the short term.4 Mean levels rose from ≤ 5 pmol/L to 72 pmol/L at 2 weeks, then decreased to < 35 pmol/L by 4 weeks in most, but not all, women. The investigators concluded that Vagifem reverses the estradiol suppression achieved by aromatase inhibitors and is contraindicated. "If you don't do high-tech assays, you won't see this," Dr. Hayes said.
Also, the assumption that low estrogen levels are safer than high estrogen levels "is exactly the opposite of what we know in breast cancer," he continued. "Before tamoxifen, we gave pharmacologic doses of estrogen to patients because we saw tumors grow in the presence of small levels and stop growing when high doses were given."
Answer Far from Certain
Perhaps more relevantly, a randomized trial of tamoxifen with or without estrogen replacement in 434 women was closed early due to more breast cancer events in the estrogen replacement arm: 26 in the estrogen replacement am vs 7 in the control arm at 2.1 years median follow-up.5 The authors felt the findings indicated an unacceptable risk for women exposed to estrogen replacement.
"While I wish intravaginal estrogen was the way to go, especially for women on aromatase inhibitors, I am quite concerned that we may be overcoming a small but real effect of aromatase inhibitors over tamoxifen by adding estrogen back in. The answer is far from certain. Anyone recommending estrogen replacement for women on aromatase inhibitors should do so with great caution," Dr. Hayes said.
Dr. Simon responded that his assay captures levels as low as 3 pg/mL. And studies performed in his laboratory showed that mean serum estradiol concentrations obtained with Vagifem 10 µg rose only on the first day of administration, then returned to baseline.6
He also noted that patients deprived of estrogen, then rechallenged, demonstrate renewed responsiveness to therapy and that estrogen-deprived breast cancer cells exposed to hormone-replacement therapy undergo apoptosis. "So the story is very complicated and needs to be studied," he concluded. "These very tiny serum estrogen levels should offer some reassurance, so that we don't totally disregard this part of a woman's anatomy."■
Disclosure: Dr. Hayes reported no potential conflicts of interest. Dr. Simon has served as a consultant or on the advisory boards of Abbott, Agile Therapeutics, Ascend Therapeutics, Azur Pharma, BioSante, Boehringer Ingelheim, Depomed, Fabre‐Kramer, Laboratoire HRA Pharma, Meditrina Pharmaceuticals, Merck, Merrion Pharmaceuticals, NDA Partners LLC, Novo Nordisk, Novogyne, Pfizer, Shionogi, Slate Pharmaceuticals, Teva Pharmaceutical Industries, Trovis Pharmaceuticals, Warner Chilcott, and Watson Pharmaceutical. He has received grant/research support from BioSante, Boehringer Ingelheim, EndoCeutics, Novo Nordisk, Novogyne, and Teva Pharmaceutical Industries. He has also served on the speakers bureaus of Amgen, Ascend Therapeutics, Bayer, Boehringer Ingelheim, Merck, Novartis, Novo Nordisk, Novogyne, Teva Pharmaceutical Industries, and Warner Chilcott.
References
1. Simon JA: 2011 Breast Cancer Symposium. General Session V: Survivorship. Presented September 9, 2011.
2. Pruthi S, et al: Breast J 17:403-408, 2011.
3. Levine KB: Menopause 15:661-666, 2008.
4. Kendall A, et al: Ann Oncol 17:584-587, 2006.
5. Holmberg L, et al: Lancet 363:453-455, 2004.
6. Eugster-Hausmann M, et al: Climacteric 13:219-227, 2010.
---