Data on Watchful Waiting for Low-risk Prostate Cancer May Swing Focus to Higher-risk Tumors and Quality of Life

Surgery did not increase survival rates compared to watchful waiting in men with clinically localized prostate cancer. Results were particularly strong for men with prostate-specific antigen (PSA) levels of 10 ng/dL and under, and those who have low-risk disease, according to data from the Prostate Cancer Intervention Versus Observation Trial (PIVOT). Watchful waiting, moreover, was associated with a significantly lower risk of urinary, sexual, and erectile dysfunction, and similar quality of life compared with surgery. There was little difference between treatment arms in terms of worry about prostate cancer or bother from cancer therapy.
The results "strongly support observation" for patients with low-risk and low-PSA disease and "will encourage future study" of observation in men with higher risk tumors, said Timothy J. Wilt, MD, MPH, from the Minneapolis VA Medical Center and the University of Minnesota School of Medicine, principal investigator of PIVOT. Dr Wilt spoke at the NIH State-of-the-Science Conference held in Bethesda, Maryland.
Role of Active Surveillance
In the most detailed presentation of PIVOT results to date, Dr. Wilt reported the trial's survival and quality-of-life data. The meeting considered the role of active surveillance, a more proactive version of watchful waiting, in management of localized prostate cancer.
PIVOT was the first large randomized trial since PSA screening became common to compare observation to immediate intervention. Its results played a role in the panel's final conclusions in favor of observational strategies in general and active surveillance in particular. Dr. Wilt's presentation contained detailed data on quality-of-life endpoints for the first time, as well as survival data reported briefly at a meeting of the American Urological Association earlier in 2011.
"The results of the PIVOT trial suggest that more conservative monitoring strategies may have the same outcomes as immediate treatment," said Panel Chair Patricia Ganz, MD, Professor, UCLA Schools of Medicine and Public Health, Division of Cancer Prevention and Control Research, Jonsson Comprehensive Cancer Center. PIVOT completed follow-up in January 2010, and the first results have been submitted for publication, Dr. Wilt said.
Survival Data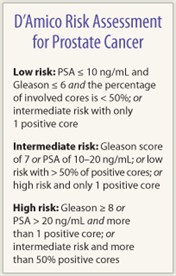 PIVOT's survival data showed that all-cause and prostate cancer mortality differed little between the two arms of the trial. During a median follow-up of 10 years, the absolute risk reduction due to surgery was less than 3% for both all-cause and prostate cancer mortality (not statistically significant). There were no differences by age, race, Gleason score, or health status.
However, men with PSAs above 10 ng/dL and those with high-risk tumors may benefit from surgery. Both overall and prostate cancer mortality in these groups were higher in the obeservation  group compared to the surgery group. Differences remained significant when the blood samples were sent to a central, rather than local, PSA lab.
The researchers also found a borderline difference in survival when they looked at patients with D'Amico intermediate-risk scores (see sidebar). However, when using histologic classification of biopsy specimens based on central pathology lab, the differences were no longer statistically significant.
Quality of Life
Urinary, erectile, and sexual function also showed differences between the two arms of the trial:  At 2 years after randomization, 81% of men in the radical prostatectomy group reported erectile dysfunction vs 45% in the watchful waiting group; 61% reported sexual dissatisfaction vs 33% on watchful waiting; and 16% men who had surgery reported urinary incontinence vs 6% who had watchful waiting. The differences were statistically significant.
After 5 years, differences between the arms were smaller but still statistically significant for two criteria—erectile dysfunction (25% more men in the surgery group) and sexual dissatisfaction (14% more in the surgery group). Reported bowel dysfunction was similar between the two groups.
There were no differences in overall, physical, or mental health status. Regarding "bother about prostate cancer or treatment" and "worry about prostate cancer," there was little difference between arms at baseline. Dr. Wilt said he was just beginning to do the analyses with findings regarding "bother about prostate cancer or treatment" appearing to consistently favor observation over time, while "worry" slightly favored surgery at later but not early time periods.
The PIVOT trial was the first to focus on treatment in the early PSA era—the years when PSA screening became widespread. Between November 1994 and December 2002, 731 men with clinically localized disease (T1-T2NxM0) were randomly assigned to radical prostatectomy (n = 364) or observation (n = 367). Half had T1C tumors. The mean age of participants was 67, and the median PSA was 7.8 ng/dL.
An earlier Scandinavian trial found a survival benefit for surgery vs observation, but because it recruited patients in the pre-PSA era, participants had more advanced disease.
Crux of Issue
PIVOT's findings suggest that the research focus may now turn to quality-of-life differences. "You've heard that outcomes are not different for low-risk disease, which brings us to the crux of the issue … which is quality of life," said Mark Litwin, MD, MPH, of University of California, Los Angeles, who reviewed quality-of-life studies in prostate cancer patients following the PIVOT presentation.
Looking at data from several large studies, Dr. Litwin concluded that treatment—either radical prostatectomy or radiation—is unlikely to affect general health-related quality of life. However, it may be associated with clinically significant changes in sexual, urinary, or bowel function compared to observation.
The Scandinavian trial, for instance, found that in the first 5 years after randomization, men undergoing prostatectomy had more erectile dysfunction (80% vs 45%) and more urinary leakage (49% vs 21%) compared to men on observation. Surgery, however, was associated with a lower incidence of urinary obstruction (28% vs 44%). Dr. Litwin emphasized that subsequent observational trials have shown that nerve-sparing surgery has reduced the impact of prostatectomy on sexual function and urinary incontinence.
The NIH panel agreed that quality of life was the key issue:
"Given that there are insignificant mortality differences between observational strategies and immediate curative treatment for men with low-risk prostate cancer, the focus of what we still need to learn about … should be on the impact of treatment morbidity and health-related quality of life," they concluded.
The panel also recommended research on the comparative effectiveness of observational management vs curative therapy for low-risk patients with long life expectancy and for intermediate- and high-risk patients with limited life expectancy. 
But the panel did not recommend trials of observational strategies for men with shorter life expectancy (less than 20 years). ■
Disclosure: Drs. Wilt, Litwin, and Ganz reported no potential conflicts of interest.
---