ASCO Launches FASCO Designation
To replace the Statesman Award


ASCO has announced the designation of Fellow of the American Society of Clinical Oncology, otherwise known as FASCO. Formerly called the ASCO Statesman Award and launched in 2007, the distinction is designed to honor ASCO's most active volunteer members.
"The FASCO status represents recognition for the most dedicated and active volunteer members inside the organization," said Allen S. Lichter, MD, CEO of ASCO. "These are people who have given of themselves tirelessly over a long period of time. They represent the very best of our organization."
Entry at 20 Points
To qualify, ASCO members must have accumulated 20 or more points in volunteer service to ASCO. The point system assigns a number value to various lengths and levels of volunteer service.
For example, serving as President of ASCO earns 4 points; serving as a Board Member, a Committee Chair, or Editor-in-Chief of the Journal of Clinical Oncology (JCO), the Journal of Oncology Practice (JOP), or Cancer.Net earns 2 points; and members get 0.3 points for serving on an editorial board or being a member of a task force, a working group, or an advisory group.
"Getting 20 points is not easy to do," said Dr. Lichter, adding that of the approximately 20,000 active ASCO members, only 205 have thus far earned 20 or more points and received FASCO's predecessor honor, the Statesman Award.
Only active members of the Society are eligible to earn points.
'Fellow' Speaks Volumes
Why the name change? Dr. Lichter said members let the board know that fellow status meant more to them than being dubbed a statesman.
"The term 'statesman' is just something that's foreign enough and outside the main sphere of the medical lexicon that it wasn't getting the attention that we think this important honor should get," he explained. "So we've joined our many sister organizations in making our most dedicated members fellows of our Society."
FASCO status will be conferred on members at the widely attended opening session of the ASCO Annual Meeting, starting in 2012.
Fellowship Designation and Benefits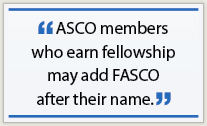 Once conferred, the fellow status is a lifetime recognition. ASCO members who earn fellowship may use the designation "Fellow of the American Society of Clinical Oncology," and may add FASCO after their name. Each new fellow will receive a certificate of fellowship and will wear a special ribbon at the Annual Meeting. Each year, fellows will get a reduced registration rate at one ASCO meeting, an invitation to the President's reception at the Annual Meeting, and advanced access to members-only housing, and each fellow's name will be published in appropriate ASCO publications.
Previous recipients of the Statesman Award will be grandfathered in and will have the FASCO status.
The purpose of the award, besides honoring those who have dedicated themselves to volunteering for ASCO—sometimes serving on multiple committees at once—in order to advance the field of oncology and to benefit patients, is to encourage more members to become involved in volunteer activities, Dr. Lichter said.
To learn more about the FASCO award, go to www.asco.org/specialawards. ■
© 2012. American Society of Clinical Oncology. All rights reserved.
[quote p38]

---