The Newly Diagnosed Patient with Cancer and Access to Care
Three of four new patients face roadblocks in securing their first appointment.

A study presented at the 2011 ASCO Annual Meeting raised concerns that newly diagnosed cancer patients are having trouble seeing an oncologist. Interviews with several cancer centers and community practices, however, suggest that the process runs smoothly, for the most part.
Majority of Patients Could Not Be Scheduled on First Contact
In a simulation exercise to evaluate patient's access to care, more than three-quarters of newly diagnosed advanced cancer patients were unable to book an appointment with an oncologist, investigators from the University of Pennsylvania in Philadelphia and the Leonard Davis Institute of Health Economics reported at ASCO.1

"We found that no appointment was made 77% of the time. Out of 432 simulated newly diagnosed cancer patients, only 99 (23%) actually got an appointment with an oncologist," said Keerthi Gogineni, MD.
The study aimed to determine the ability of a test cancer patient to get an appointment in a representative sample of U.S. hospitals. Researchers simulated patients newly diagnosed with inoperable hepatocelluar carcinoma and varying insurance statuses. The callers (who followed scripts) contacted 160 sites, including NCI centers, academic medical centers, and hospitals caring for low-income patients in the top 25 metropolitan areas (details on responses from individual sites were not available.)
"The goal was to get through to a live person to try to obtain an appointment," Dr. Gogenini explained. "We tried calling three times, without leaving a callback number. One out of four callers never reached a scheduler. Other times we got through, but for various reasons were refused an appointment." 
The most common reason for not scheduling a new-patient appointment in the first phone call was demand for medical records (39%), followed by failure to reach a scheduler (24%) and referral requirement (18%). Lack of insurance was not an issue.
"I wouldn't say that 77% of the time a patient would never get an appointment," she clarified, explaining that there were often obstacles to scheduling an appointment at first contact. 
One-quarter of the time, schedulers made an appointment contingent on the patient having medical records by the first visit, which Dr. Gogineni views as a reasonable approach. "There are always concerns about clogging the system and inappropriately triaging patients, but we should at least be able to get patients started in the process," she said.
"While the study patients were fictitious, they represent individuals who in real life are dealing with a frightening diagnosis. They are being asked to gather a lot of information, which is reasonable, but there is a time and place for these expectations," she commented.
"We need to address barriers that delay access to care for patients with advanced cancer," Dr. Gogineni concluded. She suggested that patient access might be improved through "more socially nuanced and medically informed intakes" and, for vulnerable patients, the use of patient navigators at the earliest point of contact.
Numbers Hard to Believe
Stephen Edge, MD, Director of the Breast Center and Chair of Health Services and Outcomes Research at Roswell Park Cancer Institute, Buffalo, New York, was surprised by the findings. "The results don't make sense to me. I can't believe that 75% of the patients calling my center would not get an appointment," he commented.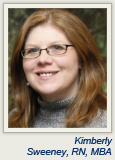 Indeed, Kimberly Sweeney, RN, MBA, Senior Director of Patient Access and Therapeutic Services at Roswell Park, said it is rare that patients reach voicemail rather than a scheduler, even with 2,000 new-patient calls per month.
"The results surprised me too," she agreed. "We make sure every person reaches an individual. We have a system set up to ensure that. Our goal is to have the patient talk to someone who can get the process started." Through careful monitoring of the new-patient scheduling process, the call center has reduced the "call abandonment rate" during business hours (patient calls and hangs up without leaving a message) to less than 4%.
In the odd instance that the "patient access representative" is not immediately available, calls go through several other "live" channels before hitting voicemail. If callers do reach voicemail, they are asked to have their physician fax their records, and their call is usually returned on the same day. "Virtually no calls go to voicemail," she said.
Ms. Sweeney acknowledged that depending on the type of cancer, medical records may be requested before an appointment is made, primarily in order to schedule the appropriate service, though her office does the legwork on all of this. But for certain diagnoses, Roswell Park offers "instant access" to newly diagnosed patients, including same-day appointments. 
"We just ask patients to make the first call, and we do the rest," she said. "And we are always looking to improve the patient experience."
Scheduling Goal Achieved 75% of the Time

At Vanderbilt-Ingram Cancer Center in Nashville, the goal is to have all new patients see a provider within 5 business days, and within 48 hours for acute leukemia patients, said Carol Eck, RN, MBA, Administrative Director. "We accomplish this goal about 75% of the time," she estimated, "though it can take a little longer when our surgical oncologists request more diagnostic studies, or when we have to work with a provider's secretary to find a slot. But in general I would say that more often than not, an appointment is made upon the first phone call."
To be scheduled for a new appointment with a medical oncologist, patients need only to have a definitive cancer diagnosis. The cancer site–specific "pre-appointment" team will handle the gathering of records, which they make available electronically to the appropriate providers.
"We do ask about insurance status, and if a patient is uninsured we have them meet with a financial counselor. They are usually not denied an appointment, though if uninsured they may be offered an appointment with our staff at the

city hospital," she added.
Patients seeking care in the community—as over three-quarters do—also should not have these problems, according to Patrick Cobb, MD, of Frontier Cancer Center and Blood Institute in Billings, Montana. "We usually get new people in within a few days, and usually by the time they see us they at least have a pathology report. It's rare that a patient has to wait," he said, suggesting that in smaller areas this process may be easier to accomplish.
Dr. Cobb said the concern grows as more oncologists become "employees." He commented, "When you are in practice for yourself, you have more incentives to stay longer and see more patients."  He predicted that patient access could become more problematic due to the shortage of medical oncologists in training and their uneven distribution across the country. 
Need for Vigilance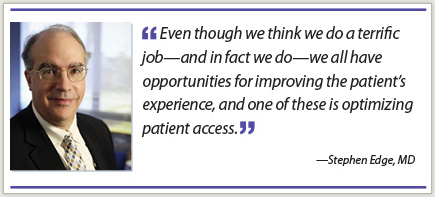 Dr. Edge also pointed out that many of the problems or irregularities faced by the simulated patients in Dr. Gogineni's study might have a rational basis, if they were investigated in more detail. Nevertheless, he offered, "The study highlights the need for ongoing quality improvements in our cancer centers."
The dilemma that Dr. Edge sees for patient access offices is how to balance between "making the appointment on the first call and being sure the patient gets the appointment with the right person and in the most efficient manner"—both in terms of having the right materials (eg, records) for the appointment and getting the appointment quickly. "It can be a very hard job for the patient access staff," he said, "Yet what the patient may perceive that they want is an appointment at that first call—and I don't blame them!"
"We are sometimes surprised to see our deficiencies," he commented. "Even though we think we do a terrific job—and in fact we do—we all have opportunities for improving the patient's experience, and one of these is optimizing patient access." ■
Disclosure: Drs. Gogineni, Edge, and Cobb, and Ms. Eck reported no potential conflicts of interest.
Reference
1. Gogineni K, Armstrong K: Appointment access for new cancer patients. 2011 ASCO Annual Meeting. Abstract 6128. Presented June 4, 2011.
---